I haven't written much this week, on account of falling into a massive Fallout 4-sized hole (crater) in the ground. We'll have that review Monday morning, but for now: Watch as I try to cover the entire week's news in one go. Luckily it was a pretty slow week—aside from BlizzCon and that crazy Warcraft movie trailer.
I don't want to set the world on fire
Speaking of Fallout 4, here's a launch trailer:
N7 day
BioWare's teasing some Mass Effect "surprises" for tomorrow, November 7, or "N7 Day." Welll, sort of. The official word is: "While we won't have any major announcements for Mass Effect: Andromeda this N7 Day, keep an eye out on Saturday for some surprises that we're sure you'll enjoy."
Cryptic.
The weekly delay news
InXile announced this week that Torment: Tides of Numenera (a.k.a. sort of the Planescape: Torment spiritual successor) is officially delayed until next year, though to be honest I think we all had sort of guessed that already. There hasn't been much news about Torment in a while, and a beta test is supposed to happen before launch. And 2015 is basically over and done with. Better luck next year.
2K's hero-driven shooter Battleborn also got pushed back a bit, from February to May of 2016.
It's not porn, I swear
The Witcher is headed for film. Well, technically it's headed for film "again" since there was already a movie made in 2001, but I'd warrant more people outside Poland know about Geralt this time around.
The new film is being made in conjunction with the studio that produced The Witcher 3's gorgeous opening cinematic, so I have (maybe) high hopes. Via a press release: "The film will be an introduction to the Witcher's world and is planned to be the beginning of a series. The film will be based on themes from the short stories 'The Witcher' and 'Lesser Evil' from 'The Last Wish' collection."
Paragon
Epic "revealed" a new game called Paragon this week. Barely. So far, this is all we have to go on:
Who took over EA's body?
Is this real life? It can't be. EA subsidiary Ghost Games says it will not be selling DLC for its latest Need for Speed (coming to PC in early 2016). Let me repeat: Electronic Arts is not selling DLC in one of its games.
In an interview with Vice, Need for Speed creative director Craig Sullivan said "Everything we're doing is focusing on listening to what the fans are asking for. They're certainly not saying to us, 'Can you build a load of stuff and charge us for it?' They're not saying that, so we're not doing that."
"The plan is that there are no transactions in this game," he continued. "All of the content that we're going to give you—a pretty substantial amount in the future, starting pretty soon—is going to be free. That's what players deserve."
Sounds like CD Projekt Red's evangelizing rubbed off on someone else.
Who took over Activision's body?
Call of Duty: Black Ops III is getting mod tools on the PC. Seriously. And community maps. Seriously. Like, you won't need to pay for maps. You will have an infinite supply of community-made content. Seriously.
Obviously the mod tools didn't launch alongside the game yesterday, but Treyarch says they're coming—closed alpha in March, 2016, with official release sometime after.
This is one hell of a weird week for people who usually rant against DLC.
Hope you stocked up on VRAM
Ahead of its launch on November 19, Ubisoft's revealed the Minimum and Recommended Specs for Assassin's Creed Syndicate. They're recommending you pack at least 3GB of VRAM for an optimal experience. Also 50GB of storage. Hopefully it plays better than last year.
Minimum:
Processor: Intel Core i5 2400s @ 2.5 GHz or AMD FX 6350 @ 3.9 GHz
RAM: 6 GB or more
Video Card: Nvidia GeForce GTX 660 or AMD Radeon R9 270
Hard Drive: 50 GB available space
Recommended:
Processor: Intel Core i7-3770 @ 3.5 GHz or AMD FX-8350 @ 4.0 GHz
RAM: 8 GB
Video Card: Nvidia GeForce GTX 760 (4GB) or the newer GTX 970 (4GB) or AMD Radeon R9 280X (3GB) or better
Just in case you forgot
Hey, remember Assassin's Creed Unity's weird face glitches?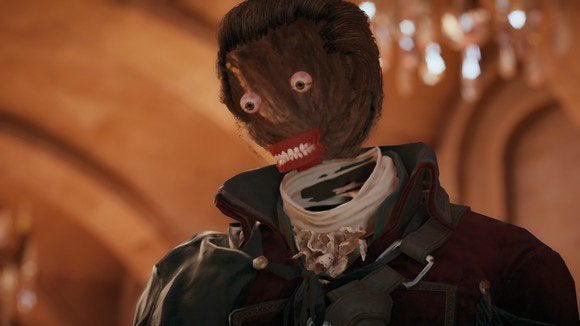 Yeah, good times. Happy weekend, everyone. I'll see you back here Monday morning with that Fallout 4 review.