It was always going to be big, but the day-long "Singles Day" promotion on Chinese online shopping site Alibaba on Wednesday smashed previous records, with millions of people participating and $14.3 billion worth of goods sold.
Compare that to Amazon's revenue for the entire last quarter of $18 billion.
"Singles Day" began in 2009 as an attempt to get customers who are single to buy themselves gifts and takes place on November 11 for its singly-significant numeric date of 11/11.
For 24 hours on Tmall and Taobao Marketplace, retailers slash prices and offer special discounts in a promotion that's similar to the U.S. Black Friday event but now dwarfs it.
It's become a major event in China, with competing online malls also presenting their own bargains, and as its size grows, it's increasingly important for international brands as well.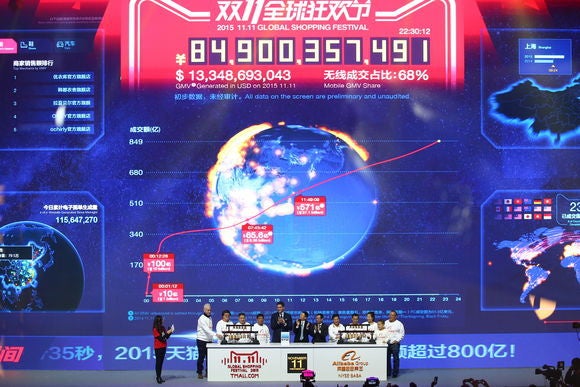 This year it was kicked off by a 4-hour long show on a nationally distributed TV channel that included appearances by international stars from Asia and the West, including James Bond actor Daniel Craig and a video message from Kevin Spacey, as his Frank Underwood character from the Netflix show "House of Cards."
Alibaba said this year it pushed to get international brands to take part in the event, selling goods at a discount through its online malls. The U.S., Japan, South Korea, Australia and Germany were the top nations selling into the promotion, according to the company.
The TV exposure was apparently the perfect buildup. Just over one third of total sales, around $5 billion, happened in the first 90 minutes of the day and last year's total of $9.3 billion was surpassed about halfway through the day.
Some of the other impressive totals from the day:
Mobile payments accounted for 69 percent of all sales at $9.8 billion.
Mobile buyers on Tmall and Taobao totaled 95 million.
Alipay, Alibaba's online payments platform, processed 710 million transactions.
At its peak, the service was processing 140,000 transactions per second.
The company is also trying to pull users of the company's Aliexpress website overseas into the hype and excitement with deals of its own.