As part of its massive November update cycle, Microsoft on Thursday pushed a smorgasbord of new features to its OneNote notetaking software across a wide variety of platforms.
Users of OneNote Online and OneNote for iOS can now record audio into a note straight from the web and mobile app. It's an extension of similar capabilities already available on OneNote for Mac and OneNote for Windows.
That said, the implementations aren't equivalent. Recording or playing back audio in a note on the iPhone blocks input on the rest of the screen until users have stopped recording or playback. OneNote Online appears to be limited to recording audio in 90 second chunks, which is fine for capturing short snippets of speech, but not great for taking down an entire lecture.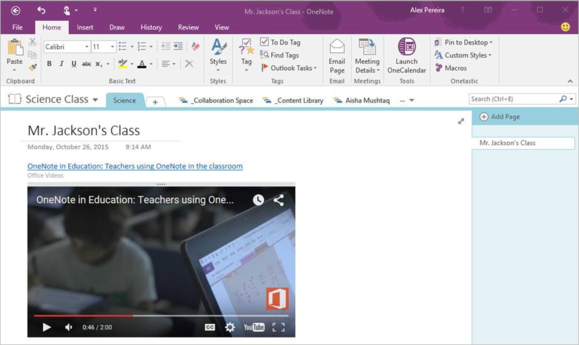 Neither app is capable of linking notes to a position in the text, something that is a key feature of both the Mac and Windows desktop apps. At least for iOS, Microsoft says that it has plenty of new features it plans to add going forward, so that offers some hope we might see improved audio recording support on Apple's mobile platform.
OneNote 2016 for Windows Desktop users can now embed video from the web into their notes using a new Insert Online Video button. That will open up a dialog box where users can insert video URLs from YouTube, Vimeo and Office Mix, and see them embedded live into the notebook.
It's useful for people who want to remember a particular video, but doubly powerful for shared notebooks, including Microsoft's OneNote Class Notebook for education users. That product lets teachers share course materials with their class, and the feature will let them embed videos right in the notebook, rather than sending students out to a website where they might get distracted.
Looking forward, Microsoft is planning to bring that feature to OneNote Online, Mac, iOS, Android and the OneNote Mobile app for Windows 10 in the coming months.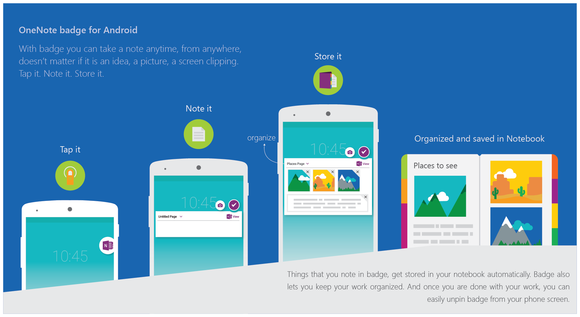 Android users will get a new OneNote badge that can float above other applications and give them quick-entry capabilities for putting new information into Microsoft's note taking app on Google's mobile platform. It's something that isn't available to OneNote users on other platforms, and takes advantage of some interesting capabilities of Android. To launch the badge, users have to open the notification tray and tap the OneNote badge notification. To get rid of the badge, pull it to the bottom of the screen.
Owners of the iPhone 6S and 6S Plus can get quick access to OneNote for iOS's note creation tools and recent notes by using their phones' 3D Touch feature. Users have to press down hard on the OneNote icon, and a menu will pop up over their phones' home screens that can take them to a new note, new photo note, or recently accessed notes.
Overall, these capabilities are aimed at improving OneNote in a crowded market. Microsoft is going head-to-head with competitors like Google and Evernote, vying to become the place that people store their thoughts and ideas.