Nvidia is doing its best to dominate the graphics card market, but at least some people couldn't resist the sweet melody of AMD's Fury-tinged siren song between July and September. The third quarter of 2015 was the first full quarter when AMD's new flagship graphics cards, the Radeon R9 Fury X and R9 Fury, were available for sale.
Both cards are packed with AMD's new Fiji GPUs and high bandwidth memory (HBM), which offers blisteringly fast transfer speeds that leave standard GDDR5-based memory in the dust.
All the excitement over AMD's most important graphics card releases in nearly a year amounted to a 0.8 percent increase in add-in board market share, according to new estimates from the GPU watchers at Jon Peddie Research. As you'd expect in a market with only two companies that really matter, all of AMD's gain came at Nvidia's expense.
That's not a huge gain for AMD, but it's a gain nonetheless. In fact, AMD likely could have seen a little more of an uptick if it had been able to move more product. Throughout most of the quarter both the Fury X and Fury boards were constantly out of stock, due to either supply issues—which is widely suspected given HBM's complexity—or higher than expected demand.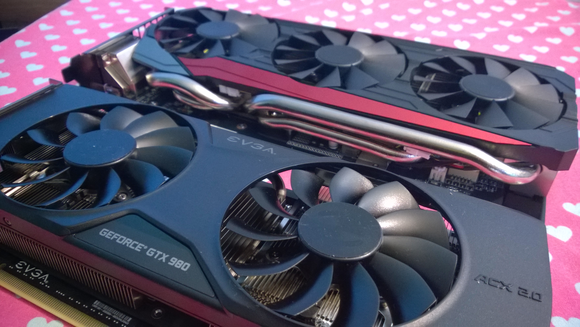 Meanwhile, Nvidia closed out the quarter with a still dominant 81.1 percent market share. Still, it's notable that AMD was able to siphon away at least some of Nvidia's recent gains at a time when Team Green's ecosystem approach is taking shape. Upcoming changes to the GeForce Experience Software and a big push for GameWorks middleware are part of Nvidia's attempt to convince gamers not to stray towards AMD, while AMD reorganized the Radeon division and rolled out rebuilt software in preparation for a fierce battle next year.
Why this matters: In many ways, the late activity of 2015 is setting up what could be a much bigger contest between Nvidia and AMD in 2016. As JPR notes in its report, next year Nvidia is expected to roll out Pascal-based GPUs with high bandwidth memory generation 2—the first generation maxed out at 4GB. AMD, meanwhile, is expected to introduce a new GPU in 2016 codenamed Greenland that is also rocking HBM2, as detailed by WCCFtech.com. And both companies are expected to build those GPUs using a cutting-edge new 14nm production processes, after years of being stuck on the 28nm node. Exciting times!
Good times overall
Despite AMD's struggles in desktop graphics cards, the overall GPU market was good for all three of the biggest names in graphics when you add integrated GPUs to the mix. Intel continues to dominate the complete graphics market since all its processors come with integrated graphics.
Intel closed out the quarter with 72.8 percent of the market, according to JPR's estimates. AMD and Nvidia meanwhile maintain a much closer battle in the larger graphics market thanks to the popularity of AMD APUs and its dominance as the gaming console GPU of choice. AMD's overall market share by the end of the third quarter of 2015 came to 11.5 percent, while Nvidia's stood at 15.7 percent. Both companies saw quarter-to-quarter gains, while AMD fell 2.7 percent compared to the year previous and Nvidia picked up an extra 1.6 percent.