At a Glance
Expert's Rating
Pros
Low-resistance Left/Right mouse buttons
Sized for small hands
Cons
It's shaped like a diamond
It's. Shaped. Like. A. Diamond.
Our Verdict
Logitech's recent experimental fervor reaches a new milestone with a…diamond-shaped mouse. It's weird.
Best Prices Today: G303 Daedalus Apex
Logitech's been experimenting a lot lately, and sometimes it works out great! I keep referring back to the G502 Proteus Core in various reviews, and for good reason—I firmly believe it's one of the best mice on the market.
The G303 Daedalus Apex? Less successful.
This review is part of our roundup of best gaming mice. Go there for details on competing products and how we tested them.
Two of a kind
Logitech first pitched me the G302 Daedalus Prime last year as a "MOBA-friendly mouse." And then it came back mere months later with the G303 Daedalus Apex, which is pretty much the same design with slightly different internals. The biggest improvement is the Daedalus Apex has a 12,000 DPI sensor, as opposed to the Daedalus Prime's 4,000 DPI maximum.
For simplicity's sake, let's just look at the Daedalus Apex. It's better in pretty much every way than the Daedalus Prime, and the list price of $50 is exactly the same for both.
So yeah: 12,000 DPI sensor (the same one that's in the G502), braided fabric cable sheathe, and six buttons—Left, Right, and Middle Mouse, plus one directly behind the scroll wheel and two thumb buttons on the side. Pretty standard stuff.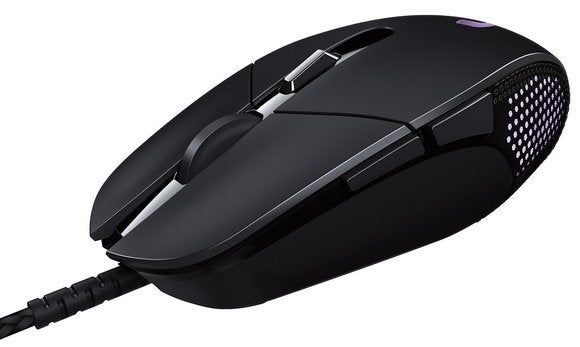 You can tell the G303 grew from MOBA roots by the feel of the Left and Right mouse buttons. Both feel extremely tight, with a minimum of travel. The resistance is maybe a touch too heavy for something built for rapid clicking, but it feels good. Extremely tactile and much more satisfying than, say, the DeathAdder's spongier buttons.
And that G502 sensor is a beauty. You can whip the Daedalus Apex around with perfect accuracy, no problem.
It's everything you'd want in a highly-responsive mouse except um…
Diamond dog
What the hell is up with the shape of this thing? Keep in mind this is a mouse aimed specifically at claw and/or fingertip grippers, so palm grippers might as well stop reading. But even as a claw gripper myself, the Daedalus Apex is a bit awkward.
The Daedalus Apex is a small, thin diamond with a low front, high rear, and pointy sides. It looks almost like an ambidextrous mouse, but it's not quite symmetrical and Logitech neglected to put thumb buttons on the right edge.
OK, on the plus side: It's extremely lightweight. In fact, I'm pretty sure the braided cable weighs more than the mouse itself. The Daedalus Apex is pared down about as much as it could be while still being recognizably mouse-shaped, and the result is a smooth, easy glide. Again, made for MOBAs.

But my poor hand. No matter how I held the Daedalus Apex, it felt weird. Pure claw-grip, I had to bring my pinky to rest against the bottom edge of the mouse where it dragged along the mousepad. If I pushed my hand a bit to the side, one edge of the diamond running against my palm, it felt better—but then my thumb couldn't reach its dedicated buttons.
Not that the thumb buttons are well-placed to begin with. They're arranged on the left corner of the Daedalus Apex's diamond, with one to the rear and one to the front of said corner. The rear side button is fine—your thumb presses against it like normal.
But the front side button? Pushing it involves pulling the thumb back in, toward the palm. It's not a very ergonomic motion, nor is it easy to execute without simultaneously shifting the mouse by a few millimeters.
Last but not least, we should complain a bit about the scroll wheel. It's coated in a slick rubber instead of the usual tire tread-esque grip, and it has a tendency to shift forward or backward whenever you try to click Middle Mouse—the same problem I had with its sibling, the G502.
Bottom line
I'm not a big fan. The G303 Daedalus Apex is outfitted like a premium mouse, with a dreamboat 12,000 DPI sensor and some of the nicest Left/Right mouse buttons I've had the pleasure of clicking. And Logitech's RGB lighting is, as per usual, beautifully handled—bright and accurate, with a pleasant honeycomb pattern.
That shape though. It's so awkward. I was excited to put the G303 through its paces because it's rare we get a mouse designed specifically for claw-grippers, but the Daedalus Apex feels like it needs (more than) a few revisions.
The one use case I can think of: People with smaller-than-average hands. Most gaming m,ice seem designed for giants. The G303 Daedalus Apex is one of the few that seems like it would work for those with daintier digits.
Best Prices Today: G303 Daedalus Apex