At a Glance
Expert's Rating
Pros
Better aesthetic than the GX-M2
Satisfying weight
Cons
Even more limited sensor than the GX-M2
Uncomfortable shape
Our Verdict
The GX-M3 looks better than its blue/black snakeskin-clad GX-M2 sibling, but better aesthetics come at the cost of performance.
The $40 SteelSeries Rival 100 still too rich for your blood? How about spending…$15?
Earlier this year I had a few "Enhance" mice sent over to me by AccessoryPower.com. I'd never heard of them before, but we don't really do a ton of budget gaming mouse reviews around here so I thought I'd check them out.
And you know what? You can get a pretty decent gaming mouse for cheap. Like, real cheap.
This review is part of our roundup of best gaming mice. Go there for details on competing products and how we tested them.
The GX-M2
Let's start with the Enhance GX-M2. This is ostensibly a right-handed mouse, though the shape is (like the Rival 100) about as ambidextrous as could be without sticking two thumb buttons on the right side.
It's surprisingly comfortable, with the soft-touch coating I typically associate with much more costly devices (like Mionix) and an oversized form factor. I don't have enormous hands, but the GX-M2's size fits me a lot better than, say, the diminutive Logitech G303. The rear is raised a bit high, forcing a slightly uncomfortable kink in my wrist even when palm-gripping, but it's otherwise pleasant to use.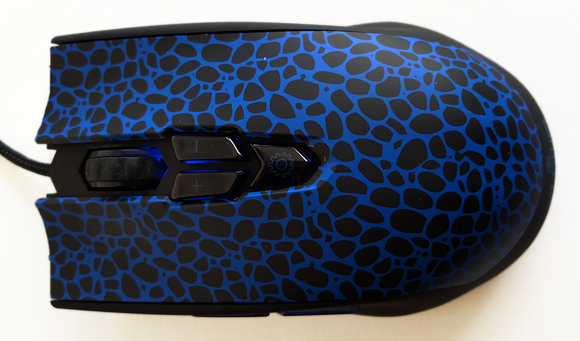 There are eight buttons: Left, Right, and Middle Click, two thumb buttons on the left side, two DPI switches behind the scroll wheel, and a profile switcher behind that. The Left and Right mouse buttons take cues from Razer's DeathAdder, with a lengthy (comfortable) finger groove and flared ends. It feels pretty nice, though the switches are a bit flimsy.
The M2 defaults to a 500 Hz polling rate but you can bump it to the gaming-standard 1,000 Hz in software. The DPI buttons are more static, stepping up and down between the three presets: 800, 1600, and 3200 DPI. That's low for a gaming mouse nowadays, but honestly it's the obscenely high lift-off distance I had the most trouble with. I needed to pick the mouse up almost a centimeter to get it to stop registering movement.
It's a pretty standard gaming mouse, albeit with limited sensor capabilities. There's even accompanying software, allowing you to reprogram buttons or set up profiles. All in all it's a pretty solid product for $15.
My only major complaint with the M2 is the design. Not the form factor, but the awful blue and black leopard print (Giraffe print? Snake print?) on the top. If this mouse were flat black or even black and gray I think it'd look a lot less cheap. The print looks like something I would've seen at Best Buy a decade ago.
The GX-M3
Moving on to the GX-M3, a.k.a. "I'm pretty sure I'm holding Optimus Prime's head." Credit where it's due, the GX-M3 looks decidedly more high-end than the blue animal print of the M2. But—and this is surprising—it's actually not an upgrade aside from the aesthetics.
The M2 looks cheap, but with a 3,200 DPI sensor and 1,000 Hz polling rate it's actually not a bad deal for $15. The M3 is more the performance I'd expect in a budget mouse, limited to a 2,800 DPI sensor and a 500 Hz polling rate. That's still not terrible, especially for the price, but it means the M3 isn't a straight upgrade over the M2.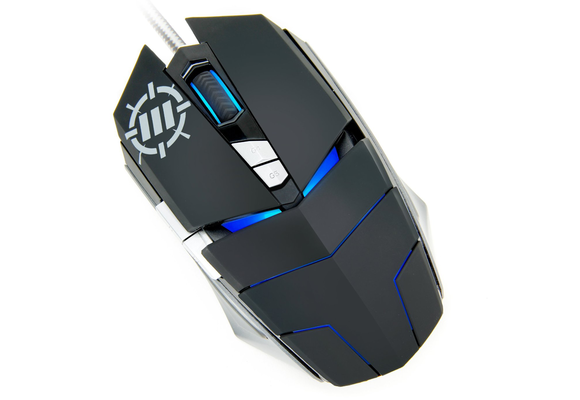 It does have a few benefits, though.
The M3 is a seven-button mouse: Left, Right, and Middle click, two thumb buttons, and then the DPI up/down buttons on the top. The buttons are very loud and clicky, even in comparison to the M2, but they do have a more satisfying tactile feel.
There are also five removable weights in the M3's base. It ships at its heaviest, which I actually prefer, but you can pull all the weights out for a featherlight M3 if you want.
The design itself is very experimental, reminiscent of Logitech's G502 or the Mad Catz R.A.T. not so much in terms of form factor but in terms of the weird industrial lines and cutouts that deck the outside.
Those lines and cutouts showcase the M3's hallmark feature though: DPI-specific lighting. Swapping between the four presets (800, 1200, 2000, 2800) causes the LED lighting to change from blue to green to pink to red. It's actually a very pretty effect, though I'm not sure it's enough to sell you on the M3.
It also feels pretty strange under the palm, with weird ridges and pointy edges that aren't entirely pleasant. I definitely don't love the feel as much as the M2, though I once again appreciate the oversized length. Whoever is on the design team for these Enhance devices must have big hands.
As I said, it's not a straight upgrade over the M2 though. And that's a shame because I think the M3 is, by anyone's standards, a much nicer looking device. I wish the company could combine the performance and feel of the M2 with the higher-end look of the M3. Then it would have a true winner.
Bottom line
For fifteen dollars, though? The GX-M2 and M3 are not too bad. My only real concern is the long-term quality. I noticed the pads on the bottom of the M2 were a bit loose and/or starting to peel off, straight out the box. I'm not sure this is a mouse you're going to use for the long haul.
But if you're trying to build a gaming PC on a budget, I think you could get by with one of these until you saved up for your dream mouse. It's certainly better than the generic Logitech mouse/keyboard set I used when I was poor and built my first gaming PC.