At a Glance
Expert's Rating
Pros
Same high-end sensor and design as the more-expensive Mamba
No concerns about battery running out mid-game
Cons
Still fairly expensive for such a basic mouse
Loses the adjustable click gimmick of the high-end Mamba
Our Verdict
At $90 the Razer Mamba Tournament Edition is still a bit more expensive than its fuller-featured competition, but it's a decent way to get your hands on the high-end Mamba's 16,000 DPI sensor for half the cost.
Best Prices Today: Razer Mamba Tournament Edition
Razer actually released two Mamba models this year—the luxury model (named, simply, the Razer Mamba) and its sibling, the Mamba Tournament Edition (Mamba TE from here on out).
They're pretty much identical except the high-end Mamba is optionally wireless, has a built-in battery, and has "adjustable click force technology." Oh, and the Mamba TE costs half as much.
This review is part of our roundup of best gaming mice. Go there for details on competing products and how we tested them.
The Razer Mamba
Let's take a look at the luxury Mamba first, because damn. Razer didn't build a mouse. It built an art exhibit.
The Mamba is a wireless, 16,000 DPI mouse with a 1 millisecond polling rate and some nifty LED tracks down the sides. Plus a majestic, LED-equipped stand for recharging. It looks lovely, with an elegant aesthetic that matches its absurd $150 price.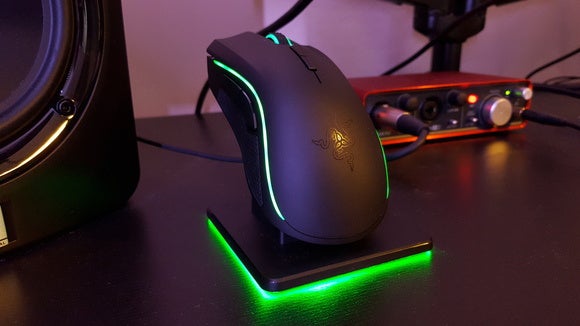 But does it perform like a $150 mouse? Well…
The Mamba is honestly pretty similar to the Razer DeathAdder in design. Both are supremely comfortable and tailored to a right-hand palm grip, though with oversized buttons that enable claw gripping. The Mamba's latest iteration makes the two even more similar by eliminating the two extra index-finger buttons that used to sit next to the Left Mouse. Instead it adds (my favorite feature) a tilt-wheel, giving you standard Left, Right, and Middle click, plus two thumb buttons and clicking the scroll wheel left and right.
Personally I find the Mamba just a bit more comfortable than the DeathAdder, thanks to a gentler (more convex) slope on the right side. There's more room for my pinky. But you'd be hard-pressed to feel the difference without having both side by side.
There are some under-the-hood improvements over the DeathAdder, though. First up is the sensor. In terms of raw numbers, the 16,000 DPI Mamba beats out the DeathAdder's 12,000 DPI sensor. Of course, both are ludicrously high for day-to-day use so it's doubtful you'd need to max out either. But the option is there, I guess!
And then there's the "adjustable click force technology." Flip the Mamba over and you'll spot two hex-wrench screws embedded in the bottom. You can adjust the resistance of the Left and Right mouse buttons independently from 45 to 95 grams of resistance.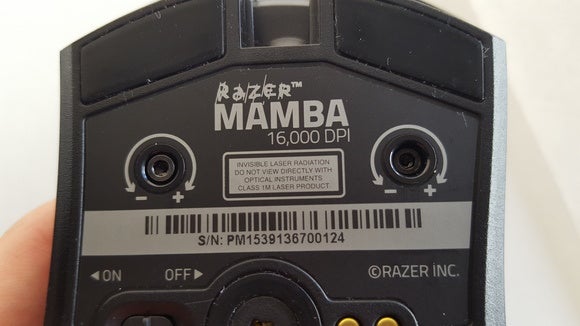 Can you feel the difference? Yes. There's a more distinct thunk at 95g, for sure. But will it change the way you play? Probably not. Razer recommends 45g for MOBAs and other rapid-click games, but I got 68 clicks in ten seconds at both 45 and 95g—though the latter did, admittedly, make my wrist a bit more tired.
The point is: Both feel fine, and it's not nearly as noticeable a change as, for instance, adding weights or adjusting the height of the palm rest.
Finally, the wireless. Here's where I really find fault with the Mamba.
I typically don't use wireless peripherals, in large part because I want everything I own to just work, all the time. The Mamba, although pretty damn good as far as wireless devices go, still had a few moments during testing where it lost tracking and needed to re-pair. And the Mamba's internal battery, though excessively heavy, lasts a scant 20 hours even by Razer's (under perfect conditions) reckoning. That's…not great. Sooner or later you're liable to run out of power at an inconvenient time.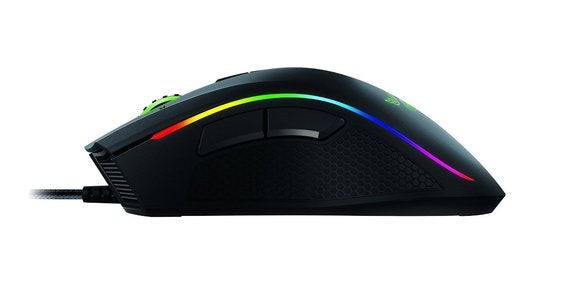 You can, if that happens, connect the Mamba directly to your computer with a MicroUSB cable—but at that point why not spend half as much and get the always-wired Mamba Tournament Edition?
The Mamba Tournament Edition
Which brings us to the Mamba's less-expensive sibling. The Mamba Tournament Edition is the same exact mouse—same 16,000 DPI sensor, same lighting effects, same 1 millisecond polling rate—except it's always wired. Oh, and it's missing the feels-sort-of-gimmicky "adjustable click force technology."
And it costs $90 instead of $150.
I also like the weight of the Tournament Edition more. Since it's a wired mouse there's no bulky battery weighing the Mamba TE down—and it makes a huge difference. I actually prefer a heavy mouse, with my love for Logitech's G502 as testament. But the G502 is well-balanced, where the wireless Mamba is back-heavy.
Bottom line
I can't imagine why you'd buy the regular Mamba instead of the Tournament Edition, unless you're dead set on going wireless. Razer's made a beautiful mouse, but $90 is already pushing what I'd pay. $150 is too rich for me, even if the Mamba and its charging stand are two of the prettiest devices I've ever had on my desk.
The Tournament Edition has 90 percent of the functionality without necessitating you mortgage your home or put your mouse on a charger every night. That gives it the edge, in my book.
Best Prices Today: Razer Mamba Tournament Edition