At a Glance
Expert's Rating
Pros
One of the most broad-appeal mouses on the market
Extremely comfortable
Cons
Buttons can feel toy-like at times
Left-handed version not updated to Chroma yet
Our Verdict
For 2015, the time-tested Razer DeathAdder design adds new lighting and an upgraded sensor.
Best Prices Today
It almost feels useless to write anything about the DeathAdder because chances are you already know whether or not you want it. Razer's signature gaming mouse is one of the most pervasive, iconic peripherals of the last decade. It is, for a lot of people, the gaming mouse.
Me? I think it's pretty average. And I don't mean that in a bad way. There are no significant disadvantages to the DeathAdder. It is the ultimate no-frills, jack-of-all-trades Razer mouse. It's the vanilla milkshake or the peanut-butter and jelly sandwich. It's the Top 40 pop song or the Toyota Camry.
It's a workhorse—a mouse that would serve 90 percent of the population well, and one you'd be happy to own. There just might be something out there that works better. Something more niche.
This review is part of our roundup of best gaming mice. Go there for details on competing products and how we tested them.
The every-hand
No frills. The DeathAdder is about as bare bones as a gaming mouse gets these days, with only five buttons—Left, Right, and Middle Mouse/Scroll, plus two under the thumb. The latest Chroma edition is equipped with a braided cable sheathe, 10,000 DPI sensor, and the now-standard 1000 Hz polling.
That's it! It's a simple mouse with simple aims, and it's all the better for that. If you're a person who wants a gaming mouse that just works, the DeathAdder is your safest bet.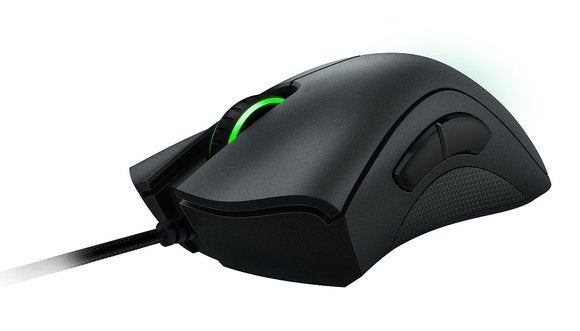 Especially because it's comfortable as hell. There's a reason the DeathAdder, despite its seemingly simple design, became such an icon: It's beautifully sculpted, with some of the most comfortable right-hand contours on the market. I can only think of a few I like more for palm-gripping—namely, the enormous Mionix Naos 7000.
(Claw-gripping's a different story. You can claw-grip the DeathAdder, but it's not easy. The rear of the mouse is tall enough it's hard to get separation between your hand and the plastic.)
The DeathAdder is also notable because everything is oversized. Almost comically so. The scroll wheel? Huge and fat. The Left and Right mouse buttons? Wide and flared outward at the end, giving your fingertips even more space. The two thumb-buttons? Almost as big as your entire thumb.
It's not that the DeathAdder is a massive mouse. The form factor is pretty average, coming in smaller than the aforementioned Naos 7000, for instance. It's also very lightweight, feeling almost like a toy when you pick it up. But where most mouses—even most Razer mouses—aim for subtlety, the DeathAdder makes everything as big and obvious as possible.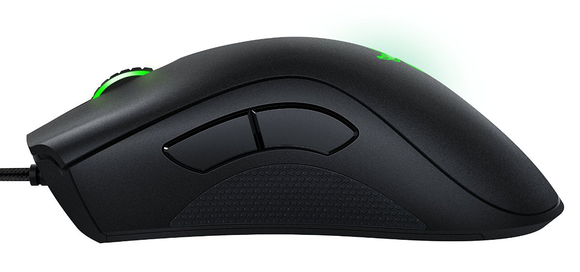 I think it looks a little silly, personally, but I can't deny it's effective. You're never in the middle of a firefight frantically hunting for the thumb buttons because it's practically impossible to get your thumb away from them in the first place.
Light up the night
There's also that fancy "Chroma" tag appended to the name now. That's Razer's RGB-enabled line, in case you're unaware a.k.a. it lights up and looks pretty.
Razer's really gone the minimalist route with the DeathAdder Chroma's lighting, though. Both the Mamba and the Diamondback feature stunning lighting effects, with trails on each side that really make use of the RGB lighting.
The DeathAdder? Uh…the scroll wheel lights up and the logo lights up. Nothing else. No fancy light trails, no crazy rainbow strobe. If you set your new RGB mouse to green it would look pretty much identical to the previous DeathAdder model.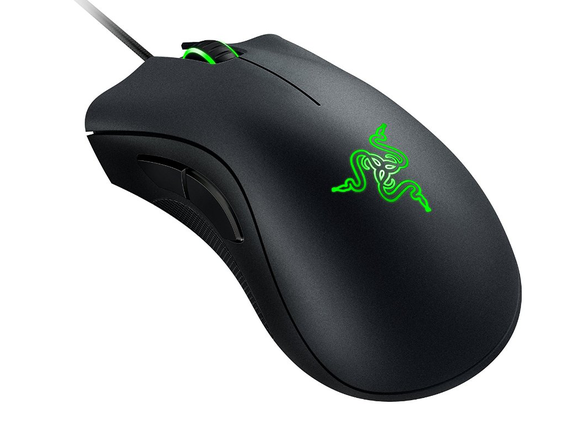 On the one hand, who cares? It's a mouse, and mouse lighting is purely decorative. But on the other hand, mouse lighting is purely decorative. I feel like if you're going to release an entirely new version of a long-standing product and market it on new lighting, that lighting better be damned spectacular. The DeathAdder is boring in comparison to Razer's other Chroma products.
But maybe that was to keep the price down. At $70, the DeathAdder is the cheapest mouse in the Chroma line, and one of the cheapest in Razer's lineup period. Or maybe it's just an "If it ain't broke, don't fix it" mentality. After all, why tamper with a design if it's a proven seller?
Bottom line
Anyway, it's the DeathAdder. It's pretty much the same as the previous version, except now the lights can change color and it has a 10,000 DPI sensor instead of the previous 6,400. It's still just as comfortable as ever, and as bare-bones as ever.
One final note: The Chroma version is only right-handed, at the moment. Razer still sells a separate left-handed DeathAdder, but it's on par with the previous iteration. No fancy lighting for the left-handers yet.
Best Prices Today
Note: When you purchase something after clicking links in our articles, we may earn a small commission. Read our affiliate link policy for more details.
Hayden writes about games for PCWorld and doubles as the resident Zork enthusiast.