A year ago, we characterized Microsoft's Windows 10 Mobile as a second-tier OS, but not one that's second rate. Fast-forward nine months later to the Windows 10 Mobile Anniversary Update, and we're still seeing signs of slow progress—but perhaps not quite fast enough for an operating system the market has largely given up on.
My impressions of the Windows 10 AU are of tweaking, patching, and catching up. The most important additions include the new Wallet app, which finally allows tap-to-pay NFC payments for Windows 10 AU smartphones—something that both Android and iOS have had for years. The simplified Skype Preview app debuts, as it also has on PCs. An existing app, Continuum, now projects screens wirelessly onto a PC without the need for a Display Dock, and Windows 10 now exchanges messages and notifications between the phone and PC better than ever. Otherwise, there are other, minor adjustments, scattered throughout the updated OS.
Fortunately, these new updates are rolling out to all Windows phones faster than expected, even "carrier-locked" models. Consider: Two phones—AT&T's Lumia 640 and Verizon's Lumia 735—were upgraded to vanilla Windows 10 just months ago, in June. If you don't have it, however, and absolutely want the Windows 10 Mobile AU now, jump on the Windows Insider program—and opt for the Release Preview, as it's the best way to try out Windows 10 Mobile AU until the carriers get their act together.
We tested Windows 10 AU with a Lumia 950, plus a slightly older Lumia 640. Because the 640 includes just 1GB of RAM, interacting with the OS lagged slightly at times. But the new Anniversary Update also felt surprisingly stable, more so than Windows 10 AU on the desktop. As before, your best experience will be had by using the phone in conjunction with a Windows 10 AU PC, ensuring that data moves freely between both platforms.
All in all, though, it's a minor update. Windows 10 AU for desktops necessitated a re-review of Windows 10. Windows 10 Mobile AU feels like more of an adjustment than an entirely new product, so we've chosen to update our original review with our impressions of the AU's new capabilities.
Continuum, connecting to Connect
In our original review, we called Windows 10 Mobile's Continuum feature its most impressive feature. The AU leaves that capability unchanged, but adds something new: the ability to connect the phone wirelessly to the Connect app on a Windows 10 PC.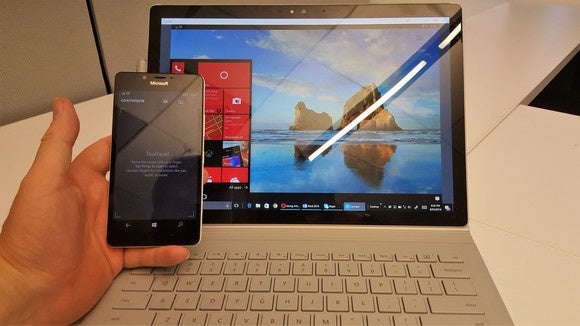 As before, Continuum offers the option of connecting via the wired Display Dock or wirelessly via Miracast—either to a dongle or now to a Miracast-enabled PC. Unfortunately, only certain newer phones like the Lumia 950 work with Continuum, not older phones like the 640.
Though the connection process is seamless enough, connecting both devices takes a bit of prep. You'll need to unlock both devices, then launch the Continuum app on the phone and Connect on the PC. The Connect app projects a Windows 10-ish desktop environment onto the PC, allowing you to use the phone's basic functions and UWP apps in a full-screen environment.
Everything feels pretty laggy, though. While you can use the phone's display as a touchscreen, you can't then touch the PC screen to navigate. And, of course, there's the obvious question: Why would you use a PC as a dumb display…when it's a PC? (My guess is only in a pinch, and probably with a user who doesn't own that particular PC.)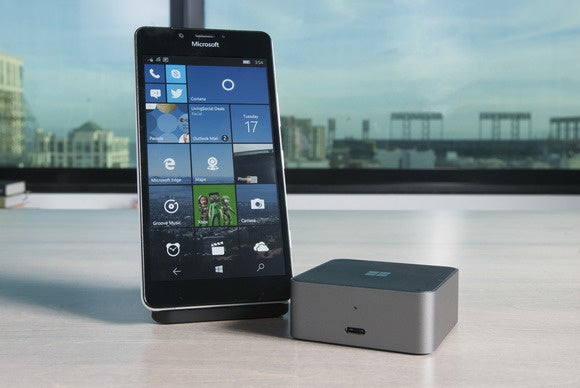 Otherwise, the wired version of Connect works best with the $99 Microsoft Display Dock, which connects to—and powers—either the Lumia 950 or 950XL via its USB-C cable. (Similar docks are either in the market or en route from companies like HP, as an accessory for its forthcoming Elite x3 Windows smartphone.)
Plug a wired keyboard or mouse into the 2.5-inch cube via one of the three USB 2.0 ports, and you're in business. You'll also have the choice of connecting via HDMI (with HDCP 1.3/1.4 copy protection) or DVI. Using DVI, your phone will act as a speaker. You can also connect a Bluetooth mouse and keyboard to the phone itself.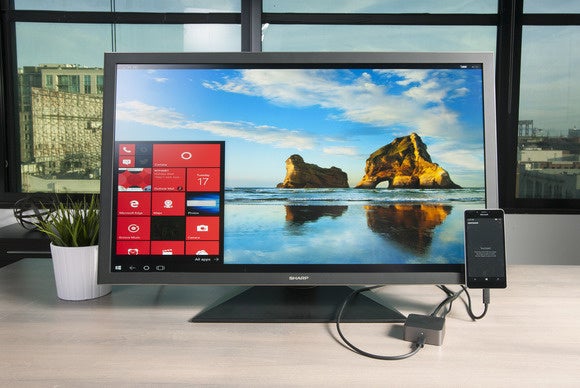 Continuum can also forgo the Display Dock entirely, projecting your phone's screen wirelessly via Miracast to a dongle or directly to displays like the Panasonic CX800 60-inch 4K monitor in our lab. The Continuum app senses nearby wireless displays and helps you set them up. It's amazing to look at, but like Connect to a Windows 10 PC, not really practical—there's a great deal of lag.
With the Connect app running, your phone projects a PC-like, slightly low-res desktop view onto your display, roughly similar to the look and feel of a Surface Pro 4 in tablet mode. Microsoft goes to a great deal of effort to make your Connect experience feel like using a full-fledged computer. You can set a custom, landscape background for your monitor, and apps align themselves in a PC-like taskbar at the bottom of the screen. Tapping the Windows key brings up the Start menu.
In Connect mode, the 950's display transforms itself into a touchpad. You can slide your fingers around to move the cursor, tap with your finger to open apps, pan and scroll with two fingers, and right-click by tapping those two fingers. You can also access the phone's keyboard to enter text—as well as the mic, which I found to be pretty handy for dictating text. The touchpad is simply an app, however, so you can slide over to another task if needed.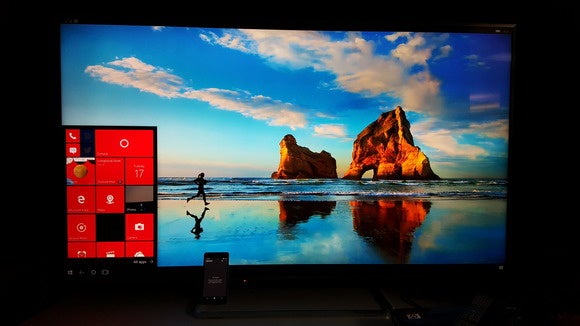 In Continuum, Windows apps scale to fill your entire display. That's a key difference: Android tablets, for instance, can connect to an HDMI monitor via an MHL connector—but you're forced to view the screen inside a narrow rectangle, which mirrors the tablet you have in front of you. The Windows 10 approach is much more useful.
The image stretches a bit awkardly on a widescreen monitor, but it looks very nice while connected wirelessly to the Surface Book. Note that to minimize or close an app, you need to slide your cursor to the top-right corner—there are no visual cues telling you otherwise.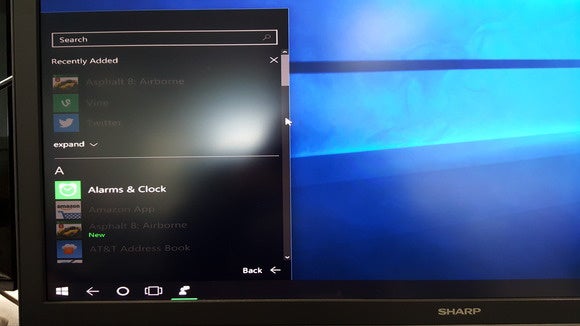 I was very pleased at how I could sit down, open a Word file, begin taking notes on my experience, then return to my desktop PC and pick up where I left off, because everything is saved in the cloud. There's one major limitation: Continuum works only with universal apps for now, such as Outlook/Mail, Messaging, Word, Excel, and Calendar. And there's a minor one, too: while Edge displays a fullscreen experience, it can't run Flash, unlike Edge for Windows 10 PCs.
Microsoft Wallet: maybe a little too convenient?
Microsoft Wallet may have been years late to the NFC tap-to-pay game, but it's made up for it with its ease of use in the revamped version of Wallet, Wallet 2.0. I tried out Google Pay and Android Pay ages ago, and the small hitches—does the phone need to be unlocked? Do I need a PIN?—drove me to spent that extra second to pull out my wallet instead.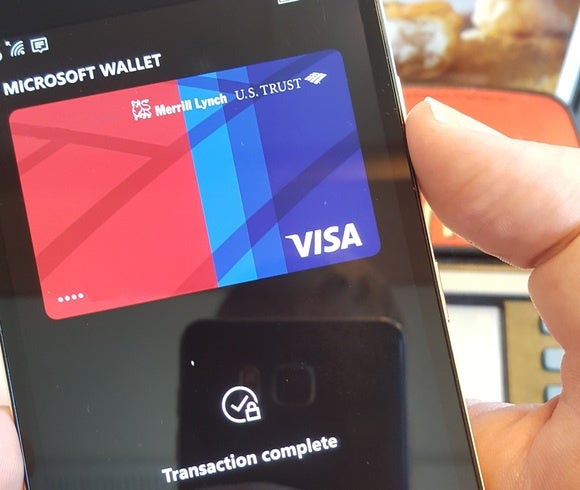 Microsoft Wallet eliminates that needless waste. If you've already uploaded a credit card for app, music, movies, and other purchases within the Microsoft Store, Wallet asks you if you'd like to use that card to make purchases as well. (If the Wallet app doesn't ask for a payment card, you either don't have the AU or you need to update the Wallet app.) All you need is a compatible, NFC-enabled phone like the Lumia 950, and at the store, the "contactless payment" icon at the cashier. Older phones that lack an NFC chip won't be able to tap-to-pay, regardless of whether they're running Windows 10 Mobile.You can store loyalty cards on the phone, too, though they're not automatically applied to a purchase.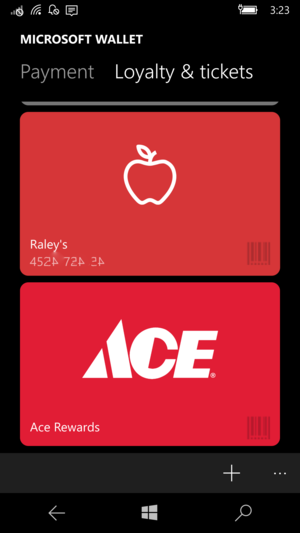 When it comes time to pay, tap the phone on the reader. The phone must be powered on, but the screen can be off and even locked.
Microsoft also wants you to validate your purchase, so as a second step you'll need to use Windows Hello or a PIN to authenticate the transaction. Currently, Windows Hello on Windows phones is limited to iris recognition (Lumia 950 and HP Elite x3) and fingerprint recognition (HP Elite x3). I used the iris scanner on my Lumia 950 to validate the transaction, then tapped the phone again.
I've used Wallet at several stores, and tap-to-pay works well. On one occasion my payment was rejected, but a second attempt succeeded. The broader implications are more important: Tap-to-pay is now an established way of paying via Android and iOS. This is a must-have for Windows phones.
Be warned, however—the ease with which Wallet makes purchases means that you need to make sure you don't lose your phone. Ensure you use a hard-to-guess PIN or password to unlock it, too. If you do lose your phone, you can use Microsoft's existing "find your phone" service to remotely lock it down.
Windows Hello: A cantankerous convenience
The Windows 10 AU doesn't make any obvious changes to existing hardware as far as Windows Hello is concerned, though fingerprint readers, such as on the HP Elite x3, are now supported. It does seem that Hello's iris recognition has marginally improved on the Lumia 950, allowing me to log in more frequently than in months past.
Windows Hello eliminates the need to constantly retype a PIN code by allowing the phone to visually recognize you. It's Microsoft's answer to the fingerprint readers built into the latest Nexus or Apple iPhone. In general, though, I found performance to be a mixed bag.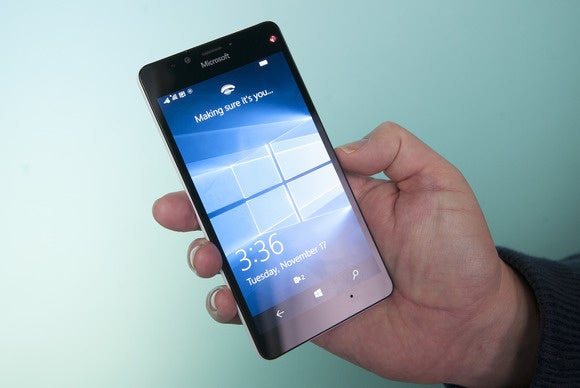 Microsoft's recent Surface Pro 4 and Surface Book use special camera modules that scan your face to create a custom image to compare against the faces the camera subsequently sees. On the desktop, Hello authenticates you almost instantaneously.
The Lumia 950 and 950XL, on the other hand, scan the irises of your eyes to authenticate you. Setup requires allowing the phone's front-facing camera to scan your eyes for several seconds while it creates a reference image. After that, logging into the phone is as easy as looking into the camera's lens.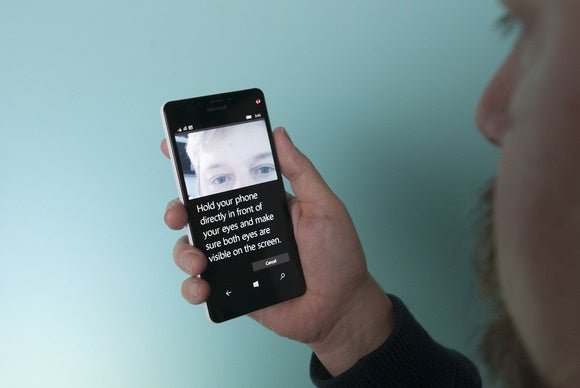 When Hello works, that's all it takes to unlock the phone. But if you're not holding the phone just so, or the light is a bit off, or you're too close or too far away, then simply tapping your phone's four-digit PIN is sometimes the only thing that works. I gave Hello a second or two to work its magic, and if it didn't take, I just entered my PIN.
Under-the-hood UI improvements
Windows 10 uses the same Live Tile interface as Windows Phone 8.1, but with a more muted style that emphasizes wallpapers rather bright colors. Menus and options are much more organized, with a nice array of quick-action shortcuts that slide down from the top. Dedicated hardware buttons have been replaced with soft icons that slide in from the bottom.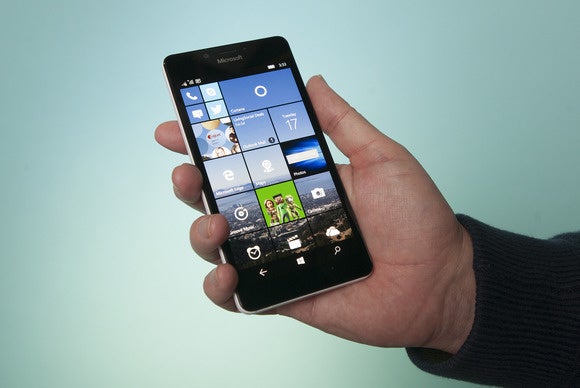 Windows 10 AU introduces a number of conveniences to the main Windows 10 Mobile UI, some of which we'll sum up here:
The Quick Actions grid of shortcuts can be rearranged, so you can pick the four most frequently accessed actions. It's slightly odd to realize that the bottom four grid icons are those most frequently accessed, though.
A new Battery setting (replacing Battery Saver) is actually a slight step backward, as Windows refuses to show you which component of your phone (the screen, the CPU, etc.) consumes the most juice. Displaying the battery life in hours and minutes, rather than guessing the time your phone will turn off, is needlessly obtuse.
An option to automatically switch the audio of a call from the headset to the speaker when pulling the phone away from one's ear makes perfect sense.
Frustratingly, "chaseable tiles" still aren't implemented. For example, the Photos app tile on the Start page won't let you jump to the specific image it's displaying when you click it.
Sharing webpages in Edge to Cortana finally works, allowing you to mark a page with a Cortana reminder to check it out. Swiping a webpage to go forward and back in Edge now works, too, though it can become confused by similar "swipe" navigation elements within a specific webpage.
Provided you have a Windows 10 AU PC, notifications can be dismissed on your phone and they'll disappear from your PC as well, at least after a few seconds.
You still can't place a call from a Windows PC via a connected Windows phone, though you can send texts. (This works with Android and iOS, too, with the Cortana app.)
Universal apps tie the Windows 10 phone to the PC
Everyone knows about the app gap—the sparse supply for Windows Phones compared to the plethora that Android and iOS enjoy. For better or for worse, Microsoft is making the most of what it has by doubling down on the basic productivity message inside its own universal apps. Within the Anniversary Update, the two specific areas of focus appear to be Skype Preview and Maps.
Messaging used to be the domain of Skype—or at least, you had the option of using Skype for text messaging. Now, SMS texts (as well as voice messages, your location, a contact, and more) are sent via the Messaging app, and Skype Preview (also found within Windows 10 on the desktop) handles your video chats and Skype instant messages. Like its desktop counterpart, Skype Preview is simple. You won't find any real-time translations here or screen sharing, just instant messages, audio and video calls, and document sharing.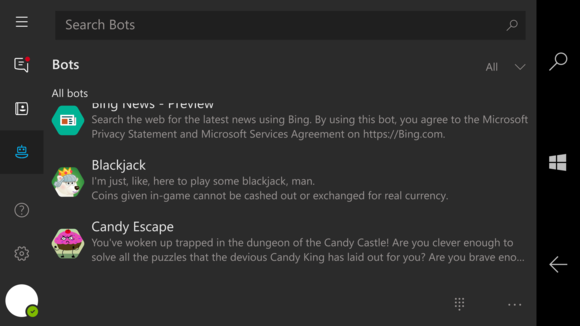 I found Skype Preview's video quality to be generally good over Wi-Fi, though it lagged a bit on the Lumia 640. Video also had a tendency to drop out occasionally, causing the screen to go blank and creating a loud pop or crackle on the other end. I also crashed the app when I tried to place a call to someone who wasn't currently online.
I like the Maps app within Windows Mobile, though I've always suspected Google (and Waze's) directional routing to be a bit superior. Within the Anniversary Update, the Maps app offers a terrific amount of detail—enough, however, that it risks becoming cluttered. You can now see multiple searches on the same screen, which you can leave or minimize. Previously, if you searched for "pizza" across the whole of Chicago, Microsoft would provide a list of restaurants, with their locations listed as confusing numbers (1, 2, 3…) on the map itself. Now Microsoft simply includes the names.
Within Maps, optional routes now appear in a slideable, snapped window at the bottom of the screen. You can even click a traffic camera icon on the map to snag a real-time look at traffic, though all of the icons can get in the way of the map view, if you let them. Microsoft has taken pains to optimize the UI for one-handed use, however, by placing all of the important navigational elements at the bottom of the screen.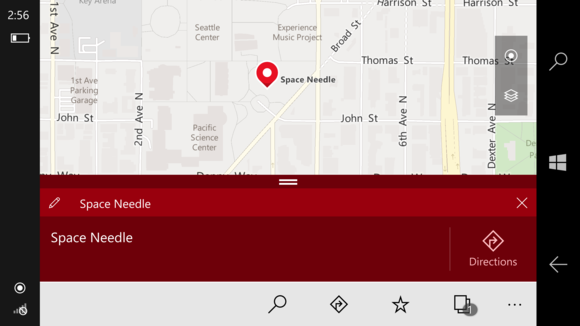 Other key mobile apps include Camera, whose manual controls have now been supplemented with Microsoft's lovely Rich Capture feature, now correctly referred to in the AU as HDR.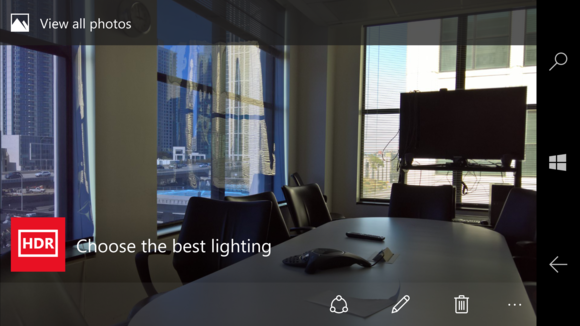 Otherwise, many of the capabilities within Windows 10 Mobile are duplicated from Windows 10's Anniversary Update. You can ask Cortana, for example, to set a reminder with a picture attached. Edge is still the default browser, naturally, and like its counterpart on the desktop version of Windows 10, is surprisingly smooth. Microsoft's worked hard to improve Edge, and that work has paid off.
Third-party universal apps continue to be added, now including banking apps like Wells Fargo in addition to other big names like Audible, Box, Candy Crush Saga, CBS, Facebook (finally!), FitBit, NASCAR, Shazam, and Twitter, to name just a few. The Store app neatly organizes them all, among the music, movies and games that Microsoft sells.
The bottom line: Has Microsoft lost the mobile battle?
Let's face it: While Windows 10 on the desktop is on the rise, Windows 10 Mobile continues precipitously downward. Recent figures put Windows Phone's market share at under 1 percent. Developers still prioritize Android and iOS first, with Windows as an afterthought.
Microsoft's plan to encourage developers to port iOS and Android apps to Windows hasn't yet come to fruition. Microsoft's Android-to-Windows developer effort, Project Astoria, has failed, but Islandwood, the program to port iOS apps, is still alive. Both roads lead to the same destination. If Microsoft can succeed in convincing app developers to port their apps to Windows, that will add additional credibility to the mobile platform for both consumer and developer alike. But Microsoft's Lumia phones are essentially dead, and it's up to the Acer Liquid Jade Primo and HP Elite x3 to carry the torch until the fabled Surface Phone debuts—or not.
That's the key to Windows 10 Mobile's future viability. We wrote last year that Microsoft needed to unearth what made a Windows Phone unique, and capitalize on it with a flagship phone. My verdict for Windows 10 Mobile's Anniversary Update is still a passing grade.
But the fate of Windows phones, I think, is out of Microsoft's control. The company has done so much to entice consumers to Windows phones: previews, incorporating consumer feedback, free upgrades, universal apps, Continuum, you name it—and yet its market share continues to decline. Microsoft's hardware partners will either carry Windows phones forward, or Windows 10 Mobile will eventually be reduced to a collection of services on Android and iOS phones.