Reading is one of life's finer pleasures, especially while tippling your favorite beverage. E-readers make this pastime supremely convenient. If you've decided to choose from Amazon's lineup, we'll help you pick the right one for your needs (or for that special someone on your holiday shopping list).
There will be times when you'll miss the tactile feedback that only a product crafted from ink and dead trees can provide, but the benefits of e-readers are almost too numerous to count: You can read one in the dark. You can change the font and its size. There's no need to go to the store to buy something new to read (or to wait for it to be delivered). You can get definitions of words you're not familiar with. The list goes on and on.
Amazon builds two classes of tablets that can be used as e-readers. There's the Kindle series, which are tablets with black-and-white displays based on e-ink technology, and there's the Fire series, which are tablets with full-color LCD displays. The Fire series includes Amazon's more versatile tablets, since they can be used for watching videos, playing music, surfing the web, playing games, and more. But the tradeoff for this versatility is that their lower-resolution screens don't render text nearly as crisply as the Kindle models.
Here are a couple of other things to consider: You can purchase any Kindle with a 3G option that enables you to purchase books and sync to your account in the cloud, among other things, whether or not you have a Wi-Fi connection. That can be super handy when you're traveling away from home, but it tacks $70 onto the cost of the tablet. This 3G option is not available with the Fire series at any price.
You can also pay an additional $20 for a Kindle that doesn't display Amazon's "special offers"—advertisements that appear on the device's lock screen when it goes to sleep. These ads are the first thing you'll see on a Kindle Fire when you wake it up, and they appear on a Kindle even when it's asleep (fortunately, they'll never interrupt your reading experience). If you didn't do it at the time of purchase, you can pay to "unsubscribe" from these special offers down the road by logging into your Amazon account and navigating to your My Devices page.
I'll cover the Kindles first, since they are more or less dedicated to book reading. Every Kindle has a non-glare screen, which is one of their principal advantages over LCD tablets. But I'm recommending only the two models that also have backlights: the Kindle Voyage and the Kindle Paperwhite. The baseline Kindle is less expensive than these models, but you'll need a supplemental light source if you want to read in darker spaces. If you buy the non-backlit model, you can bet your bottom dollar you'll end up buying a kludgy clip-on light down the road. So it's better to spend the money up front than to deal with one of lights.
Kindle Voyage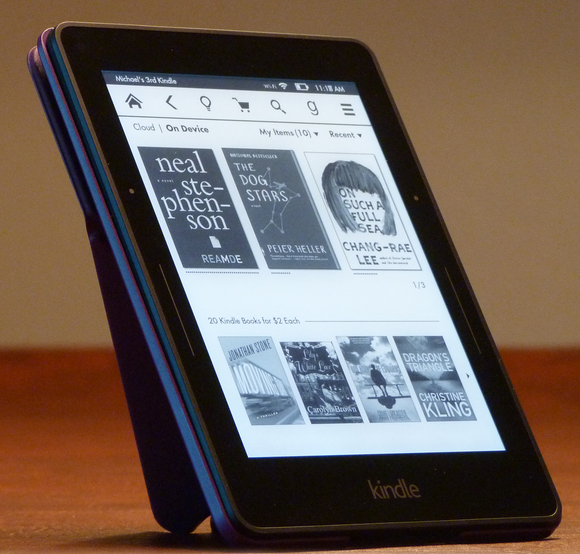 The $200 Kindle Voyage sits at the tippy top of Amazon's Kindle lineup, and we really dig it. Its cover glass is silky smooth to the touch, and it's flush with its bezel. These are features you'll really notice if you swipe to turn pages. If you'd prefer to keep your fingers off the glass, the Voyage is equipped with buttons on its left and right bezels that you can touch to move forward and backward through the book. These touch-sensitive PagePress buttons, as Amazon calls them, are easily accessed whether you're holding the Kindle in your left or right hand. Read our full review of the Kindle Voyage here.
As I've already mentioned, a backlight enables you to keep reading no matter the lighting conditions in the room. Just know that a backlight will also reduce the time you can read while running on battery power. Enable the Voyage's built-in ambient light sensor, and it will automatically adjust the backlight so that it consumes less power. Here's another benefit: Put one of Amazon's Kindle Voyage covers on the Voyage (the Origami model is particularly nice), and the ambient light sensor will immediately put the Voyage to sleep when you cover its display. Open it back up and the Voyage will be ready to read before you've completed the motion.
Kindle Paperwhite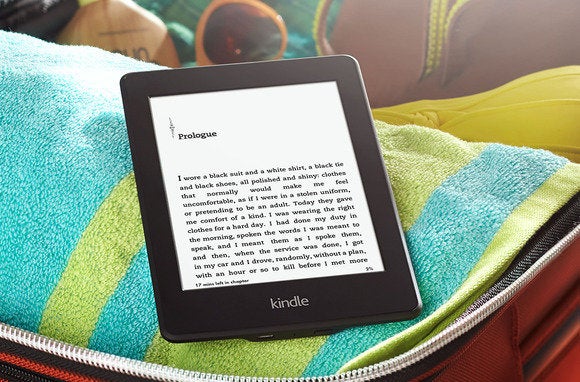 Amazon's second-generation Paperwhite wiped away one of the Voyage's key advantages: Both models now deliver the same 300-pixels-per-inch resolution that makes reading on them such a joy. Two caveats: It's slightly thicker and heavier than the Voyage, and you'll need to adjust the Paperwhite's backlight manually to compensate for ambient lighting conditions (but you probably won't bother, which will mean its battery will run down more quickly).
The Paperwhite's cover glass also has a somewhat pebbly surface that you might find irritating, and there's a bit of ledge between the glass and the bezel. Those are differences you'll feel every time you turn a page—even if you don't have a hypersensitive sense of touch—because the Paperwhite doesn't have those elegant PagePress buttons.
The Paperwhite's regular price is $120 to the Voyage's $200—but Amazon is taking $20 off the Paperwhite's price tag as part of its Eight Days of Holiday Deals until Friday, November 27. If you can catch the Paperwhite deal, you could opt for both of its available options—3G connectivity and no special offers—and still pay $10 less than the price of a Voyage. The Voyage is Amazon's best e-reader—heck, it's probably the best e-reader on the market—but the Paperwhite delivers more bang for the buck.
7-inch Fire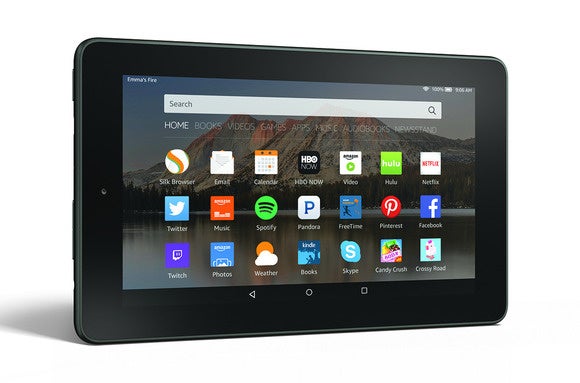 Speaking of bang for the buck, take a look at Amazon's 7-inch Fire tablet: The Fire's specs read like a state-of-the-art tablet circa 2012, but you can pick one up for just $50—and if buy you five, Amazon throws in a sixth one for free. Even better, Amazon is running a promotion through Friday, November 27 that discounts the Fire to just $35 if you catch it as one of Amazon's "lightning deals." The buy-5-get-1-free deal does not apply during the sale.
Now before you trip over yourself to buy one, know that the Fire has a very slow quad-core processor, just 8GB of memory, a monophonic speaker, a VGA-quality front-facing camera, a 2-megapixel rear-facing camera that records 720p video, and a single-band 802.11b/g/n Wi-Fi adapter that can connect only to crowded 2.4GHz networks. Most importantly—at least when you think of it as an e-reader—its 7-inch display delivers resolution of only 1024×600 pixels. That's just 171 pixels per inch.
The Fire is outfitted with an IPS touchscreen, which is vastly superior to the less-expensive TN panel that Amazon could have opted for at this price, but it's highly reflective and it doesn't refresh as quickly an e-ink display can. As with the Kindles, you'll need to pay a little more to avoid those special offers, but there is no 3G option.
So the Fire isn't the best e-reader value, but it is capable of a lot of things that even the top-shelf Kindle Voyage is not. You can watch cat videos, for instance. You can surf the web and read things other than books, including email. You can play games (as long as they're not too processor intensive). You can take pictures and shoot video. You can stay in touch with friends and family on social networks, like Facebook and Twitter. You can listen to music. And more.
Will those media experiences be as fluid and fast as they would on a more-expensive Android tablet or on one of Apple's iPads? Certainly not. But show me another name-brand tablet that you can buy for $50.
Fire HD 8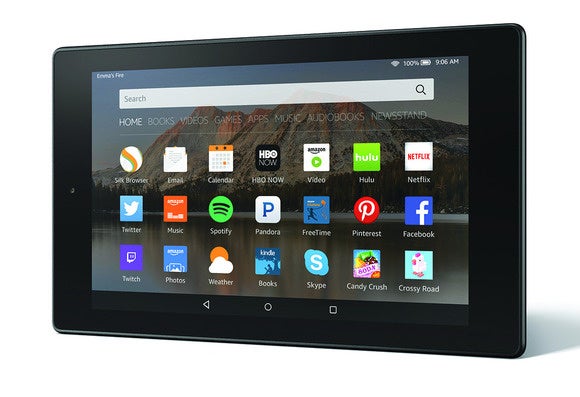 Amazon's Fire HD 8 is just one inch wider than its Fire sibling, but the bigger model has a slightly faster processor, a dual-band 802.11ac Wi-Fi adapter, and stereo speakers (boasting Dolby Atmos, for some reason). While the 1280×800 Fire HD 8 delivers slightly higher resolution than the Fire, these pixels are spread over a larger touchscreen, resulting in a pixel density of 189 pixels per inch (compared to 300 dpi for each of the new Kindles).
As it did with the smaller Fire, Amazon builds the Fire HD 8 with an IPS touchscreen. Again, that's much better than a cheaper TN panel, but it lacks the anti-glare properties that make an e-ink display so easy to read. And here again, you'll need to pay extra to rid yourself of Amazon's "special offers" (ads that appear when the Fire HD 8's screen is locked). As with the cheaper Fire, there's no way to add 3G connectivity to this tablet.
When you read a book on a Fire HD 8, the tablet's weight might bother you more than its low-resolution display. This is also true of the cheaper Fire tablet, since they both weigh the same 11 ounces. Compare that to the Kindle Paperwhite (7.2 ounces) and the Kindle Voyage (an almost wispy 6.6 ounces). An Apple iPhone 6, for the sake of comparison, weighs 6.07 ounces.
If you want the versatility that a color LCD tablet provides, the Fire HD 8 is much faster and more versatile than the cheaper Fire. It's the best choice if you want to play games and use other graphics- and computational-intensive apps, and it has superior audio capabilities. But its marginally higher resolution won't make much of a difference for reading.
Decisions, decisions
If reading books is your primary reason for buying a tablet, we heartily recommend you choose one of the Kindle models. They're thin, lightweight, and very easy on the eyes. Of the two covered here, the Voyage is the luxury choice, but the Paperwhite is the model we recommend based on its excellent price-to-performance ratio.
We'd argue that the additional $20 to rid a Kindle of Amazon's special offers ($15 for either of the Fire tablets) is worth the money: Who wants to see an ad for anything before diving into a book? The Kindle's $70 upcharge for 3G connectivity is a little harder to justify, but once you've enjoyed the flexibility of syncing and buying new books no matter where you are, it's hard to give up. (Just know that Amazon might charge a small fee if you use 3G service while you're traveling overseas.)
If you want a more versatile tablet—one that you can use to watch videos, browse the web, play games, and so on—go for one of the Fire tablets. They're also the better choice for reading color graphic novels. Of the two covered here, it's hard to beat the 7-inch Kindle's $50 price tag. Its lower resolution (compared to the Fire HD 8, that is) won't be much of a detriment to reading or watching videos, but its slower processor, single-band Wi-Fi adapter, and mono speaker will impinge on your enjoyment if you want to do other things.