Asus's Chromebit CS10 is small enough to go just about anywhere. Still, you may wonder why anyone would actually want Chrome OS on a stick—when you could buy a Chromebook for travel, a Chromebox for home use, or even the much-cheaper Chromecast for media streaming. There are users who don't fit tidily into any of those categories, though, and by taking the best aspects of the Chromebit's sister devices and combining them into a single, cheaper product, Google and Asus fill in the gaps.
Specs
When you first hold a Chromebit in your hand, it looks and feels like an overgrown Chromecast. But this $85 device is really a Chromebox, shrunk down to roughly 4.75 x 1.25 x 0.625 inches and weighing 2.65 ounces. To use it, you'll need a display with an HDMI port. You'll also need a mouse and keyboard.
Outside is a single USB 2.0 port capable of supporting USB hubs. If you want to use the single USB 2.0 Type A port, you must use a combo setup or a hub. Otherwise, you'll have to use a Bluetooth setup.
Inside is a quad-core ARM-based Rockchip RK3288 processor, 2GB of RAM, and 16GB of eMMC storage. Initially I encountered some latency when testing a Belkin USB 2.0 hub with my USB mouse, but it cleared up after removing the hub and plugging it back in. The Chromebit also offers dual-band 802.11ac WiFi and Bluetooth 4.0, with built-in support at the setup screen to pair Bluetooth peripherals like keyboards and mice. Its ability to handle web-authenticated Wi-Fi networks seems to be superb—I was able to log into my finicky guest WiFi network easily, something I've rarely achieved on other devices. That's promising if you intend to use it while staying at a hotel.
Performance
Overall, the Chromebit performed reliably well for its size constraints. While it lacks the zip you'd get from a beefier Chrome OS machine, it loads webpages and handles most streaming video without a hitch. Major sites optimized for streaming, like Netflix and YouTube, ran flawlessly, but some framerate drops and buffering did appear in a large MP4 file served by a niche site for dance competition videos. While I could still watch the dance performances, it wasn't nearly as smooth as I wanted from video involving so much movement.
Synthetic benchmarks backed up this subjective experience: On the whole, whether handling cr-XPRT 2015's basic productivity tasks or Google Octane 2.0's more advanced browsing-based activities, the Chromebit performed as well as other, similar ARM-based chips. You can't really expect any surprises from hardware squeezed into such tight quarters. If anything, the startling aspect of performance was just how relatively cool and silent this dongle was during tests. Under load, Intel's Compute Stick becomes audible and fairly warm. In fairness, Windows is far more demanding, but if tucked out of sight, most people wouldn't even know the Chromebit was present.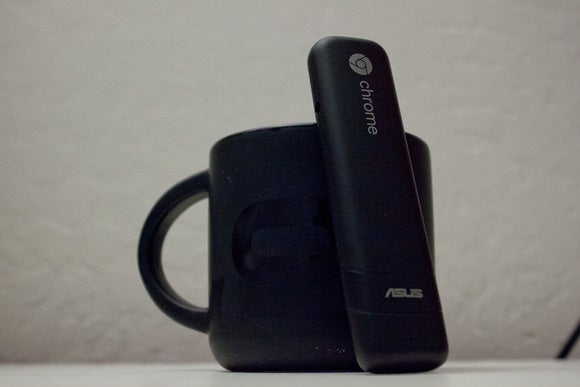 Who will love Chromebit
Unlike Intel's Compute Stick or even other Chrome OS machines, the Chromebit is actually an easier sell to a wider variety of people. It's not necessarily a replacement for a streaming box or a full Windows PC. Instead, it's a nice complement to the overall ecosystem of gadgets you may already own. For the times that you need more flexibility than a Chromecast for streaming, require only a very dependable, basic, and cheap device for everyday web-based tasks, or want to have both while traveling, you can have it for just $85—that's almost half of what Intel's Compute Stick costs. And unlike Intel's Compute Stick, you won't notice nearly as much compromise in performance.
That said, the Chromebit's struggles with presumably non-optimized streaming video does hint that we'll see it age faster relative to other, more powerful Chrome OS devices. In that way, it is similar to the Compute Stick— a product line that needs internal hardware to catch up to the concept. Subsequent iterations should improve the experience; hopefully, the idea of the Chromebit will survive long enough for that to happen.