On Tuesday, Google announced the $249 Asus Chromebook Flip. As the first mainstream Chrome device to offer a 360-degree hinge, the Flip can function as a tablet as well as a laptop. (Lenovo was first to offer a Chrome OS convertible with its ThinkPad Yoga 11e last year, but that model was meant primarily for education, and was chunkier and pricier that most people would like.)
By the time the Chromebook Flip ships—in six to eight weeks, Google says—Google will also release version 42 of Chrome OS, with updates to improve the touch experience. Google says highlights will include the ability to flip the display image, an onscreen keyboard, handwriting recognition, and "full offline capabilities."
What this means for you: The Asus Chromebook Flip marks a big evolutionary step for an ecosystem that's already on a roll. In the past two years, Chromebook manufacturers have branched out from their primitive, plasticky beginnings, introducing models with bigger displays, touchscreens, and faster chips.
Google manufacturers its own stunning flagship, the Chromebook Pixel, now in its second generation. But until the Flip, there's never been a mainstream convertible that's designed for express use as a tablet. As the Chrome OS platform receives better app support as well, users have fewer and fewer reasons to care whether a system is based on Windows, Mac, or Chrome.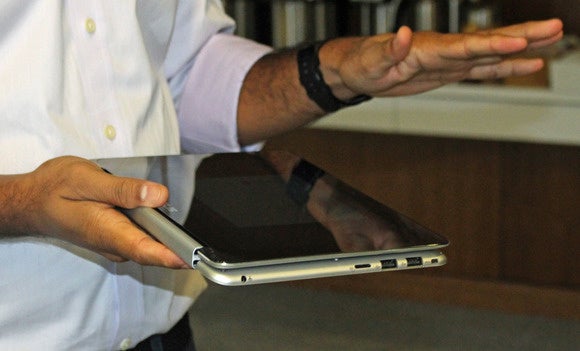 Dressed to impress
The Chromebook Flip, with its 10.1-inch display, is smaller than most Chromebooks, which have displays measuring 11.6 inches and up. You might forgive the loss of real estate given that the display uses the superior IPS technology, and its resolution is full HD (1366×768 pixels).
An all-metal chassis gives the Chromebook Flip the promise of durability, and yet the device is light—less than 2 pounds, Google says.
The Chromebook Flip squeezed an adequate supply of connectivity into its slender profile. On one side, you'll see two USB 2.0 ports, an SD card slot, HDMI, and an audio jack. On the other, you'll see power and volume buttons, plus the DC power port.
Under the hood you'll find 2GB of RAM and the Rockchip 3288 CPU. Rockchip, a new partner for Google, brings less expensive, more power-efficient CPUs to the Chromebook lineup. Google also announced new Chromebooks from Haier and Hisense with the same chip. Benchmarks from our hands-on with the new Hisense Chromebook indicate that this processor holds up well compared to older ARM chips.
Google is serious about battling Windows and Mac laptops for computing dominance. Google vice president Caesar Sengupta told us that the Asus Chromebook Flip is just one of 10 new Chromebook models coming out in the next couple of months. The Chrome ecosystem is looking lively and interesting, in a way that should worry both the Windows and Mac ecosystems. Stay tuned for a Chromebook Flip review when the convertible ships in late Spring.