The Hisense Chromebook—announced Tuesday morning and available now at Walmart.com—costs just $149. And that super-low price is probably its most remarkable feature. This model, along with the Haier Chromebook also announced today, sets a new standard for affordable computers in this age of more expensive Windows laptops, and even pricier Macs.
We could easily criticize this Chromebook for everything it doesn't have for $149, but we can't ignore the benefit of that price point for people or schools on a tight budget. Think about it this way: The minimum wage in San Francisco (where PCWorld is based) is currently $11.05. Someone working for that wage would have to work about 15 hours (based on gross pay, and assuming sales tax) to afford the $149 Hisense Chromebook. That already seems like a lot, doesn't it?
If the Hisense Chromebook didn't exist, however, that person would have to work about 20 hours to afford a $200-range Chromebook (or HP Stream 11, the Windows-based rival). And that labor penalty scales evenly for more expensive machines. Now you see why a $149 laptop could fly off the shelves at Walmart. At $149, these machines are relatively disposable as well—a consideration for parents who want something their kids can destroy with minimal fiscal impact.
Considering the price, the Hisense Chromebook is a decent machine. It's not in the least bit flashy, with its textured, matte-plastic chassis. The bezel around the 11.6-inch display is thick, but that may be part of the reason why the lid feels so sturdy.
The display quality is nothing special—a common drawback among low-end Chromebooks. But the video playback quality is surprisingly good. We could play an action movie at full-screen with only very occasional hiccups. (The GPU is a Rockchip Mali 760 quad core). The viewing angles are limited, however, and brightness maxes out at 200 nits. The speakers are the usual tinny sort you find in most laptops.
The base of the Hisense Chromebook feels rock-solid. The metal plate covering the wrist area around the trackpad probably contributes to that, but the cold metal feels uncomfortable.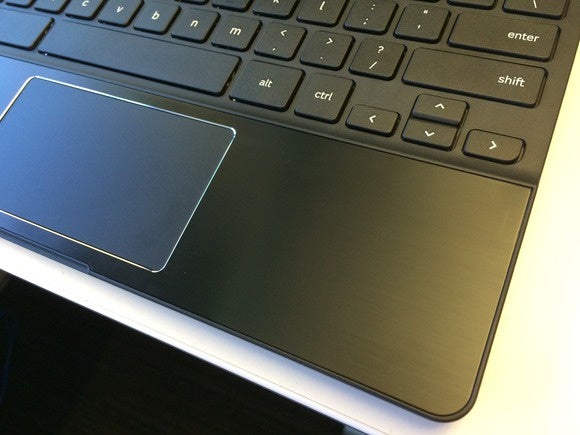 The keyboard is adequate, but it's the cheapest-feeling part of the Hisense Chromebook. Its hard-plastic keys feel second-rate. The slightly springy travel compensates a little bit, but the entire keyboard area bends a bit while typing.
Connectivity features include 802.11ac Wi-Fi and Bluetooth. Ports include one HDMI, two USB 2.0, and audio, plus an SD Card reader.
The Rockchip CPU: Balancing cost and performance
Now let's dive into the Rockchip RK3288 CPU that contributes to the Hisense Chromebook's low price. For comparative testing, we updated the Hisense Chromebook to the latest stable build of Chrome OS, and installed that same build on our Chromebook test stable, which includes the Google Pixel, the Acer Chromebook 13 and Chromebook 15, and the Toshiba Chromebook 2.
For comparative performance testing, we also included Google's new Pixel, which we're calling Pixel 2 in our chart to make it easier to read. [Note: We didn't get a chance to update the Pixel 2 to the latest OS, so we're reusing previous results. The Pixels are much higher-end, but we've included the results for reference.]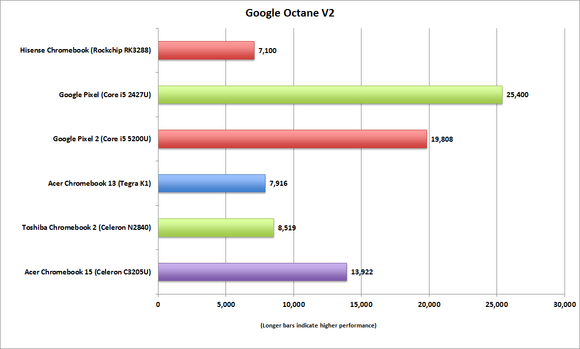 In general, the quad-core Cortex A17 architecture used in the new Hisense Chromebook is somewhat competitive with Intel's budget Celeron N2840, which powers the vast majority of new Chromebook models. In other tests, though, the extreme budget roots of the Hisense's RK3288 chip are apparent.
Google's own Octane V2 test, which measures JavaScript performance, pegs the Rockchip as just slightly slower than the Atom-powered Toshiba Chromebook 2 and its Celeron N2840, as well as Acer's Chromebook 13 and its Tegra K1 chip. That tells us the new Hisense Chromebook should offer fair performance for the vast majority of what people do in a browser.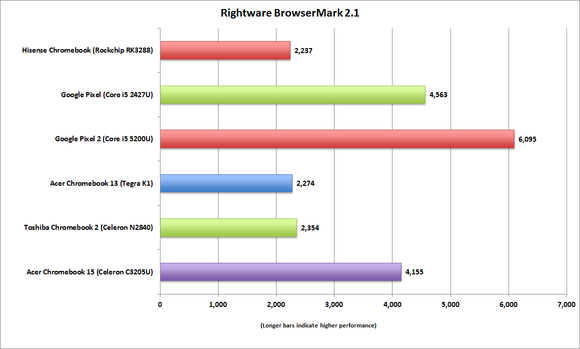 That assessment is backed up by Rightware's BrowserMark 2.1 test, which also includes testing of JavaScript as well as CSS, DOM and graphics tests. Again, that's not bad for a chip that's usually associated with rock-bottom performance.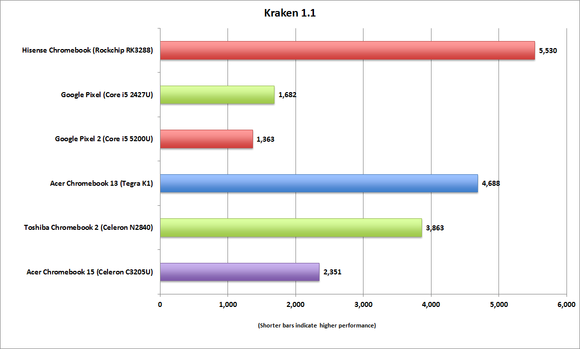 Mozilla Kraken 1.1, however, exposes some shortcomings in the Rockchip part. The test is also a JavaScript test, and uses some aspects of the popular SunSpider benchmark. There's audio processing, image filtering, and cryptographic tests in the test, and the RK3288 falls far behind the Nvidia Tegra K1 and the Celeron N2840.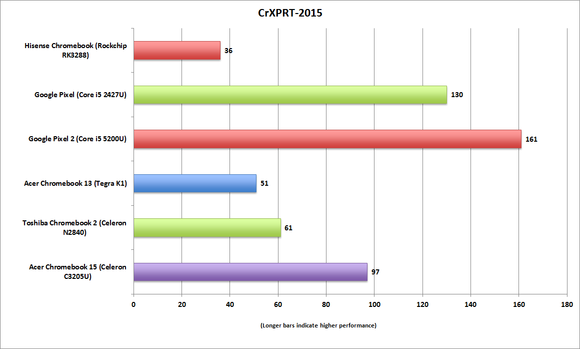 We're seeing the same dead-last performance in Principled Technologies CrXPRT-2015 test. There's a lot of HTML5 and JavaScript, as well as encryption and WebGL used in the simulated apps that test photo editing, face detection, offline note taking and even a DNA sequence analysis. Intel's little Bay Trail-based Celeron pounds the Rockchip. Badly.
Battery life, we're still testing. Google specifies 8.5 hours, but we got only 6.22 hours in our rundown test. The disparity's big enough to recheck, and we'll keep you posted.
Overall performance of the Hisense Chromebook isn't bad, especially compared to older ARM-based Chromebooks (Acer's Tegra K1 is not included in that group). Compared to the vast majority of budget Chromebooks, which are Intel Atom/Bay Trail-based, it offers somewhat competitive performance in many areas.
The people's PC
Whatever the Hisense Chromebook's shortcomings, we can't deny the power of the price. It is now possible to buy an adequate computer for $149, a cash outlay many people can afford. What's more, the Chrome ecosystem continues to add promising features, including Android apps to help close the app gap. Microsoft may be trying hard to beat back Chrome, but bargain laptops like the Hisense Chromebook help keep Google ahead of the game.
Note: When you purchase something after clicking links in our articles, we may earn a small commission. Read our affiliate link policy for more details.
Melissa Riofrio spent her formative journalistic years reviewing some of the biggest iron at PCWorld--desktops, laptops, storage, printers--and she continued to focus on hardware testing during stints at Computer Currents and CNET. Currently, in addition to leading PCWorld's content direction, she covers productivity laptops and Chromebooks.