At a Glance
Expert's Rating
Pros
Gaming performance that just won't stop
Relatively compact for hardware inside
Cons
What, no room for a 4th Titan X?
Where's the custom liquid cooling?
Americans love stats. Who has the greatest batting average of all time? (Ty Cobb.) Who was in the most James Bond movies and how many times? (Roger Moore, with six.) Can a gaming PC really cost $9,683? (Bleep yes!).
Falcon Northwest, the company credited with creating the "gaming PC" category, thinks it has justification for the audacious price of its Mach V Icon2, and many might agree: It has three, count-'em, three of the fastest gaming GPUs on the planet inside of it.
Yes, that's three of Nvidia's $1,000 GeForce Titan X cards running in Tri-SLI mode. One card alone is capable of playing most of today's most punishing games at 4K resolution, but only if you're willing to run at high settings instead of Ultra, Ultimate, or Uber, and you have a G-sync monitor that smooths out those occasional slower frame rates.
Three Titan X cards: As fast as you'd expect
How fast are three Titan X cards? When I first received the rig I ran 3DMark's FireStrike Ultimate, which lets you compare results run at 4K resolution against Futuremark's massive database of results. The Mach V landed in the top 40.
You might scoff at a result "only " in the 40s, but Futuremark's leader board includes machines overclocked using liquid nitrogen, liquid helium and all kinds of extreme-overclocking sports entries. To land in that esteemed company with a production machine is no small feat and easily puts the Mach V among the fastest gaming rigs in the world.
The Mach V isn't just about the Titan X cards, though. Falcon matches those three GPUs with Intel's 8-core Core i7-5960X, with a smooth little overclock to 4.3GHz. That's not the most aggressive overclock around, but it's respectable and stable. We had no issues with crashing during our time with the Mach V.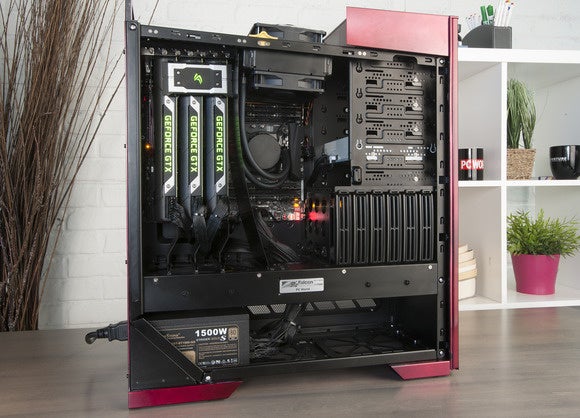 There's also 32GB of G.Skill DDR4 buzzing along at 2,400MHz, a pair of Samsung 850 Pro drives in RAID 0, 1,500 watt Silverstone PSU, and even an optical drive for old-school use. That RAID configuration certainly surprised us, though. Sure, 2TB of fast SSD storage is good, but are we truly at the point where a hard drive isn't needed anymore? People's opinions will vary, but I'd still like to see a 6TB or even 10TB drive for backup use.
This is all installed on an Asus Rampage V Extreme with USB 3.1 support. Yeah, we were excited about seeing USB 3.1 on this motherboard, but we had nothing to test it with. There are simply no USB 3.1 devices available yet. But hey, we're ready whenever it does actually appear, right?
The case itself is a custom-painted design built by Silverstone that flips the GPUs into a vertical position. This helps cooling by venting air out the top of the case rather than trying to exhaust it out the back. Falcon aids this effort by adding a massive fan below the cards to help blow air through the top. To keep the GPUs from super-heating the rest of the system, a baffle is also used to wall off the GPUs from the CPU.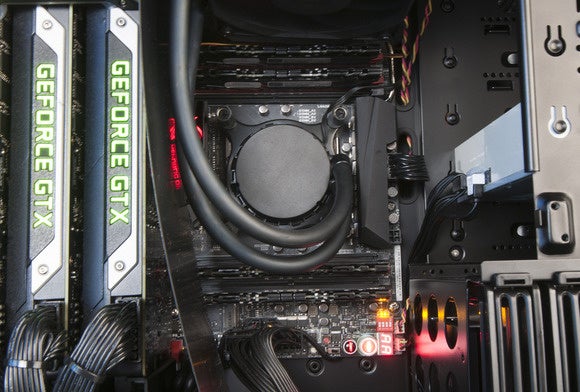 This probably isn't a bad idea. While the GeForce GTX 980 was known for its gentle temperatures, the GeForce GTX Titan X isn't. I measured temperatures on the cards on some spots at 179 degrees. Yes, that's as hot as McDonald's coffee was before the lawsuit. Much of that heat is trapped between the cards. Others have recorded temps hitting 213 degrees!
If these temps make you wonder about stability, Falcon says it stress-tests the machines it sells in a room heated up to 80 to 90 degrees overnight to vet bad components.
On the performance tip, the Mach V certainly lights up our charts. Let's just say the three Titan X cards don't disappoint. The next-fastest system is AVA Direct's i7 X99 box we reviewed in December. Using the synthetic but still-respected 3DMark FireStrike Extreme, we see the Mach V outperforming the pair of GeForce GTX 980s in the AVA Direct by almost double. Our reference system, with its single GeForce GTX 980, is pretty lonely way back there too.
To see how the Mach V does in an actual game, we spooled up Tomb Raider set to Ultimate and running at 2560×1600 resolution on a 30-inch panel. Even though we didn't expect such a difference at this "low" resolution, those three Titan X cards put serious distance between the AVA Direct's pair of GTX 980 cards and our single GeForce GTX 980. For kicks, we also included MSI's Titan SLI "laptop" to see how its pair of GeForce GTX 980M cards in SLI would do. It's not bad considering it's a gaming laptop, albeit one big-ass gaming laptop.
Gaming at 2560×1600 with three Titan X cards is downright criminal, though, and in some states, you can actually be charged with a Class B felony for using too much hardware for your gaming resolution. (Just kidding!) So I also ran the Mach V on a 4K display. You might think with this much firepower you can play with, say, three 4K panels in surround, but I think we're not quite there yet.
In 3DMark FireStrike Ultra, I saw the Mach V give up 11,238. At the time of our original run, before Titan X cards were out, that was good enough to put it in the top 40. With Titan X cards in the hands of more folks, the Mach V has slipped all the way back to the low 40s—among all the PCs on the planet. For shame.
In actual gaming, Tomb Raider at 4K and set to Ultimate still puts out 135.4 fps. I also ran Middle-earth: Shadow of Mordor with the 4K texture pack installed and saw 81.6 fps. I didn't have access to the AVA Direct machine to run this benchmark, but I know from our review of the Titan X, a single card in this benchmark at 4K pushes 35.6 fps, and a pair of 980s plows along at 43.9 fps. That's a testament to just how demanding Shadow of Mordor is of GPUs.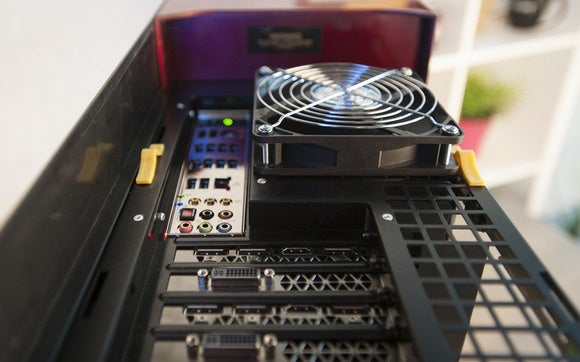 Ryse: Son of Rome is another GPU-crushing game. It doesn't have a built-in benchmark mode, so I played through the game a little to see how the frame rate would react playing at 4K and set to Ultra. For the most part the frame rate stayed in the mid- to high 80s, which is still well above the magic threshold of 60 fps to appear smooth without resorting to a G-sync or Freesync panel.
The Mach V is obviously aimed at gamers, but few gamers I know are exclusive to gaming. Most also edit photos and video and use their PC for general tasks. With its 8-core Haswell-E Core i7-5960X overclocked to 4.3GHz, the Mach V isn't going to seem slow, but it won't be the fastest thing on the planet by a long shot.
In fact, the AVA Direct i7 X99 rig that cost almost half as much as the Mach V actually managed to outpace it in our Handbrake Encoding test. This isn't the only test where the AVA Direct beat the Mach V, either: The AVA Direct also outran it in PC Mark 8's Work conventional test. In that test, of course, once you're above a certain performance floor Word doesn't ever get "faster." The encoding test is a surprise, though, because the AVA Direct wasn't overclocked as heavily.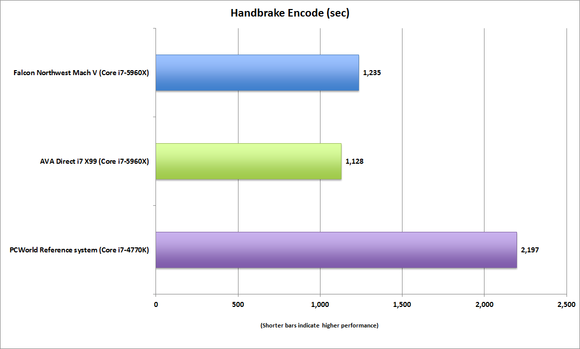 So where does this leave the Falcon? The most obvious two points: Damn, it's fast for a gaming box. And, of course, damn it's expensive too. Boutique PC builders have always demanded a premium, though. For those who can even think to pay for a machine with this hardware, it's not too pricey.
It's like the old adage goes: If you need to ask how much, you can't afford it. That can be said of the Mach V too, except its $9,683 actually isn't that crazy. With each Titan X costing a solid grand, you're already at a third of the price just in the graphics cards alone. And don't forget the beautiful paint job.
I do have a few criticisms. I miss the hard drive, although as a custom builder, Falcon will sell you all the hard drives you want. It likely doesn't include a high-capacity drive here because it didn't want to crack the psychological $10,000 mark.
More importantly, is it too much to ask for custom liquid cooling? Granted, it isn't available for the new Titan X cards yet and isn't as leak-resistant as closed-loop coolers, but it's starting to become the norm on high-end rigs.
The Falcon Northwest Mach V Icon2 is freaking expensive, but for that price you're relieved of the burden of turning down any in a game. Knowing that it's from the company that literally build the gaming PC category, you've got guts and gravitas to spare.