It's difficult to think of the growth curve of Digital Storm's Bolt micro-tower, and not think of your neighbor's kid who seems a foot taller every time you see him.
We first knew the Bolt as an ungainly, too-thin micro-tower incapable of anything more than air cooling for its CPU. It ran too loud. Then the Bolt 2 beefed up, adding muscles and even custom liquid cooling.
And now the Bolt 3 is back from college, and you wonder where the time went. Gone is the folded powder-coated steel in favor of brushed aluminum. The interior is also showcased with a side door made entirely of glass.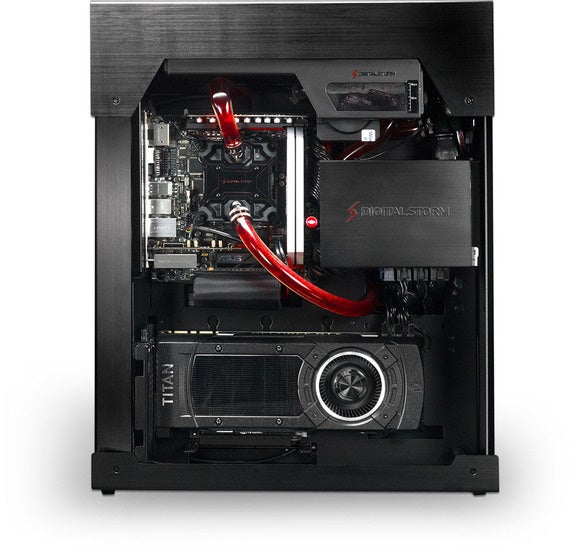 Why glass? We didn't get a chance to ask Digital Storm, but it's probably because glass adds a luxurious look and feel to any PC. Side doors are typically made of plastic, which scratches easily, is difficult to clean, and frankly feels cheap.
Believe me when I say glass looks dead sexy on any case. The Bolt 3 won't be the first with glass, as defunct Voodoo PC used glass doors in its custom systems in the late 1990s.
The only real downside to glass is weight… and the possibility of shattering. Hopefully, the glass in the Bolt 3 is tempered so if you do break it, it'll pose less risk of cutting you.
Digital Storm didn't spill other details of the Bolt 3, but it's easy to see it still uses a Mini-ITX motherboard, and custom liquid cooling is still present. And no big surprise: It'll run Nvidia's top GeForce GTX Titan X card. I'd guess the Bolt 3 will be based on Haswell initially, but hopefully someone gives Asrock's X99E-ITX/ac a good going over.
Asrock raised eyebrows by doing something other board vendors said was impossible: Getting Intel's big boy LGA2011-3 into a miniature motherboard. The price is high, though, as Asrock had to cut back from quad-channel RAM to dual-channel RAM in the board. Still, that means it's finally possible to build a micro-tower with an eight-core Core i7-5960X instead of the quad-core Haswell CPUs.
The micro-tower form factor isn't an officially homologated definition for the industry, but it's generally come to be defined by enthusiast system builders as a small, thin tower capable of supporting a full-sized graphics card. Credit for this goes to the original Alienware X51, but you can reach back further for the concept to HP's Firebird 803. But since the Firebird 803 was a dud with its heavy use of proprietary and mobile parts, most give the X51 credit for the current revolution.
If you're wondering where you can buy just such a case enclosure for your own build, you probably can't. I'm going to imagine that just like Digital Storm's other high-end offerings, the case is an in-house design and custom-built right here in the US of A. It's long been one of the signature moves that sets Digital Storm apart from other boutique system builders.
I'll have to wait to find out when one arrives for review, though. I'll be standing by with a bottle of Windex.