With the Surface 3, Microsoft finally puts forth a budget alternative to the Surface Pro 3 that's worth considering—if only because it runs full Windows 8.1 rather than the limited Windows RT of prior Surface models. The $499 starting price doesn't hurt either (the Surface Pro 3 starts at $799). But there's more to the Surface 3 than that, and we dove straight in as soon as we received our unit.
Microsoft sent its higher-end Surface 3 for evaluation: the $599 version with 4GB of memory and 128GB of storage. (The $499 version has 2GB of memory and 64GB of storage.) As with its pricier cousin, everything else for the Surface costs extra: The separate Type Cover keyboard costs $130, partially offset by the free one-year subscription to Office 365 Personal, which saves you $70 initially. That 128GB of storage shrinks to about 93GB after setup, and about 88.8GB after installing Office.
A smaller Surface Pro 3
If Microsoft sold the Surface Pro 3 as the "tablet that can replace your notebook," the Surface 3 offers a similar solution, only everything's just a bit smaller, especially if you've been using the Surface Pro 3 as a daily driver, as I have. The Surface 3's display measures 10.8 inches across, for example, with a resolution of 1920×1280 pixels, compared to the 12-inch, 2160×1440 display of the Surface Pro 3.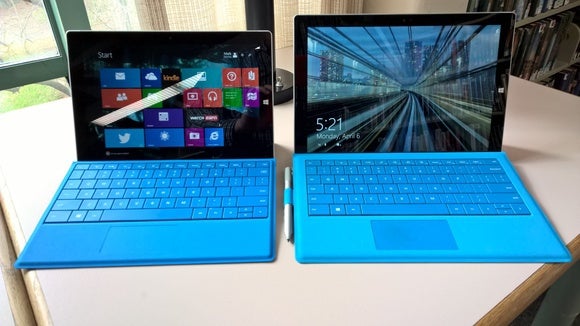 The smaller display, combined with the Surface 3 Type Cover, contributes to a slight feeling of claustrophobia. Another noticeable limitation: The Surface 3 includes a kickstand with three fixed positions, rather than the nearly infinite range of pitch options with the SP3's kickstand.