At a Glance
Expert's Rating
Pros
Good everyday and gaming performance
Top-notch motherboard
Nice fit and finish
Cons
Core i7-5820K CPU limits SLI configurations
According to Micro Express, the majority of the customers for its Microflex 20B are power users that do a lot of work with Photoshop, video and other intensive applications rather than game. Personally, I'm taking that with a grain of salt; most "work" power-user systems don't feature red and blue interior lighting, or a clear panel to show off the inner workings. But regardless of how you classify it, the 20B is a capable performer that won't break the bank. The only fly in the ointment with our $1,699 test configuration was that Micro Express's CPU choice limited the graphics upgrade options.
Components and configuration
Hosting the 20B's main components is an Asus X99-Pro motherboard—one of Asus' best with Tri-SLI support, eight RAM slots, and a PCIe 3.0 M.2 slot. The M.2 slot is filled with a 512GB Samsung XP941 PCIe 2.0/M.2 SSD. It doesn't take full advantage of the slot's 4GBps of bandwidth, but it still reads and writes at over 1GBps. A PCIe 3.0 SM951 would utilize the slot to its fullest, but it wasn't available when Micro Express shipped us this system.
The CPU on our test unit was a six-core, Hyper-Threaded, Intel Core i7-5820K. It's fast and more affordable than the Core i7-5930K (also six-core), but it doesn't take full advantage of the motherboard's capabilities. PCIe 3.0 lanes are now provided by the CPU, so with the 28-lane Core i7-5820K you can use only two cards in an SLI setup—and one will be kicked down to 8X mode. If you intend to add another graphics card and want it at 16X, spend the additional $299 for the 40-lane Core i7-5930K option.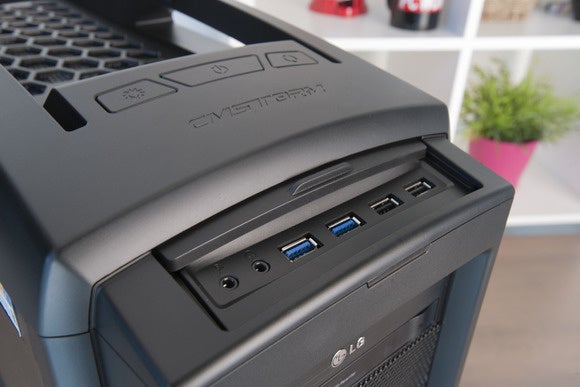 The other main components are a 1TB WD Black hard drive, 16GB of Corsair Dominator DDR4-2700 in four 4GB pieces, and the capable but slightly controversial Nvidia GeForce GTX 970. Controversial? Nvidia upset a number of users by labeling the GTX 970 as a 4GB card, but running the last half-gigabyte of memory at a slower speed. The unadvertised drop-off isn't likely to affect you unless you're gaming at 4K, but if you are, it might—a bit. You won't, however, be hurting for multi-display support: The GTX 970 sports three full-sized DisplayPorts, a DVD-I port, and an HDMI port.
Performance
If you look at our chart, the GeForce GTX 970 looks anemic compared to the three other systems. When you dig into the specs, though, it's not that bad. The Falcon has three GeForce Titan X cards, while the AVA Direct i7 X99 has two GeForce GTX 980, and our base PCWorld system has a single GeForce GTX 980.
When you move on to practical gaming the GeForce GTX 970 fares better.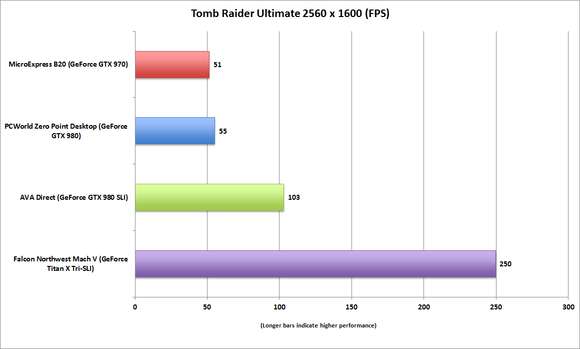 In Tomb Raider with image quality settings at ultimate and playing at 2560×1600 (the equivalent of two 1080p panels resolution-wise), it's very close to the GeForce GTX 980 in our baseline system. Let's not even mention how much the AVA Direct i7 X99 and Falcon Northwest Mach V cost.
Moving to tests constrained by the CPU, such as our Handbrake encoding test, the six-core CPU falls right between the four cores in PCWorld's zero-point system and the eight cores in the pair of high-end PCs.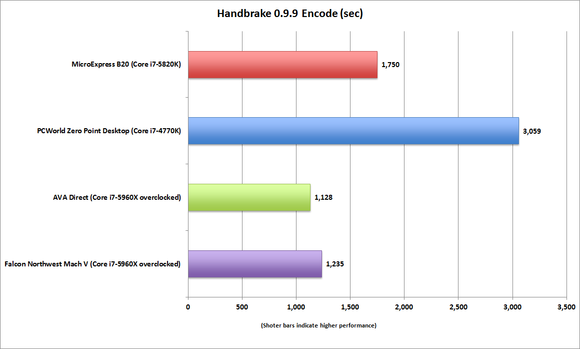 As a system the 20B scored 3,957 in PC Mark's Work (conventional) test and 5,632 in the Creative (conventional) test. None of those are high-water marks, but you'd have to be picky, or a hard-core gamer,to have a problem with the 20B's performance.
Fit and finish
The 20B's mid-tower case has a mildly aggressive, stealthy (as in the technology) countenance, and an integrated top handle that's more common in gaming PCs brought to LAN parties, than power desktops. OK, I'm giving Micro Express a hard time: Gaming PCs are simply power PCs with better graphics cards. That's not to be confused with a workstation, which is a power PC with a graphics card optimized for OpenGL and CAD.
The 20B also has plenty of room for expansion, including seven side-facing 3.5-inch bays and three front-facing, externally accessible 5.25-inch bays. One of those is filled with an LG 14X BD-RE optical burner (the WH14NS40). We don't talk a lot about optical these days, but the WH14NS40 has two nice recent-vintage features: support for M-DISC archival media and Jamless, an I-won't-hang-up-your-computer-while-I try-to-read-this-undecipherable-disc technology.
The interior is nicely done: It's easy to access all the components, and the cables are neatly tied off. Micro Express even tied down additional SATA cables so you don't have to hassle with that when you add another drive. There's also a 2.5-inch adapter in one of the 3.5-inch bays, should your first add be an SSD. On the front top are the power, reset, and sleep buttons, plus two USB 2.0 and two USB 3.0 ports. CPU cooling is courtesy of a standard Intel liquid system.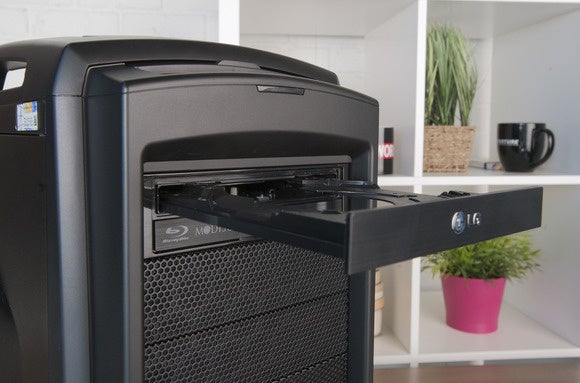 Recommendation
The configuration of the Microflex 20B we tested offers an affordable balance of everyday performance and gaming agility. If it fits your budget and your plans, happy days. Just consider the Core i7-5930K option for $299, which would save your having to replace the CPU should you decide you want SLI and must have both cards run at 16X.