Microsoft began rolling out Build 10051 of the Windows 10 Technical Preview for phones on Friday, adding in the Project Spartan browser and tons of new apps. Microsoft also said that Spartan will, in the future, be the exclusive browser in Windows phones.
Specifically, the new update adds support for the Spartan Browser, plus new versions of several new apps: Mail, Calendar, Phone, Messaging, People, Maps, plus a new app switcher. While the update was scheduled to roll out at 10 a.m. Pacific on Friday, at press time I was still not able to download it on my Lumia 830.
Update: The provisioning data is still being updated. This should be a 2 minute process and it has been going for 40mins. Debugging.

— Gabriel Aul (@GabeAul) April 10, 2015
Why this matters: On one hand, you can't be too critical of a company that rolls out a technical preview of an unreleased operating system for customers to pick at and suggest improvements. Unfortunately, Microsoft botched the rollout, as its provisioning process went awry. As such, the company took the update process offline until sometime after noon on Friday, meaning that users were left to wait for the update.
Unfortunately, the chief of the Windows 10 Insider program, Gabe Aul, said that customers who own a Lumia Icon; its international derivative, the Lumia 930; or the 640XL will not be able to download the new update, due to a scaling issue that makes the new UI too small to be usable. But he noted a long list of other phones that should be able to download the update, including the 1020 and 1520. Note that you'll need to have signed up on the Windows Insider app to receive updates on the so-called "Fast Ring" of frequently-updated builds.
As before, given this is preview (alpha) software, you're not advised to use your primary phone to download the new update. Why? Because Microsoft has sacrificed certain functions to test the new build, including the Office Hub, and the ability to automatically back up your photos to OneDrive.
Here's what's new in Build 10051
Microsoft hasn't yet published screenshots of the new apps, so we can't see what they look like. But here's a brief rundown of what to expect in the new update:
Project Spartan: Microsoft says future versions of Windows phones will exclusively run Project Spartan, the new, lightweight browser that debuted earlier on Windows 10. Kyle Pflug, a program manager for Spartan, wrote that the build may appear a bit lopsided, since the actions menu is larger than expected. Spartan includes early versions of the mobile reading view and reading list.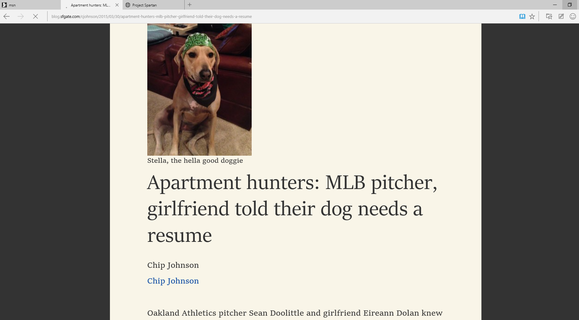 Pflug also dropped a bombshell. "You'll still find Internet Explorer 11 as the default browser in this preview—in a later update, Project Spartan will be the only browser included on Windows phones," he wrote.
@markhachman Correct, it will be replaced by Project Spartan.

— Kyle (@kylealden) April 10, 2015
Microsoft has said previously that it will keep Internet Explorer 11 as legacy code within the desktop version of Windows 10, designed to access older enterprise websites. But the company has also intimated that it will drop the Internet Explorer name. The Spartan browser comes with a brand-new rendering engine called Edge, reportedly much faster than the Trident engine that powers IE.
Mail and Calendar: The new apps integrate together, meaning that you won't have to go back and forth to the desktop to switch between email and the calendar, for example. Outlook Mail includes customizable Swipe Gestures, letting you swipe right or left to take actions like delete, flag, move, and mark as read/unread.
New Phone, Messaging apps: We'd expect the new Messaging apps to look somewhat like what we saw in Redmond in January, with the integration of Skype messaging and SMS. Unfortunately, if your phone had the January build on it (Build 9941) you'll need to roll back to Windows 8.1, then upgrade again to enable SMS.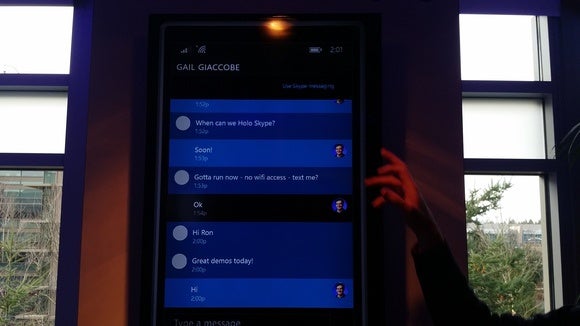 New People app: Microsoft claims this has a new visual design, but will still keep track of all your contacts across services like Google, Facebook, and more.
New Maps app: Again, the new universal Maps app should look like what Microsoft showed off in January. Bing Maps will be plundered for its rich search results, Streetside views, and 3D imagery, and combined with navigation features. With a tap on a location, users can see the aerial view or the surrounding traffic. Rich search results are pre-populated with common search terms (e.g., "coffee") and search results yield Yelp reviews and the ability to book reservations via OpenTable.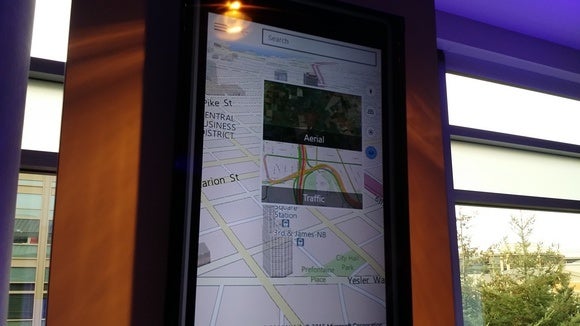 Updated apps switcher: Microsoft reportedly has added a "four-up" view to the app switcher, so that you can now see more apps on the screen simultaneously.
Updated at 12:27 PM with comment by Microsoft's Kyle Alden.