A few months ago, we thought of Microsoft's new Office 365 app, Delve, as a tool to curate all your necessary business documents in one place. With Tuesday's update, it's looking more like a corporate-sponsored mashup of Facebook and LinkedIn—with likely the same self-editing effect that friending your parents on Facebook would inspire.
On Tuesday, Microsoft added a new profile page for you to publicly declare your contact information, projects, whom you report to and who reports to you, your interests—and yes, even a personal blog. Delve is the first Office 365 app to receive what Microsoft calls an "authoring canvas," a Sway-like tool that allows you to embed documents, videos, and images in a section designed to allow you to express yourself.
Microsoft also added two new mobile apps, one each for iOS and Android. There's no Delve app for Windows Phones—although Microsoft promises that's coming soon.
Why this matters: Delve was originally designed to use machine-learning techniques to connect the relevant documents, conversations and people around you. That's still in place, according to a Microsoft spokesman. This new dimension to Delve seems like it will appeal to those Tracy Flick types who obsessively curate a sparkling, flawless online profile—but now, that profile will face toward one's work colleagues. Note that the profile page also has a section for "Praise," allowing one to show off every award you've won, every contract you've signed—forever. If the Delve profile page were public-facing, I'd be tempted to call it a shot across LinkedIn's bow. It's not, however.
Nurture your network
Also note that Delve is only as good as the people who use it. Case in point: IDG uses Office 365, but an early attempt to nurture conversations on Yammer failed miserably. Each group and even publication had already settled on their own collaboration solution. One of two things needs to happen for Delve's profile pages to become a hit: Either HR must be able to auto-populate them with your information, or the corporate culture must encourage its use. Otherwise, your Delve profile could be a wasteland.
With that said, Microsoft wants you to use Delve to connect with your colleagues. "A company's most important assets are its people—YOU," Mark Kashman, a seniopr product manager on the Office 365 team, wrote in a blog post. "The knowledge and experience of you and your colleagues collectively brings great value to your company. And as you communicate and work out loud together within Office 365, the value of your work can be surfaced and discovered by others in Delve."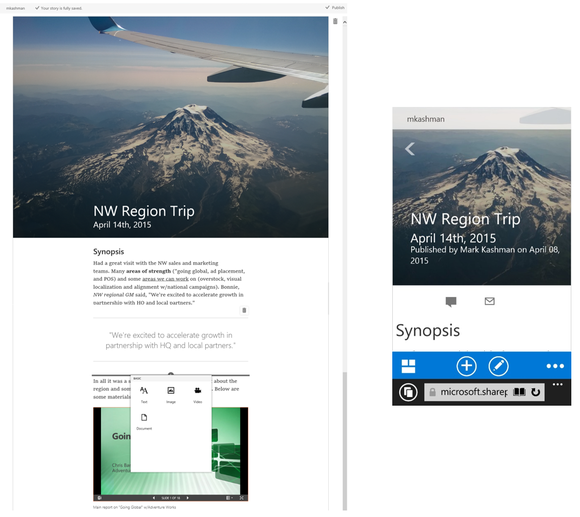 The new profile pages will be accessible by searching directly through Delve, or else by clicking the person's name in OneDrive for Business or the Outlook Web App. The profile page showcases a number of different fields, from your experience and skills to where you fit inside the organization.
The Blog field, however, is where you can say whatever it is you want to say. It appears that while Microsoft sees some value in allowing you to express your thoughts, the blogging platform is a proving ground of sorts for the authoring canvas technology.
"Today, the authoring canvas helps you create engaging blog posts, and in the future, it will be enabled for use in creating various types of pages in Office 365, including those for individual profiles, Office 365 Groups and future NextGen Portals," Kashman wrote. "And the authoring canvas will be backed by enterprise-grade, content management capabilities such as scheduling, versioning, compliance and taxonomy."
Mobile apps, too
While Microsoft has published Delve for Android and Delve for iPhone, you should think of both as something akin to the Facebook Messenger app: a subset of what Delve can do. Right now, each app seems designed to quickly search out and cyberstalk your colleagues profile pages, not collect relevant documents or other information.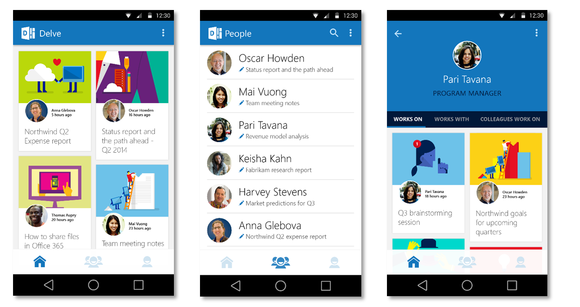 Unfortunately, because IDG doesn't use Delve, I saw a vast swath of white space when I opened the Android app, with absolutely nothing in it. You may see the same. Delve could be a useful tool, but only if everyone uses it.