Windows Phone doesn't have a booming app ecosystem or the best hardware options, but at least it's always been easy to use.
I'm not just talking about Live Tiles and the excellent Word Flow keyboard. What really makes Windows Phone so user friendly is the way most apps put their important buttons on the bottom of the screen. Even before the average smartphone became too large for one-handed use, Microsoft had the foresight not to make us stretch for those vital functions.
So it's alarming to see Microsoft reverse course in Windows 10 for smartphones, moving those same buttons and menu options to the top of the screen in core apps like Outlook Mail, the Project Spartan browser, and Maps. Just look at the screenshots from various hands-on reports, including PCWorld's own and the one at Ars Technica. You'll see a disturbing number of functions that Microsoft has pushed out of reach for normal-sized hands.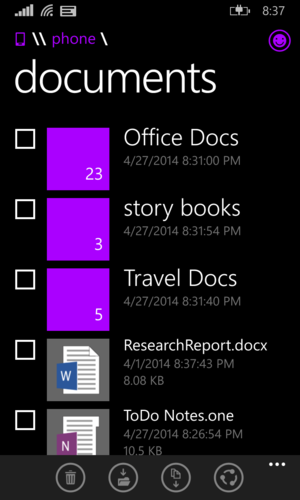 This is the opposite direction in which smartphone app design should be headed. Every year, smartphones have been getting larger—data from PhoneArena shows average phone size growing from 2.59 inches in 2007 to 4.86 inches in 2014—and Windows Phone had been embracing the trend. When I spent a month with Nokia's Lumia 1520 last summer, the 6-inch display rarely bothered me even during one-handed use. That's because so many functions—from the browser's address bar to the composition buttons in Twitter—were well within reach.
This design consideration even gave Windows Phone fans something to brag about when Apple launched the 4.7-inch iPhone 6 and 5.5-inch iPhone 6 Plus last year. Previously, iPhone screens were so small that button placements hardly mattered, so apps were caught in a tough spot as Apple followed the trend toward larger screens. The iPhone's "Reachability" feature, which slides the top half of the screen downward with a double-tap on the home button, is a crude workaround. It only underscores how ill-fitted yesterday's app design is for today's smartphones.
I don't know why Microsoft is making its smartphone apps harder to use. My best guess is that it's for the sake of uniformity with Windows 10 apps on tablets and PCs.
But I do know that Windows 10 is a work in progress, and the whole reason Microsoft is publicly releasing these early builds is to solicit feedback ahead of the final version. So here's mine: Don't let Windows 10 for phones linger on the wrong side of app design history.