When you've shared a web page you're reading on your iPad with your Facebook friends, or zapped out an iPhone snapshot via iMessage, your first tap has probably been that little square button with the upward-pointing arrow.
That's the Action button, and it comes in handy whenever you want to share, print, save, or otherwise interact with something on your iPhone or iPad—anything from a photo or a "Note," to a PDF or a click-worthy article.
Even better, you can also choose which sharing and "actionable" buttons you want to appear front and center. Not interested in, say, Reading List (Apple's lackluster answer to Instapaper)? You can easily tuck the "Add to Reading List" button in the Action pane out of sight. Rather share web pages on Tumblr than Facebook? No problem. Wish there were an easier way to fax documents (yes, some people still prefer faxing) using a third-party app? You might be able to add an Action button for that.
Read on for four things you need to know about the Action button, starting with…
1. You can rearrange your Action buttons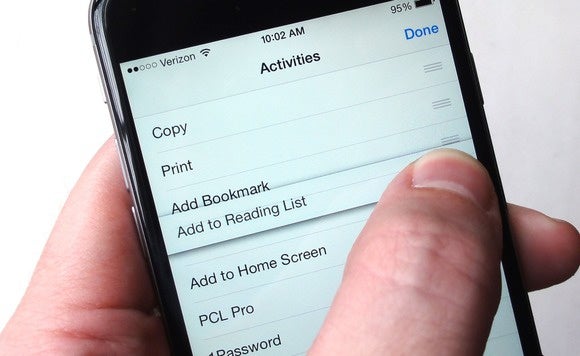 By default (and depending on the app you're using at the moment), your iPhone or iPad displays between eight and ten buttons whenever you tap the main Action button.
Tap Action in Safari, for example, and you'll see buttons for Message, Mail, Twitter, and Facebook in the top row, with Add Bookmark, Add to Reading List, Add to Home Screen, Copy, and Print just beneath.
Now, longtime iPhone and iPad users might naturally assume that the order of those buttons is set in stone—and until recently, they were.
Scroll a bit further on either row, though, and you'll see an additional button: More. Tap it, and a new window will slide into view, displaying each Action button in a list.
To the right of each button, you'll see a handle (it's the button with two short horizontal lines). Tap and hold a handle, then slide it up or down to rearrange the buttons in the list—perfect for, say, scooting the "Add to Reading List" button to the very end of the row.
2. You can turn Action buttons on or off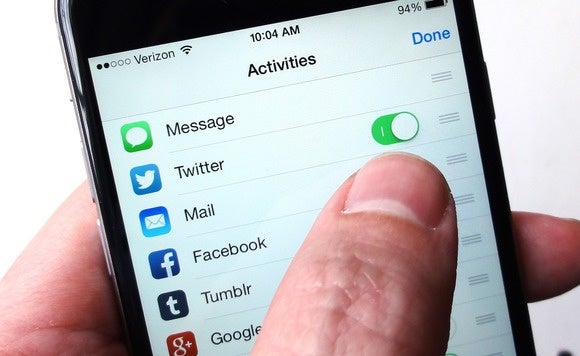 Wish you could make a particular Action button go away for good? Just tap the More button, then look for Action buttons with little switches next to them.
Flip off a switch, and that button will disappear from the Action menu. Or flip on the switch for a button you haven't discovered yet—as I did, recently, with the "Save to Dropbox" button in the Photos app. (More on that in a moment.)
Not all Action buttons have switches, unfortunately. The "Add to Reading List" button, for example, can't be toggled off, meaning the best you can do (assuming you're not a Reading List fan, of course) is hide it at the back of the row.
3. The more apps you have, the more Action buttons you'll see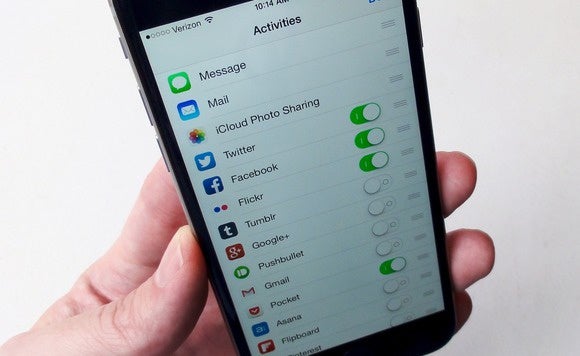 If you've got a fresh iPhone or iPad, tapping the Action button will reveal eight to ten-ish Action buttons—not bad, but not much of a choice, either.
Once you start installing apps, though, the number of buttons available in the Action window will being to rise. Many of your favorite apps come with their own Action buttons.
On my iPhone, for example, I've got Action buttons for the Pinterest app, as well as Google+, Pushbullet (a handy app that sends "push" messages, photos, and notifications to other Pushbullet-connected devices), Instapaper (the best of the iOS "reading list" apps, if you ask me), Pocket (a worthy Instapaper competitor), Evernote, Flipboard, and more.
And yes—you can turn these additional buttons on or off, and shuffle them around however you like.
4. Your available Action buttons will change depending on the app you're using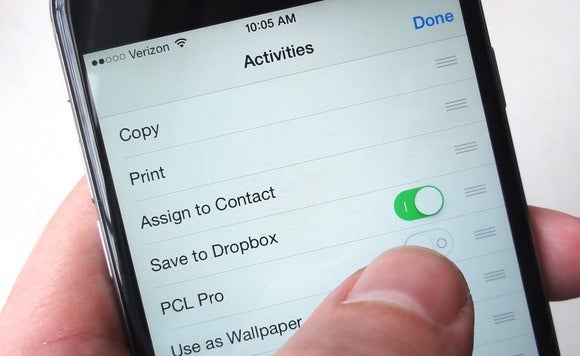 As I mentioned earlier, the buttons you'll see after tapping the Action button in, say, Safari will differ from those you'll see in the Photos app.
In Safari, for example, you'll see Action buttons for adding an article to the iOS Reading List or adding a web page to your home screen. In Photos, though, the Reading List and home screen buttons disappear. In their places, you'll find a Slideshow button and a "Use as wallpaper" button, among others.
That much may seem obvious, but these context-specific Action buttons get more interesting once your third-party apps come into play.
Dropbox users, for example, won't see a Dropbox button when they tap the Action button in Safari. Tap the Action button in Photos, though, and you'll see a "Save to Dropbox" button available in the second row of buttons—but only after you've tapped More and flipped on the Dropbox switch.
Note: When you purchase something after clicking links in our articles, we may earn a small commission. Read our affiliate link policy for more details.