HDMI 2.0 has been on video cards since last year, but we haven't seen a monitor sporting the newer interface—until now. Finally, on Thursday, Viewsonic sprang two 4K monitors on us with support for the newer spec.
HDMI 2.0 supplants HDMI 1.4 with more than double the bandwidth of its predecessor. HDMI 1.4, for example, can only drive a 4K monitor at an unusable 30Hz refresh rate. How bad is 30Hz? Let's just say it's so bad, you'd be far better off stepping down in resolution. HDMI 2.0 easily hits the 60Hz refresh rate while featuring enough bandwidth to accommodate 32 audio channels and more.
Why this matters: HDMI and DisplayPort continue to wage an input duel, thrusting or parrying with some new spec advance. With version 2.0, HDMI is catching up to the capabilities of DisplayPort 1.2, and it's coming out ahead of DisplayPort 1.3, which supposed to support 8K resolution monitors at 60Hz. HDMI 2.0's advancing slowly, available now in handful of products—first Nvidia's GeForce GTX 980, and now ViewSonic's monitors.
Pixels for professionals
The first, the VP2780-4K, is aimed squarely at professionals who need color accuracy for work. It's a 27-inch IPS panel with 3840×2160 resolution at 60Hz. Viewsonic loaded up the monitor with two HDMI 1.4 ports, a full size DisplayPort, a mini DP port and that HDMI 2.0 port.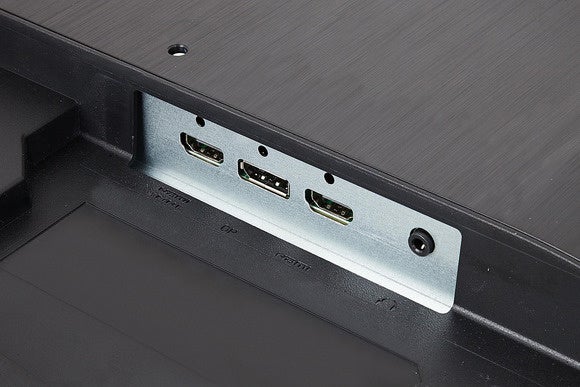 The VP2780-4K is rated at 300 nits and 1 billion colors. As it's aimed at professionals, it also carry a professional price of $1,091. That's steep for a 4K panel when you consider HP's 5K monitor, with its resolution of 5,120×2,880 pixels, will cost just $1,300 when released.
If that price doesn't suit you, the company has a second monitor with HDMI 2.0 support for a more palatable price. You'll just need Bionic vision to use it.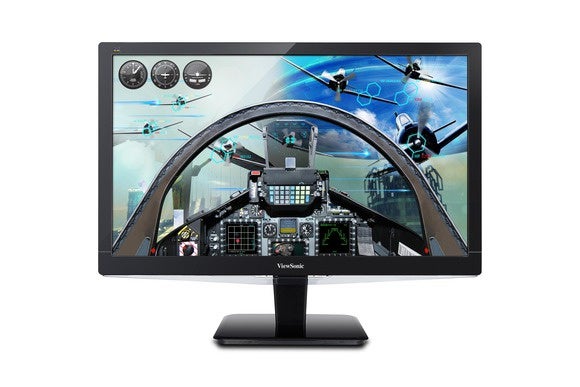 Lots of pixels on a little screen
The VX2475Smhl-4K sports two HDMI 2.0 ports, along with a standard DisplayPort 1.2a port. The panel is "SuperClear" PLS (plane line switching), which offers superior off-axis viewing angle compared to TN panels. Is it better than IPS? That's debatable and not for this discussion, but PLS panels we've seen in laptops certainly are better than TN panels.
The panel's price with its fancy HDMI 2.0 ports will be $611 list. The catch? It's a 24-inch panel. With its resolution of 3840×2160, you get fantastic PPI for a desktop monitor—but also really, really tiny icons.
Sure, you can scale up in the OS, but that's been pretty problematic in Windows 8.1. Here's hoping it will be fixed in Windows 10. (Get the hint, Microsoft: Scaling issue. High-dpi panels. Fix!)
HDMI 2.0 vs DisplayPort 1.3
With HDMI 2.0 monitors now here, the stage is set for another input war. HDMI 2's primary competitor, DisplayPort 1.3, has been ratified, but we've yet to see video cards nor monitors supporting the new spec.
Which is better? We really need to wait for all the players to arrive and suit up before making that determination, but this primer on HDMI vs. DisplayPort we wrote is still relevant.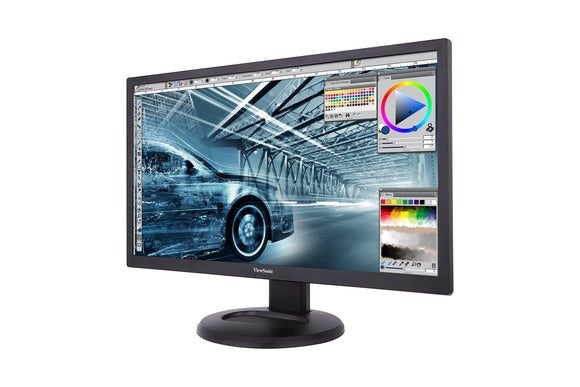 Viewsonic's third 4K monitor announced Thursday doesn't have HDMI 2.0, but it does have a trick the company claims is exclusive: the ability to display four separate 1080p signals simultaneously using its different inputs.
The 28-inch VG2860mhl-4K features no fewer than two HDMI 1.4, two DisplayPort and one DVI input, of which four can be used at the same time to feed and display simultaneously. ViewSonic said the primary application is security, but business and programming applications may also welcome this many simultaneous inputs in a display.
The 28-inch VG2860mhl-4K has a list price of $885 and is available immediately, as is the VP2780-4K. The 24-inch VX2475Smhl-4K won't be available until May.