Following the introduction of a host of backlight color-shifting keyboards last year, we finally have what I think is the first RGB-enabled tenkeyless board: The Razer BlackWidow Tournament Edition Chroma. And yes, that is an ironically long name for a compact keyboard.
I've been a fan of the tenkeyless keyboard layout for a while now—that is, keyboards without a huge honking number pad adding six inches of plastic onto the right edge. I know some people are fond of numpads, especially for data entry, but I never use them except to input the Alt-command for em-dashes, so…might as well free up the extra desk space.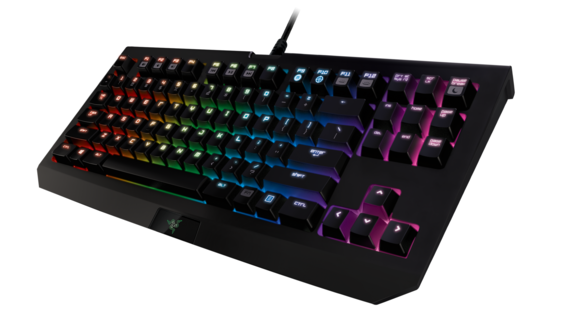 When RGB-enabled mechanical keyboards launched last year though we got the choice between big (the standard BlackWidow Chroma), bigger (the Logitech G910 Orion Spark), and biggest (the Corsair K90 with its rows of macro keys). A tenkeyless option is a relief, for those of us with crowded desks.
We haven't gotten our hands on the BlackWidow Tournament Edition Chroma yet, but I don't expect it to be extremely different from our experience with the standard BlackWidow Chroma—our favorite of the four RGB-enabled boards we looked at last year.
Further reading: All about mechanical keyboards and why you want one
Like the standard BlackWidow, the Tournament Edition will use Razer's "proprietary" branded switches, which as far as I know are rebranded Kailh switches. I'm not a huge fan of either Razer Greens or Oranges, but that's because both are designed more for gaming than typing (unlike, say, Cherry MX Blues). If you're looking primarily for a gaming keyboard, Razer's switches aren't a bad choice. Just be aware what you're buying—if you do a lot of typing, the Corsair K70/K90's Cherry switches might be a better call, even though Corsair's software design is junk.
The BlackWidow Tournament Edition Chroma goes on sale today for $140 through Razer's website, and also comes with a hard carrying case—I guess to make good on the "Tournament Edition" name, if you're hauling this thing from competition to competition.