Microsoft is preparing to push its universal apps vision for Office to Windows 10 phones by the end of the month, the company said Friday, after demoing the apps to reporters Thursday night.
The new apps will be rolled out as part of a new Windows 10 Technical Preview for phones later this month, the company said. Since they're part of the "universal" apps family, they'll look and feel a lot like the universal apps Microsoft has previously released for Windows 10. And yes, they'll require Windows 10, Microsoft executives said.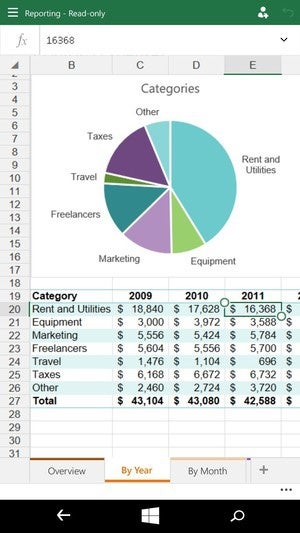 Microsoft's new apps will essentially replace Office Mobile, Microsoft's first stab at bringing Office apps to the mobile plattform. But Office Mobile was limited in its editing and content-creation capabilities, and lacked the richness of desktop apps. Microsoft claims that the new apps will change all that.
Microsoft's Jared Spataro said that the new universal apps will work on a "freemium" model, providing basic capabilities for free, but also encouraging users to move to an Office 365 subscription to unlock more advanced capabilities.
According to Spataro, the phone is a "triage" device, with the ability to make last-minute changes without pulling out a notebook PC. "The phone isn't a place where a lot of detailed work is happening," he said. "Instead, I would label it as a triage device…. this isn't to say that people aren't reading on it; they are. This isn't to say that people aren't making quick edits; they definitely are. But what we see is that phone is literally the go-to device for how people stay in touch with what's going on, in terms of their editors, in terms of their team."
We've spent some time with the new Office apps, and found five things you won't like.
Why this matters: It's been over a year since Microsoft launched the new Office apps for the Apple iPad, which kicked off a new generation of artfully designed free Office apps. Finally, it's time for Windows phones to receive the same treatment. We haven't had a chance to play around with the apps yet, but what we've seen looks consistent with the quality we've seen in the free Office apps for other platforms.