At a Glance
Expert's Rating
Pros
Intel Atom processor performs better than expected
One year of Office 365 Personal included
Goodbye, Windows RT. Hello, Windows 8.1 (and 10!)
Cons
$499 advertised price is currently just for the tablet
Battery life is actually less than the Surface Pro 3
Limited to Microsoft Office, Web browsing, some basic games and apps
Our Verdict
Think of the Surface 3 as a smaller, cheaper Surface Pro 3, with slightly disappointing battery life but surprisingly good performance.
The Surface 3's selling points can be summed up neatly: This is Microsoft's basic Office machine, a cheaper alternative to the Surface Pro 3. Thanks to the new Surface's Intel Atom chip and real Windows 8.1 (with an upgrade path to Windows 10), it offers decent battery life, with a processor sufficient to handle 1080p YouTube videos, Netflix streams, or basic games without batting an eye.
As with any junior member of a product line, there are compromises. The biggest are its price—it not quite as inexpensive as it should be, for what you get; and the ergonomics, which make it less of a laptop replacement than the Surface Pro 3 clearly can be.
The Surface 3 will be available May 5, in two different models: a $499 model with 64GB of storage and 2GB of RAM; and the upgraded version that we tested, a $599 version with 128GB of storage and 4GB of memory. Variants of both models with integrated LTE will also be available, although Microsoft hasn't said how much those will cost.
All of these prices, however, exclude the $130 Type Cover, a necessity that turns the advertised price into a bit of bait-and-switch. Microsoft will also sell a dedicated Surface 3 docking station for $200. Finally there's the Surface Pen, a $50 stylus that ships with the Surface Pro 3, but not the Surface 3. It works essentially the same on both machines.
A tablet upgraded with phone technology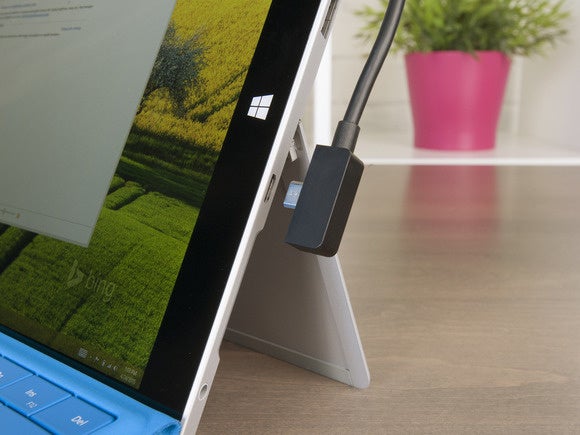 Unbox the Surface 3, and one new feature stands out: the new 13-watt micro USB charger, the same kind of connector used by your cell phone. In part, that's because the 1.6GHz Intel Atom x7-Z8700 used within the Surface 3 sips power, so it doesn't need a hulking wall wart. The extra-efficient chip also means the Surface 3 can have rather small 27Wh battery and yet still last 8.2 hours in our MobileMark 2014 battery rundown test—shorter than the Surface Pro 3's time, but still enough to get through a fair amount of the day. Your mileage may vary, of course.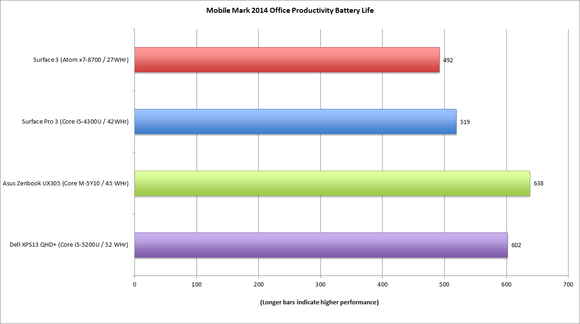 Because the processor consumes so little power, Microsoft eliminated fans entirely, passively dissipating heat through the tablet chassis. The absence of fan noise is nice, although the Surface Pro 3's fans are so well designed that the tablet fan noise never climbs louder than a hiss.
The new charger design also means your phone's charger could substitute in a pinch, or if you wanted to cut down on the number of cords you carry. You can even use an external battery charger. Unfortunately, like some modern phones, if you drain your Surface 3 completely you'll be forced to charge it for a minute or two before it boots—an annoyance when you need to use the tablet right now.
Junior member of the Surface clan
Once on your desk, the new Surface 3 hardware looks nearly identical to the Surface Pro 3's. The Surface 3's superb, 1920×1280-pixel, 10.8-inch screen is slightly smaller than the 12-inch display on the Surface Pro 3, but it has the same 3:2 ratio. The space savings may translate into a bit more comfort on planes.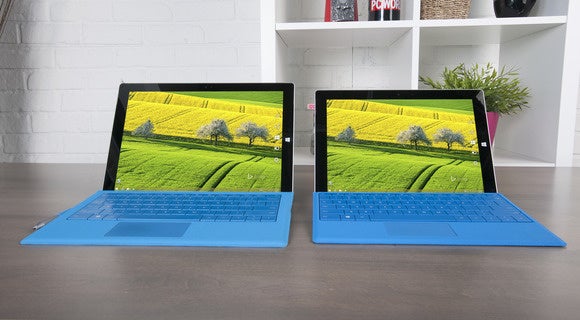 Desktop use: Smaller is only sometimes better
Physically, the new Surface 3 measures 10.52×7.36×0.34 inches and weighs 1.37 pounds, plus another 0.57 pounds for the Type Cover. That's virtually indistinguishable from the Surface Pro 3 in a satchel or backpack, but marginally heavier than a comparable Android tablet when you factor in the keyboard.
The Surface 3 offers three fixed positions for the kickstand. After living with the Surface Pro 3 and its variable-pitch kickstand, that's disappointing. I understand Microsoft made the choice for cost reasons, but I can't help but want more.
Like virtually every generation of Surface machines, the Surface 3 ships with its own backlit Type Pad keyboard. (No word from Microsoft on whether a Touch Pad keyboard is en route.) Like the Surface 3 itself, the associated keyboard is smaller, although Microsoft makes up for it by organizing the keys far closer to the side edges than on the SP3's keyboard. It also has a nicely redesigned top row of keys that includes frequently-used functions.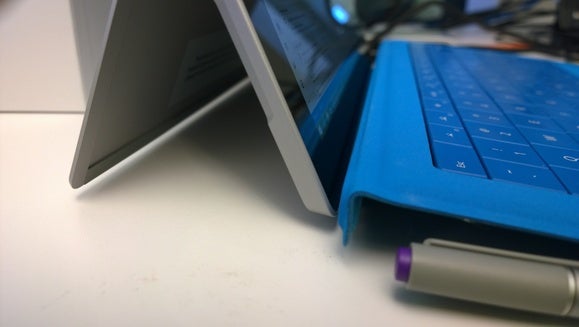 The Surface 3's keyboard is sufficient, yet a little small for my tastes. Over time, my Surface Pro 3 Type Covers has become a bit mushy, so you may eventually need to invest in a replacement. And while you can use an Surface Pro 3 Type Cover with the Surface 3, you won't be able to fold back the edge of it, creating the slightly elevated angle that both keyboards otherwise allow—the magnet in the Surface Pro 3 keyboard doesn't "grab" the Surface 3 correctly to do so.
The Surface 3's proprietary docking station provides ethernet, two USB 2.0 and two USB 3.0 ports, a miniDisplayPort, and a headphone jack. The dock doesn't recline, but it's a well-made piece of hardware that grasps the Surface 3 securely from both sides.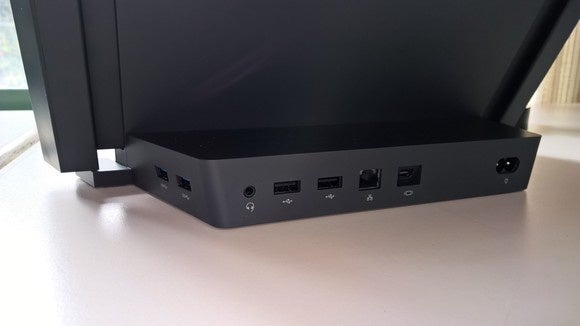 Unlike with the Surface Pro 3's dock, the Surface 3's dock completely encloses the tablet's own USB port, but it also eliminates the power brick that most other docks include. There's a slot hidden behind the kickstand that accepts up to 128GB SD cards, plus 802.11 a/b/g/n/ac and Bluetooth 4.0 tucked inside. While there's additional storage on the dock, you do get 1TB of OneDrive storage with your Office subscription.
The Surface 3's two cameras are designed to be used with its Office applications. The front-facing, 3.5MP camera is designed for Skype, while the rear-facing, 8MP camera is more designed for taking video of a lecture recorded as part of OneNote than anything else. The Surface 3 (like the SP3) lacks a flash, but you can now tap to focus and autoexpose a particular element of the scene, which you can't do on the SP3.
Performance: basic, but that's the whole point
Think of the Surface 3 as a machine designed to run Office and other general day-to-day productivity and entertainment apps, and you'll be satisfied. Content creation in Word, OneNote and other Office apps is perfectly acceptable, although I did find myself squinting a bit at the small, high-resolution screen. I couldn't see any slowdown while running 1080p YouTube content or Netflix videos.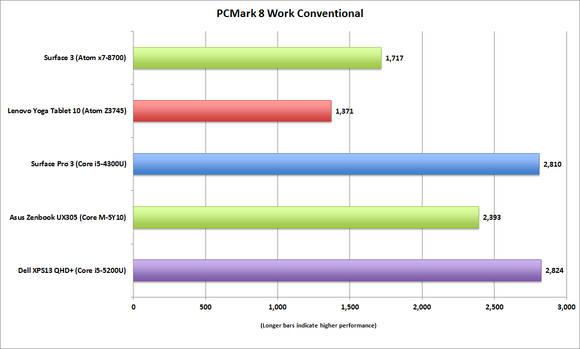 In our initial hands-on of the Surface 3 we compared it to older Atom-powered tablets. In this new group of benchmarks, we added the Surface Pro 3 and a few full-fledged laptops.
In general, the Surface 3 offers performance that's about 60 percent of what you'd get from the Surface Pro 3 in general Office work, but about 25 percent more than the older "Bay Trail"-class Atom-based tablets (as represented by the Lenovo Yoga Tablet 10). That difference becomes more profound when comparing the Surface 3 using conventional graphics benchmarks, as the table below shows.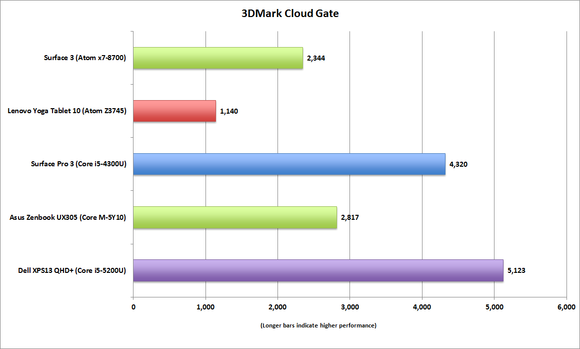 The glaring weakness of the Surface 3 compared to the Surface Pro 3 is in disk access, which can mean slow app launches and other slowdowns. Using the CrystalDiskMark 3.0 benchmark, the Surface Pro 3 read and wrote 4GB blocks of data at 507.1 MB/s and 242.9 MB/s, respectively. The Surface 3 read and wrote the same data at 118.9 MB/s and 49.69 MB/s, respectively.
Gaming will be a mixed bag on the Surface 3. Pick a frantic 2D sprite-based game like The Expendabros, and it will run flawlessly. Move up to something that taxes the 3D hardware a bit more, like 2011's Serious Sam 3: BFE, and it runs acceptably at the very lowest settings.
It's possible that Microsoft has its eye on another gaming experience: game streaming. In the near future, Microsoft hopes to stream games over a wireless network from an Xbox One, letting the console do the heavy lifting. Microsoft sees the Surface 3 as the ideal tablet for basic Office productivity and casual use, so it'd seem natural to optimize that experience for the Surface 3.
Note: We ran early benchmarks while the Surface 3 was docked, and the tablet locked up twice—no dreaded Blue Screen of Death, just no response. Microsoft told us they hadn't had similar reports from other early Surface 3 users. When we ran the PCMark Creative Conventional test for this review, the tablet locked up again—only this time, it was sitting undocked on a bench. Because the Surface 3 is passively cooled, we speculated there might be conditions where it can't accommodate a thermal spike. We ran the PCMark Creative test a second time without issue, however, and we were unable to force the Surface 3 to crash by looping other benchmarks repeatedly.
Stuck between premium and low-end
The Surface 3 is a much nicer tablet than its predecessors, and that alone makes it worth recommending. But it feels a bit expensive to be a "bargain" version of the Surface Pro 3. For a few dollars more, you could have the $699 Asus ZenBook UX305, an ultrabook that's actually a step up in terms of performance and battery life. Microsoft seemingly wants to establish the Surface 3 as a sort of premium low-end device, and that's a tricky proposition in this day and age.