Need to find a vanilla frosting recipe? Google it. Need to find out how many Yankees are in the hall of fame? Google it. Need to find your Android phone? Google it?
Yep.
Google recently brought parts of the Android Device Manager to Google search. When you're signed in to the same Google account on your phone and PC, all you have to do is type "find my phone" into Google and your top result will be a live Google Map with the locations of your Android devices.
The new feature only allows you to call your phone. You can't use the Google search result to wipe your device or lock it like you can inside Android Device Manager.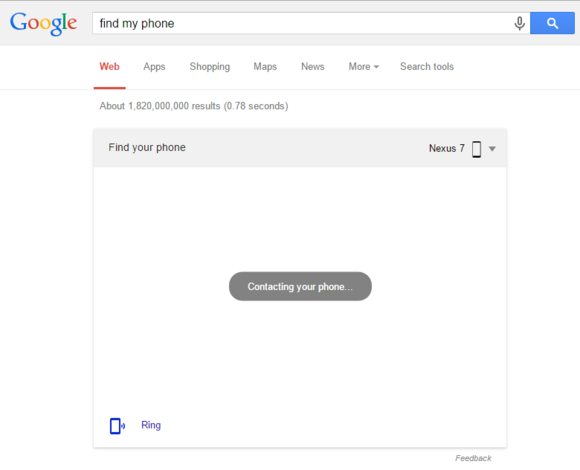 The impact on you at home: For those times when you're pulling up couch cushions desperately trying to find your smartphone or tablet, the new feature will come in handy. Officially, you can only find your device in Google on a PC. But if you need to use your tablet to find your phone (or vice versa), you can use Chrome for Android's Request desktop site option to the get new search feature to work on your mobile device.
How it works
Although it sounds easy enough, using Google search to find your phone isn't quite as simple as typing in a query and waiting for the top result (although it's close).
As with ADM, you need to sign in again for security purposes the first time you search for "find my phone." Once that's done, Google search will reveal the locations of your Android devices.
The location map includes a drop-down menu in the top right corner to choose which of your Android devices you'd like to find. Once you've asked Google to find the location of your phone, you'll see a notification on your phone or tablet letting you know Android Device Manager requested its location.
Google's search feature is pretty smart too. It will work if you type in "find my phone" or "find my tablet." "My phone is lost" worked, too. More specific searches like "find my Nexus 5" didn't bring up the new feature.
The new search feature is live now on Google.com, but your Android devices also need the latest version of the Google app before "find my phone" will work.