Philippe Kahn is a big man with a big personality and big feelings about Swiss watches. He's got a massive Alpina model on his wrist, and he's bragging about how the watch is water-resistant down to 100 meters, and can last more than two years on its built-in battery.
He hands me a different Alpina. This one is for women. It's smaller and more delicate with hand-set diamonds. Next Kahn celebrates a trio of watches from Frederique Constant, another Swiss brand. Their aesthetic is more deliberately urbane than a snifter of brandy. The fanciest of the three models has rose-gold plating that's been polished to a concours-level shine.
Kahn didn't design the watches, but he's helping to bring them to market—and he's very, very eager to explain what they represent. He's the CEO of Fullpower, the company that developed the MotionX activity-tracking algorithms for the Nike Fuelband and the first three Jawbone UP wristbands. And now Fullpower is aiming to bring that same step- and sleep-tracking technology to real Swiss watches.
Wait, what?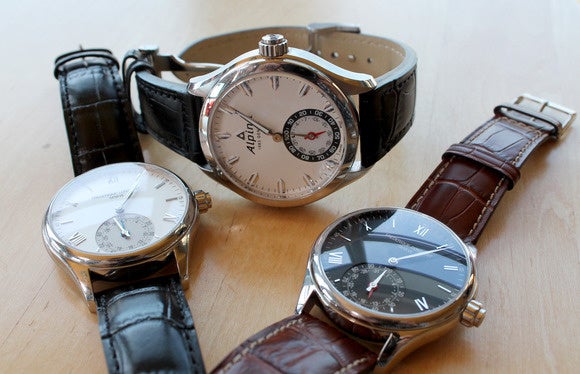 The race to luxury smartwatches
These watches look absolutely nothing like "traditional" high-tech wearables. They're resplendent with textured dials, raised hour markers, and polished hands. They look like classy Swiss watches. They are Swiss watches. Nonetheless, the watches I demoed at Fullpower's Santa Cruz, CA headquarters are, feature for feature, much like the Jawbone UP24—except clad in finely tailored suits instead of gaudy Lycra unitards.
First revealed at a posh violin recital in February, the watches are the initial offerings of MMT (Manufacture Modules Technologies), a joint venture between Fullpower and Union Horlogere Holding. Launch partners include Frederique Constant, Alpina, and Mondaine (whose watches were still sitting somewhere in Zurich when I visited Fullpower). When the first Frederique Constant and Alpina specimens go on sale in June at prices ranging from $1,000 to $2,600, they'll represent a key plot point in a triangulation of competing luxury watches imbued with smart features.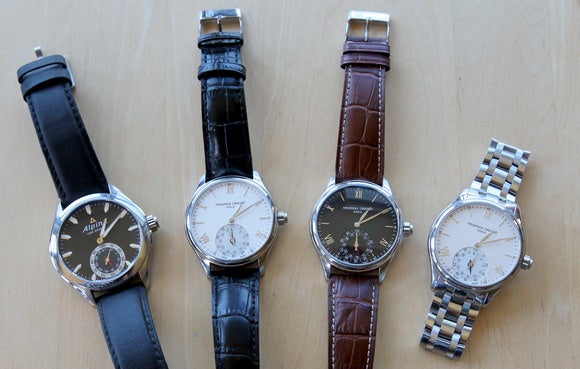 First out the gate will be the Apple Watch Edition, which arrives this Friday and costs between $10,000 and $17,000. Perhaps you've heard of it. But soon we'll see the Swiss watches from MMT, and by the end of the year TAG Heuer, one of the world's most famous Swiss brands, will release an Android Wear watch. All these companies are chasing the aspirational customer who's smartwatch-curious, but just won't suffer gauche design. But unless TAG Heuer surprises us with an analog-digital hybrid, only the MMT watches will look like traditional timepieces with moving parts.
So what do the watches from Frederique Constant and Alpina actually feel like, and what do they actually do? Follow along for what I hope will be the deepest dive you've yet read about the new Swiss timepieces.
Frederique Constant: Quiet elegance
Each MMT watch comes with a subdial for checking progress toward step- and sleep-tracking goals. This complication is absolutely loaded with techy-mechanical sex appeal, and the engine driving it—a Fullpower processing module—is hidden well beneath the surface of a stainless steel case.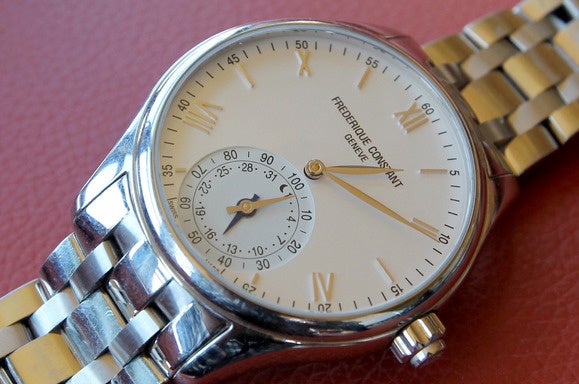 The Frederique Constant models, aimed at male boardroom executives, are the most understated designs. Five 42mm models will launch this year for between $1,000 and $1,300. You can choose between either white or black dials, and cases made of either stainless steel or stainless steel with rose gold plating. Band choices include either a stainless steel link bracelet, or various straps made of CrocoCalf—that's leather with crocodile-style patterning.
Keep in mind, none of these MMT designs are traditional Swiss watches with fully mechanical movements based on microscopic gears and springs. Their timekeeping features run off quartz crystals, just like the majority of Swiss watches sold today. But there's still an unmistakable elegance to these watches, especially the Frederique Constant models.
The Frederique Constant subdial is recessed on a separate surface below the main dial. Raised Roman numerals serve as hour markers. The cases themselves are graceful studies of curves and bezels, one gently segueing to the next. The sum-total effect reminded me of an old movie from the 1930s. Or perhaps the drawing room at a fancy English gentlemen's club.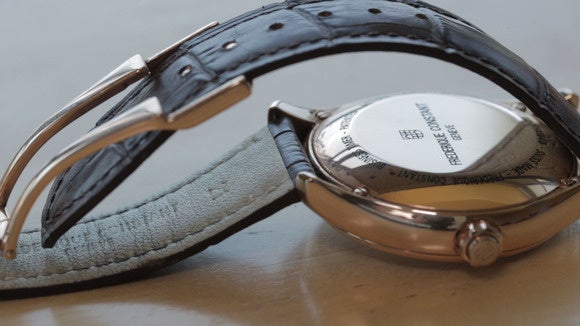 Alpina: Bravado and bling
Alpina, a watchmaker founded in 1883 but purchased by Frederique Constant in 2002, is going for a much more modern, even brash, aesthetic. The first of eight models will begin shipping in June at prices ranging from $1,050 to $2,600, and all of them strike a sporty pose. Water resistance ranges from 50 to 100 meters, and that's a requirement for Kahn—who, of course, likes to surf.
The men's designs are thick and chunky, with heft and gravitas. In fact, one model with a stainless steel bracelet was downright heavy, and I'm not sure I'd want to wear it to bed for sleep-tracking. Alpina's body lines are more severe and architectural than Frederique Constant's. But there's nothing wrong with that—this is all about personal preference—and I loved the embossed Alpina logo on the back of the case. You just won't see this level of detailing on a watch designed by a consumer electronics company.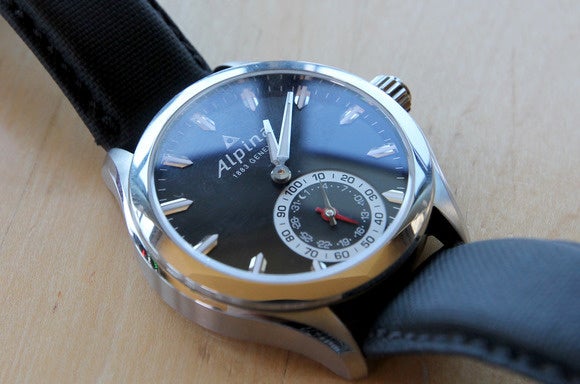 Alpina will also deliver the first MMT watches designed for women. These offer smaller diameters (39 mm), a guilloche triangle pattern on either black or white dials, and nine hand-set diamonds at every hour marker from 8 o'clock to 4 o'clock. The two most expensive of the ladies' models add a string of smaller diamonds circling the circumference of the crystal. This definitely won't match well with a Fitbit or UP3 activity-tracker. But then again, it will never need to.
Mondaine: Pop-art exuberance
Like the Frederique Constant watches, the Alpinas feel like something real, something substantial and permanent. But if I were spending my own money, I'd hold out for the Mondaine Helvetica Smart, which will ship sometime this fall for a price that should undercut the other MMT watches by a least a few hundred dollars.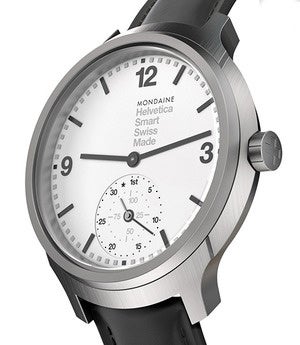 Making liberal use of the font Helvetica Bold, the Mondaine watch evokes a pop-art vibe that's playful and current. Where Frederique Constant errs toward formal, and Alpina errs toward bling, I see the Mondaine as a more neutral option that's appropriate for both men and women without sacrificing an iota of style. Or maybe it's just the design nerd in me. A watch that honors the world's most iconic font? Count me in.
I haven't seen the Helvetica Smart in person, but I have tried on other Mondaine watches, and they're precision-machined timepieces. The Helvetica Smart will initially come with a brushed matte-steel case, white dial and soft leather strap. Mondaine tells me other looks are in the works.
But what can these watches actually do?
Note that throughout the text of this article, I haven't once referred to the MMT designs as smartwatches. It's obviously a flexible term, but given what I've learned about their feature sets, I think these are "smart" watches in a figurative sense, but not smartwatches as we've come to use that label.
The watches (and their accompanying smartphone app) give you the same essential step- and sleep-tracking functions offered by the first few generations of Jawbone UP wristbands. For daytime activity, they'll show you total step counts and calorie burn estimates. For nighttime, they'll show you periods of deep and light sleep, your total sleep for each night, when you fell asleep, and how many times you woke up.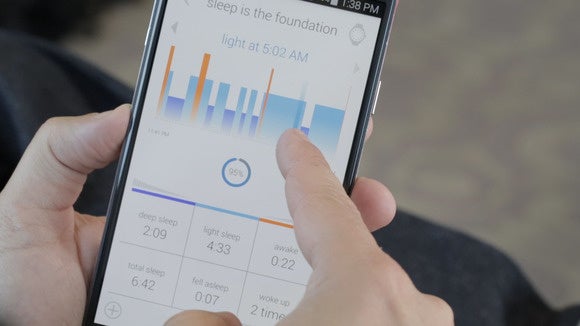 They'll also give you "get active alerts," compelling you to get up and walk around if you sit still for too long. You can also set sleep cycle alarms, which track your sleep phases, and gently wake you during light sleep.
But beyond that? There's really not much else. The watches sync with your smartphone to make sure you never need to reset the time manually when you jump through time zones. That's a smart feature indeed, but you won't find any smartphone notifications, which are the cash currency of "traditional" smartwatches.
Fullpower's modules can be updated with an in-store visit to a service center, and the platform is extensible, so MMT can add more functionality over the years. Nonetheless, there's no obvious way to deliver truly rich notifications via MMT's subdial, all its seductive beauty notwithstanding.
Activity trackers in the finest clothes ever
So let's call these the most sophisticated activity-tracking timepieces ever created. That's a huge promise in and of itself. And unlike the Jawbone UP24 wristband, which lasted a maximum of 14 days on a charge and required a smartphone app to see data, these watches last for more than two years on their built-in batteries, require no charging whatsoever, and display step and sleep data directly on their dials.
The subdial is a bit inscrutable, but once Fullpower explained its user interface, I quickly got the gist of how it works.
When you wake up in the morning, you exit sleep mode by pushing the button on the watch's crown. This puts the watch into daytime mode, and as you walk around throughout the day, the larger hand of the subdial shows your percentage progress toward a steps goal, pointing toward notation labeled from 10 to 100.
In the image above, we see the Fullpower employee who owns the Alpina watch has achieved just about 10 percent of his or her daily step goal. Note that dial illustrates progress toward a variable goal, and not actual steps. But if you set your goal to 10,000 steps, your daily step counts will directly map to the progress points on the dial.
As for the smaller red hand, during daytime mode it points to the current date—and, remember, because it's a "smart" watch, you never need to fiddle with pesky calendar resets. When it's time to hit the sack and start sleep-tracking, press the crown again. The small red hand will point to the moon (indicating sleep mode) and throughout the night the larger hand sweeps around the dial, showing your progress toward a sleep goal.
Most users will set an 8-hour sleep goal, which doesn't map very cleanly to the 0-to-100 percentage scale. But, of course, you can always sync the watch to your smartphone app to drill down into easy-to-grok data.
One app for your entire watch collection
The watches from Frederique Constant and Alpina arrived to the smartwatch scene with an air of eccentric Swiss mystery. Luxury watches? With smart features? The February launch event was a culture-shock moment for many tech journalists steeped in the smartwatch scenarios and buzzwords established by Samsung, Pebble, and Apple. But my day at Fullpower shined much more light on what these Swiss upstarts are trying to do.
For instance: I learned that a single smartphone app can be used with all the MMT watches, whether the physical timepiece comes from one of the three launch partners, or a future licensee. You can wear Frederique Constant by day and Alpina by night, and all your data will be seamlessly merged. In fact, your single app install intelligently rebrands itself based on which watch it's paired to.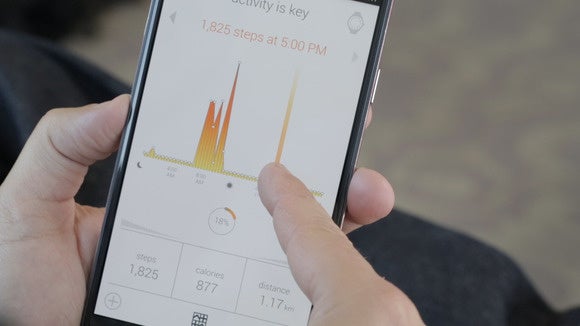 Maybe even cooler, Fullpower's cloud server can push data directly to your watch. So if you collected sleep data on an Alpina, but then slip on a Frederique Constant upon waking up, your daytime watch will inherit the Alpina data when you run a Bluetooth sync with your phone. This comes in handy, as you can always review the progress of your last recorded activity cycle directly on the watch with a button press.
Oh, and if you were concerned that the Alpina is too bulky to wear in bed, know that there's a mode that lets you collect sleep data with the watch under your pillow.
Alarms, batteries and four moving hands
Fullpower also told me that a high degree of algorithmic processing is executed directly on the module encased inside the watch, so you really don't need to pair with the smartphone app. Nonetheless, syncing to your phone taps into a second level of accuracy that enhances the data collected by the watch sensors, and then a third level of processing kicks in via the cloud for advanced analytics.
I also learned more about Fullpower's alarm hardware. I had assumed it used a haptic motor to buzz owners when it's time to wake up, but Fullpower says that would have led to excessive battery drain. So instead they went with a piezo speaker. The one installed inside current prototype watches is rather weak, and probably wouldn't wake up heavy sleepers. But they also demoed a revised speaker that doubles volume. Now, this one is loud.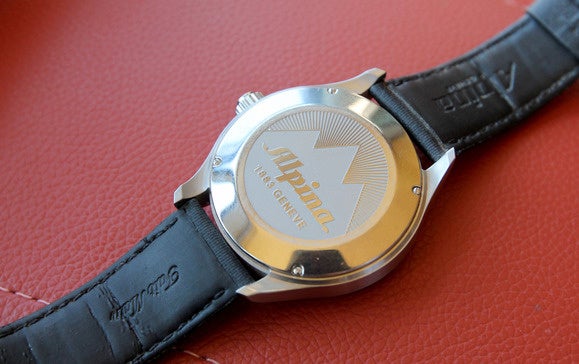 The company was much more cagey when it came to discussing its module technology. I wasn't allowed to see PCBs in the raw, and when I asked Kahn how his company achieves more than two years of battery life on a Bluetooth-laden watch, he told me I would need an advanced mathematics degree to understand Fullpower's secrets, and even then he'd need two hours to explain all the power-saving techniques.
But at least I got a tidbit of technical intrigue from VP of Technology Arthur Kinsolving, who explained the Fullpower module also powers the watch's moving hands. "It's a drop-in module that has everything. There are four motors controlling the hands. It's old-school Swiss technology. We get the data sheet for these motors, and it looks like it's been handed down through generations."
The death of activity-tracking wristbands?
When the first MMT watches arrive in June, they'll land in a curious position between full-bore activity-tracking wristbands and full-bore luxury wristwatches. Ironically, I had been wearing a Jawbone UP24 wristband precisely because it paired nicely, from an aesthetic standpoint, with my TAG Heuer Formula 1. But now the latest-generation Jawbone UPs have taken a step backward in the style department—sorry, I'm not a fan of the new look—and they no longer use Fullpower's algorithms.
The upshot: If I were willing to ditch the TAG Heuer, I could buy an MMT watch and kill two use cases with a single band.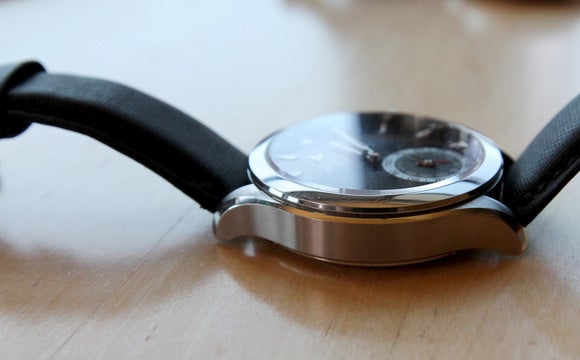 But activity-tracking and sumptuous analog watch faces only check off two boxes on my wearables checklist. If the Swiss watch companies added notifications, then all my requirements would be met. Citizen has already tried to deliver notifications to an analog dial via its Eco-Drive Proximity watch, but by all accounts it's a clumsy effort. Perhaps MMT can somehow solve the puzzle.
For instance: The Swiss could add a second complication with 12 markers, each one denoting a personal contact. When the hand of the notification's dial sweeps to the first marker, you know your sweetheart has sent a text. Press the crown button once to reply that you're busy, but will text back soon. A second button press might send a heart-shaped emoji—rendered with elegant Swiss flair.
This is all just whimsical what-if-ing, and I'm not even in love with my own idea. But Kahn promises these are just first-generation watches, and more features will come down the road. That's the whole point of modules that can be replaced as easily as watch batteries.
Now we just wait to see whether consumers are ready to replace their activity-tracking wristbands—and Android Wear watches and Apple Watches—with smart Swiss timepieces. Without a certain degree of consumer momentum, it's unlikely this particular take on the smartwatch will be perpetually iterated with ever-evolving modules, as Kahn confidently asserts.
Nonetheless, which watch would you still be wearing two, three or even five years from now—the first-gen Apple Watch, one of today's Android Wear watches, or one of these Swiss activity-tracking watches? With timeless beauty and at least the ability to be upgraded, these timepieces clearly have the most staying power.