HP knows consumers are into the sexy looks of high-end convertibles like the Spectre x360, but can't always put out the shekels for it. So with its revamped Pavilion x360 and Envy x360 lineups, the company's extended the look and feel of the Spectre x360 to more budget-friendly consumer machines.
In a briefing with PCWorld, Mike Nash of HP said hybrid laptops offered appealing versatility for consumers. "A lot of people who buy a hybrid initially wanted a tablet," he explained, but the ability to have a keyboard turned many to convertibles instead. "The key thing is to have a design that looks like a notebook," Nash said, noting that users seemed to use it most in clamshell mode.
The most important part these consumer x360s inherit from their wealthy Spectre relation is the geared lid hinge, which allows for a smooth rotation from clamshell all the way around to tablet mode. Other nice features found on various models include a brushed-metal finish on the Envy x360 and a fanless design for the 11-inch Pavilion x360.
Why this matters: Budget convertibles don't normally garner much attention, but they're an important bread-and-butter category for PC makers. With the October deadline looming for the PC and printer business to split itself off from the rest of the HP, every refresh and launch will become increasingly important. "Our aspiration is to be the most exciting brand in consumer personal systems," Nash said. Sprinkling a few premium features into lower-end lines is one way to add a little luster.
Consumer-friendly convertibles
You won't get the milled aluminum body of the Spectre x360 on the Envy x360, but you will at least get the same lines (and the same hinge) as HP's premium convertible ultrabook.
The Envy x360 sticks with a 15-inch IPS touchscreen. The primary internal upgrade is a slightly bigger battery, which, combined with software and hardware tuning, gives it up to 8 hours and 45 minutes of run time, per HP. That's maybe an hour of additional battery life over its predecessor—a nice improvement, though not huge.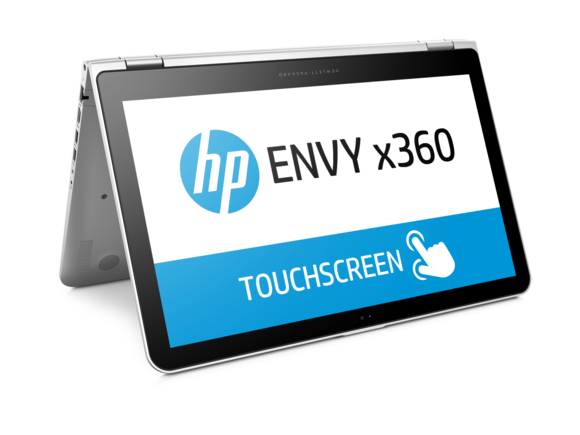 We reviewed the 2014 Envy x360 here, and it was fair. The redesigned model features a backlit keyboard, and brushed aluminum cover and keyboard accents. The base unit's $679 price includes 4GB of RAM, a 1366×768-pixel screen and 500GB hard drive. Higher-end options are available, of course.
HP's Pavilion x360 gets a more significant makeover. Like the Envy x360, it echoes the look and feel of the Spectre x360 (and uses the geared hinge), but the cases come in multiple colors. The 11-inch models and 13-inch models come in natural silver and sunset red (shown below). The 11-inch models also come in violet purple and minty green.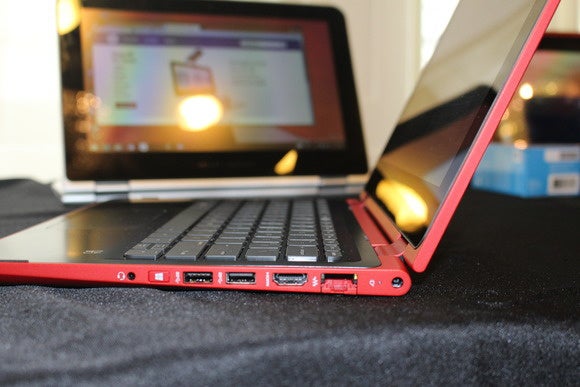 Inside the 11-inch Pavilion x360 you can now find Intel's Core M CPU, as well as Intel's Pentium N3700. That chip is Intel's next-generation budget chip. Codenamed Braswell, this little quad-core Pentium N3700 should offer comparable or better performance than Microsoft's Surface 3, which uses a similar Atom X7-8700 in it. While the 13-inch Pavilion x360 sticks with a fan to keep it cool, HP says the 11-inch version with the Core M or Pentium N3700 will be fanless.
Like the Envy x360, the Pavilion's battery life should improve over the previous iteration. HP again says, however, that it's the result of a slightly larger battery and tuning of hardware and software.