One of the best things about Evernote is its ability to couple with a variety of other apps and services to expand its reach. By tapping into these tools, you can more easily bring articles, notes, contacts, and other information into your favorite workspace. Here are five to get you started.
Evernote Clearly
With the click of a button, this browser add-on removes all the clutter—navigation bars, advertisements, links—from articles and blog posts so you can focus on the content. It comes with a few predefined themes, such as Newsprint, which replicates the look of a newspaper, and Nightowl, which optimizes the page for nighttime reading; or you can create your own. Best of all, you can save the cleaner clippings right to your Evernote account for later reference.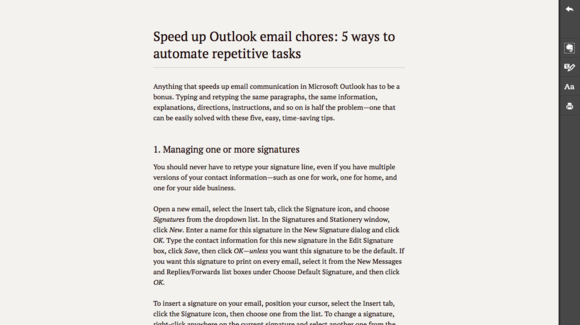 Penultimate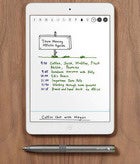 Penultimate brings the tactile experience of putting pen to paper to Evernote on the iPad. Using a stylus or just your finger, you can jot down notes, sketch designs, mark up images, and more. Choose blank, lined, or graph "paper"—or purchase more specialized options like music scores and storyboards—and start capturing your handwritten ideas. Once saved, all your Penultimate notes are accessible and searchable in Evernote.
Eidetic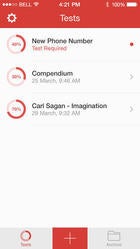 If you remember flash cards from your grade school days, then you have a basic understanding of how Eidetic works. This iOS app uses spaced repetition to help you memorize information you define. Just input anything from a phone number, a fact, or any other small bit of information that you need to commit to memory and Eidetic will drill you on it, using the proven learning technique of adjusting intervals according to your performance. Connect it to Evernote, and you can save and organize Eidetic info in your notebooks.
EasilyDo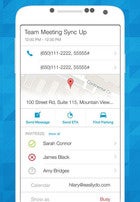 With its ability to make phone calls for you, remind you of appointments, track postal packages, and perform various organizational functions, EasilyDo is the next best thing to a flesh-and-blood personal assistant. To perform these functions, this iOS and Android app connects with a variety of social networks, email clients and other services. By connecting it to Evernote, you can easily capture receipts, email messages, contact info an more to your account.
Sight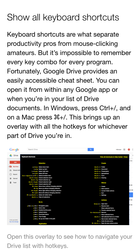 Sight solves the painful problem of cutting and pasting website links on a mobile device. With this iOS app, you just take a screenshot of any app or website featuring content you're interested in. Sight analyzes the content and scours the web to find the article. Then it optimizes it for mobile by stripping out ads and other web elements and saves them for later on, or offline reading. Link the app to your Evernote account and you can save them to your notebooks.