Acer's ambitions for its gaming hardware just might be as lofty as the venue the company chose for rolling them out. At an event Thursday morning, 68 floors up in Building 4 of the new World Trade Center in New York, the company unveiled a raft of new products, including systems for its Predator gaming line.
The Predator hardware will include a new desktop tower and a new tablet. You heard me: a tablet. In addition, the company will roll out its first-ever gaming laptop. As you'll see in the photos below, it's a brash and bad as gaming laptops are obliged to be these days.
Acer also announced Thursday the first curved G-Sync panel to date. Not surprisingly it's also extremely expensive. But my, it looks nice.
Why this matters: The PC may be losing market share overall, but the gaming category is a rare bright spot. For gamers, the PC remains the power platform of choice, and their lust for high-end hardware seems insatiable. With this rollout of gaming-focused hardware, Acer is simply following the money. It remains to be seen whether it can pull gamers away from more established brands.
The first curved G-Sync monitor
The most concrete launch was the new 34-inch, curved Acer XR341CKA monitor. The display is an IPS panel and packs in nearly 5 millon pixels, with a resolution of 3440×1440. It includes DTS audio, a pair of integrated 7-watt speakers, and a 100-percent color gamut. The XR341CKA's low-profile bezel makes it possible to surround yourself with two or possibly three of them, if your neck can handle it.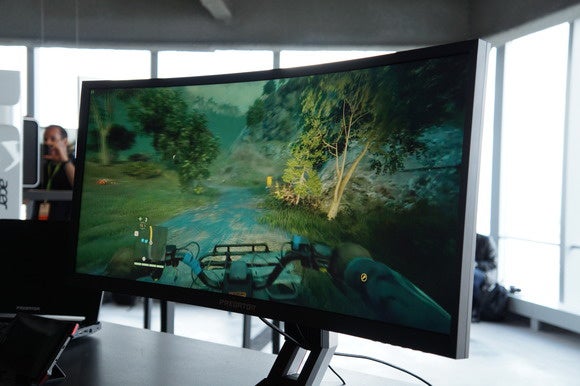 What makes this monitor a gaming panel? It features Nvidia's G-Sync technology, which helps smooth out visuals when performance drops on your PC. Also included in the monitor are aim-point icons that place virtual crosshairs on the monitor for games. Some games' "hardcore" modes don't include onscreen crosshairs, forcing some users into kludges like sticky notes or even drawing on the screen. The aim-point icons aren't new, though, as Asus has had such a feature for a few years.
If you want this curved G-sync beast, you'll have to wait until September and also peel off $1,300 for it. That's going to make it the most expensive monitor with nVidia's G-sync module inside of it.
Cue Predator jokes: Get to dah choppah!
Acer's other hardware commitment to gamers this year will come in its Predator desktop, Predator laptop and Predator tablet.
The Predator desktop appears to be mostly a reskin of its existing gaming lineup. While it's not as radical as Alienware's Area 51, it is unique. Its standard tower form factor should support multi-card GPUs and today's gaming hardware.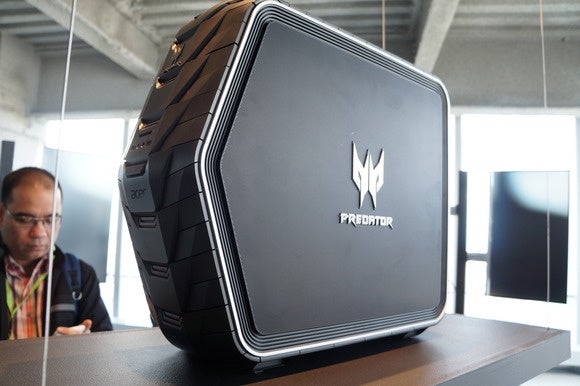 Thursday's event also marked Acer's entry into gaming laptops, which it's been content to leave to more esablished brands up to now. The company showed a prototype of its new Predator laptop. Final specs weren't revealed, but it's clear from the size of the Predator it'll attack Alienware 17-inch units, as well as the larger, more powerful offerings from Asus, MSI and others.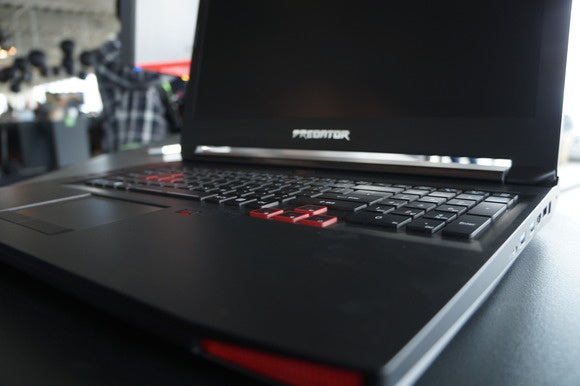 The styling of the Predator laptop shows how well the company has studied the current trend for these beasts: keep them cool. Gaming laptops of yesteryear were fast, but they often generated so much fan noise that they ruined the game play or mandated wearing a headset. Today's gaming laptops are far better-behaved, and consumers have come to expect that. The back of the Acer Predator, for example, appears to be all vent to keep the GPU cool.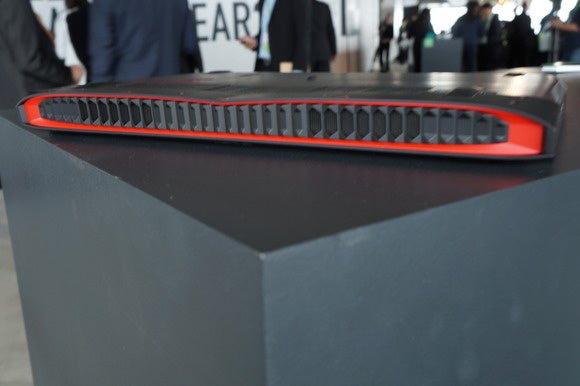 The biggest surprise in Acer's gaming category was its unexpected reveal of the Predator tablet. Acer said little about this gaming-focused tablet–neither the OS nor the CPU were specified—but we do know it'll have haptic feedback.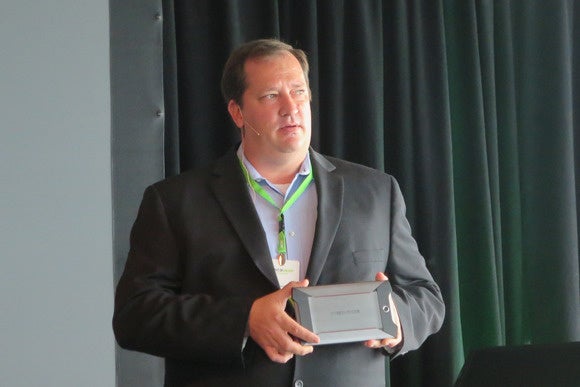 The bad news is, gaming tablets aren't exactly new and haven't exactly set the world on fire. The Razer Edge fared well in our review, but there hasn't been a sequel to it. We also don't know how well Nvidia's Shield Tablet has sold. Given that Nvidia has stayed mum about sales volume, it probably wasn't the hit the company had hoped for. Can Acer's Predator Tablet prevail where its predecessors have faltered? We'll see when the product ships later this year.
Acer unveiled many other products Thursday, including a huge, crazy-cheap Chromebook and a pile of Windows PCs. Not surprisingly, though the gaming hardware got most of the fun stuff. We'll let you know who wins this new installment of Alienware vs. Predator when we get the products in to test.