Acer's new Aspire Switch 10 seems like just another low-cost Windows tablet, but its detachable keyboard dock turns the device into a shape-shifter that can stand in multiple angles.
The Switch 10 is first a tablet, and it can become a laptop when attached to a keyboard dock. Acer announced two Switch 10 models at a lavish press event in New York, with the entry-level Switch 10 E SW3-013 starting at $279 and the higher-resolution Switch 10 SW5-015 starting at $399.
A brief hands-on with the Switch 10 revealed what's most interesting about the device. Its biggest attraction is the detachable keyboard dock, which comes alongside the tablet. The tablet can be securely snapped on the dock, which has a 360-degree hinge that allows the device to be placed in multiple positions.
That may seem like a mundane benefit at first, but it can be handy. I rotated the screen and stationed the device on the table in a reverse V shape—also called "tent" mode—and tapped around the touchscreen interface. It seemed like a convenient way to use the computer.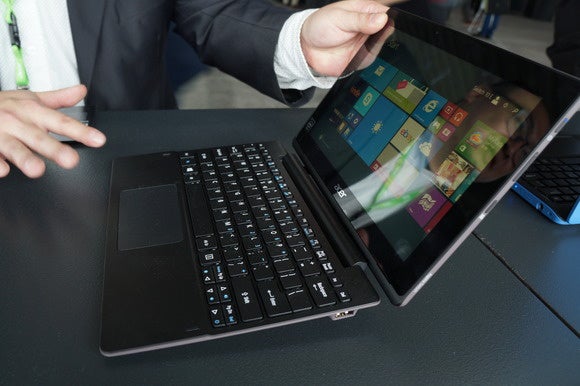 Acer, like other PC makers, is experimenting with such designs to provide a tablet and a laptop in one package. The Switch 10 design is similar to hybrid designs like Lenovo's Yoga, in which the screens can rotate 360 degrees, but they are hard-wired to the keyboard base. Acer sets itself apart by allowing the screen to be detached.
At 630 grams, the $279 Switch 10 tablet felt slightly more bulky than some competing tablets during a brief hands-on test at the event, but it was easy to grip. It comes in six sharp colors.
The Switch 10 provided adequate performance when loading applications and switching between screens in the Windows 8.1 interface. The tablet runs on an Intel Atom Z3735F processor, which is an older Bay Trail chip.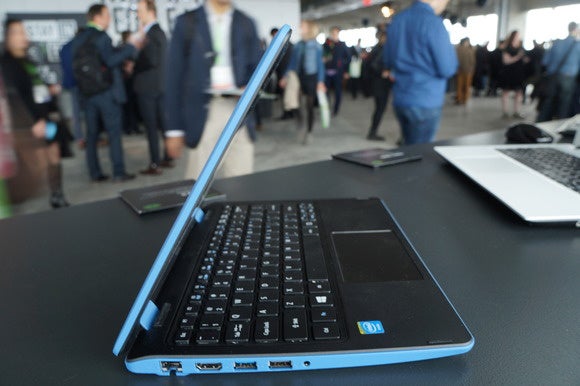 The screen didn't stand out from the competition's. It has a 1280-by-800 pixel resolution. Acer said it has an IPS display, making it viewable from more angles, but its glossy surface caused troublesome glare.
The tablet and keyboard dock combine to offer 12 hours of battery life.
For the price, you can't expect fancy features. The Switch 10 has two-megapixel front and rear cameras. Other specs include up to 2GB of RAM and 64GB of storage. It doesn't lack for ports: It has a mini-HDMI port, a microSD slot and a microUSB slot. The keyboard dock has a USB 3.0 port.
Acer's new product is up against cheaper 10.1-inch Windows tablets, such Nextbook's detachable model, which is available for $179.99 on Walmart's website.
The $399 Switch 10 SW5-015 has a 1920-by-1200-pixel screen and a few other added features, but otherwise it has similar hardware specifications to the $279 model.