If you only pay attention to pricing, there's not much reason to care about Project Fi, the new wireless service that Google unveiled this week.
Price comparisons to traditional wireless carriers have shown Project Fi isn't necessarily any cheaper. Because Google doesn't charge overage fees, and it credits users back every month for the data they don't consume, the cost savings really depends on how much data you use.
But as Google's actual announcement makes clear, saving money isn't really the point of Project Fi. The service's true goal is to change the way we think about wireless data service. The subtext of Project Fi is that traditional wireless carriers aren't as important as they think.
Whose (phone) line is it, anyway?
There are a couple ways Google enforces this notion. First is through the actual connectivity, which is a patchwork of T-Mobile, Sprint, and Wi-Fi networks. Between the two carriers, Project Fi simply picks the fastest one, which is something no other wireless service can do.
But in many cases, users won't need the carrier networks at all, because Project Fi can route calls and text messages over Wi-Fi. This routing not only includes home Wi-Fi networks, but public hotspots that Google deems fast and reliable. Project Fi forms an automatic, encrypted connection that doesn't count against the user's data plan. Whether it's Wi-Fi or mobile broadband, Google is essentially saying that the best connection should win.
The other way Google de-emphasizes traditional carriers is by storing users' phone numbers in the cloud. Instead of being tied to one smartphone, the number will let people reach users on tablets and laptops across all the major computing platforms. (It seems likely that smartwatch connectivity will follow.)
Traditional carriers can't do this because they don't have the app support. Whereas Google's Hangouts app is ubiquitous, there's no comparable AT&T app that routes your calls and text messages to all your connected devices.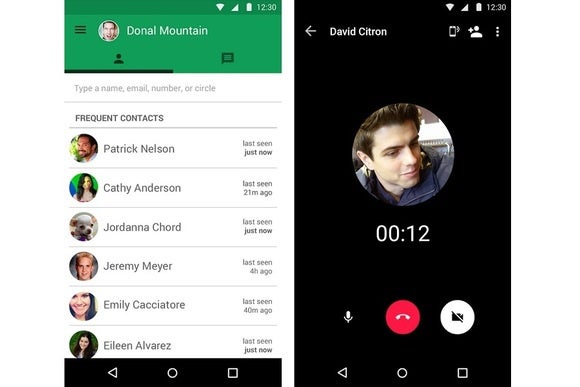 It's not even clear if carriers want to offer such a service. Just look at Samsung's Gear S smartwatch, which uses a separate SIM card and phone number. To receive calls from your existing number, your phone needs to be turned on, and the watch can't place outbound calls from your existing number at all. Putting the phone number in the cloud could potentially solve this problem, not just for wearables, but for tablets and laptops. (To take it a step further, imagine if Project Fi let you extend your full data plan to other devices without excessive per-device fees.)
Granted, Google has tried the cloud-based phone number concept before. In 2009, the company introduced Google Voice, which gave users a number that could receive text messages on any device, route calls to any phone, and handle VoIP calling through desktop web browsers. Eventually, users were able to port their existing numbers to the service.
But even this system wasn't perfect. To use all of Google Voice's features with your main number, you still had to own an entirely separate number through your wireless carrier. With Project Fi, all these capabilities are built into the wireless service. In a way, it's what Google Voice should have been all along.
Where Fi goes now
Interesting as Project Fi is, Google paints it as merely an experiment, not a direct assault on the mobile broadband business. This could just be diplomatic posturing—Google can't really take an axe to wireless carriers when it's relying on their networks—but it's more likely that the company is trying to wield its influence indirectly.
Imagine, for instance, if Google could convince other carriers to support the cloud phone number, letting users access their calls and text messages through Google Hangouts on any device. To sweeten the deal, perhaps Google could even let carriers tap into the same network of Wi-Fi hotspots that Project Fi will use.
This isn't as crazy as you might think. After all, Google's Nexus phones work in similar fashion, demonstrating the benefits of pure Android to users and the industry. It's taken a while, but phone makers are starting to get it. In time, maybe wireless carriers will as well.