Microsoft is poised to make Windows 10 truly universal. Universal. Think about that for a moment.
PCs. Phones. Tablets, notebooks, desktops. Robots. Even holograms, for Pete's sake. Windows, Android, and iOS. Write once, run anywhere—it's been a software cliche for just about forever. Yet the combination of Microsoft's Windows 10, universal apps, and the emerging Continuum vision now seems poised to make it a reality.
By the time Microsoft chief executive Satya Nadella left the Build stage Wednesday, he had collected code written for iOS and Android under the Windows umbrella. Executives had described how Windows phones connected to a monitor can serve as actual, tiny PCs—what Microsoft calls Continuum for phones. And apps written for PCs can even run as holograms on Microsoft's HoloLens.
In all, Microsoft's vision of 1 billion Windows 10 devices suddenly seems downright conservative.
Just two years ago, the conversation surrounding Microsoft focused on how average consumers hated Windows 8's crazy-quilt interface. We talked about how Windows Phone was fading fast, and how developers were flocking to Android and iOS. Apps written for Microsoft's phones, tablets and PCs barely talked to one another. Not only was Windows far from universal; it was barely treading water.
But that conversation is changing. "I think it's really promising," said Brian Blau, an analyst with Gartner, of the vision Microsoft outlined Wednesday. "And it really shows a different face of Microsoft."
Windows: a vast, untapped market
Microsoft's mobile initiative has always struggled with a very particular problem: developer fatigue. Small apps developers—heck, even large ones—have simply lacked the resources to support more than two mobile platforms, and their first choices have always been Android and iOS. Consider that just under 1.5 million Android apps are in the Google Play store at the moment, and a comparable number of iOS apps live in Apple's App Store. Last year, the Windows Phone store housed 300,000 apps. Yeah.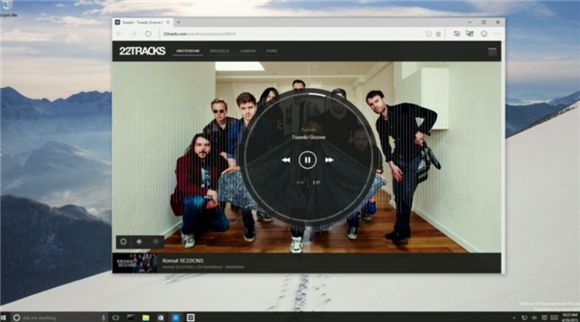 But now, what Microsoft is calling the Universal Windows Platform changes the rules of the game. Microsoft's operating system chief, Terry Myerson, said that developers will be able to pull in code from .NET and Win32 programs, sandboxed to protect the user from downloading a malicious app. Developers will also be able to "reuse" Android code written in Java and C++, as well as iOS apps written in Objective-C.
If coded correctly, the resulting universal apps should scale to fill different display sizes, tie themselves into Cortana, and be able to send notifications to users. But that's gravy. The Universal App platform is a way for developers to create a single application to run on the full range of Windows 10 devices, and that's the most attractive words a developer can hear.
Continuum pushes apps to all devices
While the Universal App platform allows apps to run on almost all devices, Microsoft's Continuum concept ensures they're actually coherent. Ever run an old Android phone app on a tablet? If not coded correctly, text and images can look like Silly Putty stretched beyond all recognition.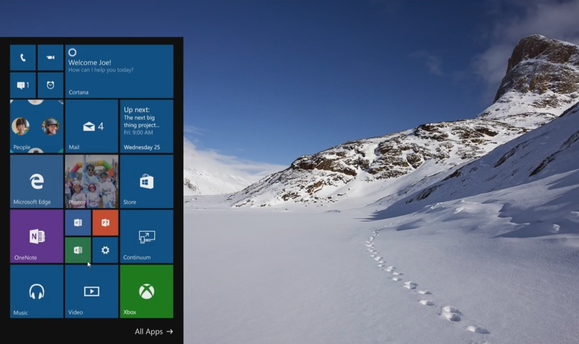 Continuum, however, goes much further than just, say, reformatting an app for tablet mode. Continuum for Windows 10 phones harnesses the power of universal apps to redefine the phone as a computing device. An app formatted for a phone's small screen will "flex" to fill a widescreen computer monitor—yet live on the phone. That's powerful, powerful stuff. Microsoft's essentially said that if you have a Windows phone and access to a monitor (as well as a Bluetooth keyboard) you simply don't need a PC—your phone is your PC.
Furthermore, any universal app can apparently be run as a hologram as well, through Windows Holographic. Microsoft executives showed off Trimble's virtual CAD program, a spinning virtual globe, and more, all using Microsoft's HoloLens. A virtual video screen that followed its user around drew the biggest cheers of the day.
Nadella may as well have crushed an Apple Watch under his heel.
A cold dose of reality
Any good speech has a way of painting the future a rosy red. Outside of Nadella's reality distortion field, however, some analysts said that not everything's as simple as Microsoft makes it out to be.
"When they presented here, it seemed like it was a case of 'write once, deploy anywhere,' and that's definitely not going to work," said Avi Greengart, a research director for Current Analysis. "And if you talk to Microsoft privately, they will tell you it won't work, and they will tell you what they expect you to do is maintain a single code base, and to change it as needed for the different device form factors.
"If you design for an Xbox controller, it's not going to work on a touchscreen," Greengart said.
Several other key questions remain unanswered. We still don't know when Windows 10 will launch. We don't really understand how well an iOS app ported to Windows will run on the cheap Windows phones Microsoft is determined to sell. We still don't know for certain if the new "universal" apps will run on the Xbox One. We don't have confirmation of what cut of the revenues Microsoft will take for listing that universal app on its app store, or even when that universal app store will go live.
And while we don't know how many developers will buy into Microsoft's vision, we do know one that already has: King has ported Candy Crush Saga to the Windows platform. That's a huge name to add to Microsoft's developer list.
Apple might be the richest company in the world at the moment, but Microsoft clearly is the most interesting. And Microsoft has just set forward what can only be called a breathtaking strategy to reclaim its position atop the computing world.