Sometimes there's simply is no replacement for displacement. And if you believe in the philosophy that more cores is better, Falcon Northwest wants to show you its latest micro-tower PC: A 4-inch wide PC packing no fewer than 18 cores inside of it.
No, that doesn't count the Hyper-Threading. The Tiki packs a true 18-core Xeon CPU, which means the Tiki actually packs a CPU with 36-compute threads and 45MB of cache aboard its Xeon E5-2699 V3 chip.
If you're wondering how the company can possibly cram that much CPU into a case not much larger than the original Xbox, it's only thanks to breakthroughs in tiny motherboards using more powerful chipsets than before.
Up until very recently, Mini-ITX motherboards have been limited to Intel's Z97 or lower chipset and the LGA-1155 CPU. While fine for the vast majority of people, that means they could only run consumer grade CPUs, which are limited to four cores.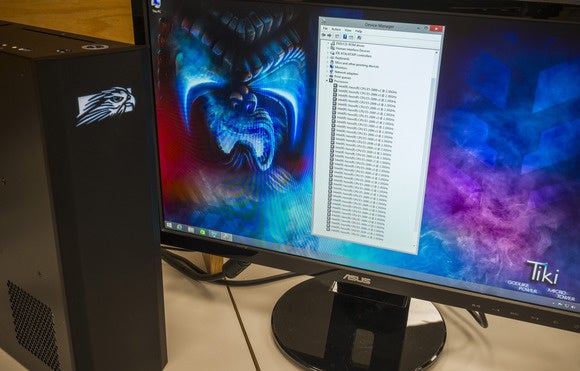 The latest Tiki, though, uses a motherboard with Intel's X99 chipset that supports the much larger pro-sumer LGA2011 V3 socket. The socket lets the machine run both Intel's top-dog Core i7-5960X with 8 cores, or the previously mentioned Xeon E5-2699 V3 part.
Although I don't know whether it's the exact board that Falcon uses in its Tiki, I'm guessing it's Asrock's X99E-ITX/ac board. The motherboard company made quite a stir when it showed off prototype boards months ago, and now it appears to be ready.
I've asked other motherboard companies why they couldn't cram an X99 chipset and LGA2011 V3 socket into a MiniITX board before and was told it couldn't be done physically. The LGA2011 V3 socket is so huge, you have to pronounced it "yuge." Putting such a large socket into a motherboard that can't be larger than 6.7-inches by 6.7-inches is "impossible," or so they said.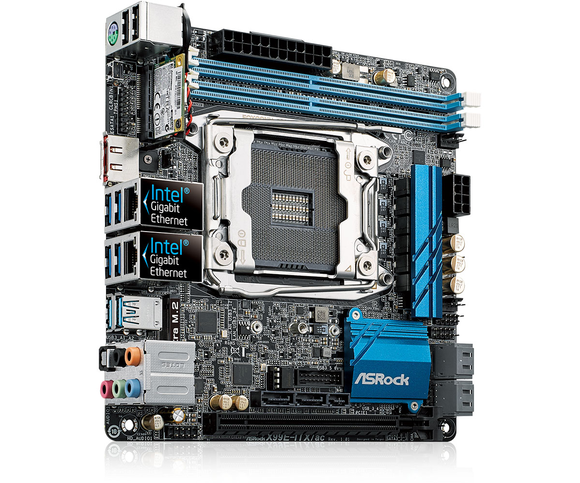 Asrock's does the impossible, but not without cost. The X99 chipset and CPUs that go with it require four memory modules to run in quad-channel mode. Asrock, it appears, could fit only two onto the board. That means the CPU is likely handcuffed in memory bandwidth by supporting just two channels of DDR4. The good news is, it won't hurt graphics performance.
Along with the 18-core Xeon and 8-core Core i7 builds, Falcon offers the GeForce Titan X along with other GPUs in the Tiki.
Why this matters: Do you need this many cores? If you're nerd six-pack driving a game or a browser, no. But professionals who do that kind of core density will welcome it, as time is money, and no one likes sitting around watching things render when they could be working.