It's true: Android apps are coming to Windows 10's Windows Store. So are iPhone apps. Traditional desktop programs too. And even web apps!
But not quite in the way you think. Windows 10's enhanced compatibility has nothing in common with Blackberry's half-assed Android kludge, and everything to do with pairing easy portability with Microsoft's smarter, experience-enhancing universal app capabilities.
Say what you want about the selection in the Windows Store, but some of Windows 8's underlying technologies are actually pretty darn swell, from system-wide notifications to enhanced security to Xbox achievements to seamless in-app billing. Microsoft's adding features to Visual Studio that will allow developers of existing apps to bring their apps into the Windows Store and tap into those features, with barely any tinkering required.
Why this matters: Microsoft's existing Windows Store and Windows Phone store have been plagued by "abandoned" apps—software that, once created, are left untouched and un-updated. This new technology certainly makes it easier for developers to bring their existing work to Windows, but it remains to be seen whether developers will indeed take advantage of the tech—and, if they do, whether those apps are left to linger or flourish in ways Windows 8 apps never did.
The new Windows apps will have notifications
First up, Microsoft's Terry Myserson pulled up 22Tracks (pictured at top) to show how websites will now have access to tools that allow them to pop up notifications on your system, interact with Cortana—presumably in the new Edge (formerly Spartan) browser—and even tap into the Windows Store's easy-peasy in-app billing. These features can be tapped into even when the browser is closed. (How else would notifications work?)
But the real juiciness lies in how Microsoft's making it easy for devs to bring their existing apps into the Windows Store.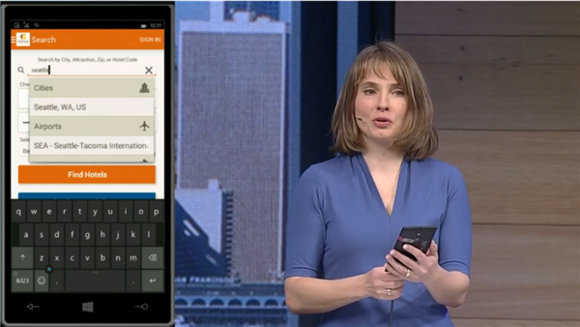 Android and iOS developers will be able to port their apps and games directly to universal Windows apps. Microsoft's allowing Android developers to reuse their underlying Java and C++ code to build Windows apps, and iOS developers will be able to use their Objective C code. The idea: Make it easy for developers to bring their apps over, and to extend the apps' core functions with Microsoft-specific features (like Windows 10 notifications and achievements.) Microsoft APIs are available to replace Google APIs that Android apps rely on, The Verge reports.
An onstage demo showed an Android app being used on Windows Phone, complete with traditional Windows Phone controls and the Word Flow keyboard. These converted apps will be run inside a Windows security container for safety.
Microsoft also said that traditional .NET and Win32 programs will be able to be ported into Windows app form, with Adobe's Photoshop Elements and Premier Elements being among the first. Because traditional desktop software have full access to your computer, these Windows Store variants will be sandboxed to avoid potentially hosing your system.
Myerson didn't provide much detail onstage, but in the interview with the Verge, he revealed that the desktop ports rely on some of the virtualization technology from Microsoft's HyperV—so we'll have to see how the end experience stands up. Virtualization can create a pretty pokey experience.