Power settings are one of those facets of your PC you never really think about until you need to change them. The default settings in Windows are pretty good, but they may not suit everyone or be ideal for certain situations.
That's why Microsoft makes changing them a snap. I recently had to manage my power settings to deal with a large download that was taking forever. I figured it would be finished in about two hours, but it was late at night and I didn't want to bother waiting around for it to finish.
I also knew, however, that if I didn't adjust my power settings the PC would probably go to sleep and my download wouldn't be sitting there waiting for me in the morning.
Here's how to handle a similar situation.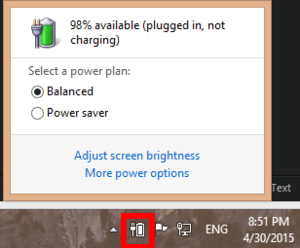 If you're running Windows 8 or higher on a laptop, you should see a power icon in your system tray on the far right side of the taskbar. It could be hidden in the pop-up window under the upward facing arrow.
Once you find the icon, click it and a window pops up showing your current power settings. Click the More power options link at the bottom of that window to open the Control Panel.
Windows 7 also has a power icon, or you can get to the next step by opening the Control Panel and selecting Power Options from the large icons view.
The Control Panel will show you all the various preset plans your computer offers such as Balanced, Power saver, and High performance.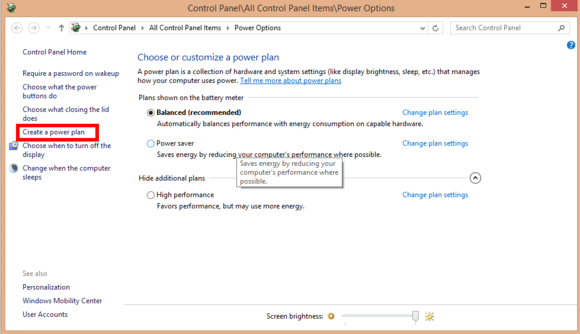 What we want to do, however, is create our own custom plan. On the right-hand side of the window click Create a power plan.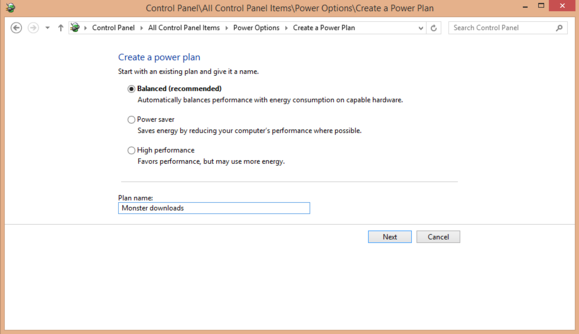 On the next screen, you'll be prompted to name your power plan and choose a pre-existing plan as a template. Be warned that the plan you choose will be replaced by the new one you're creating. You can still get to the original in the Control Panel under Hidden additional plans, but it won't be available from the taskbar. Once you've got everything set, click Next.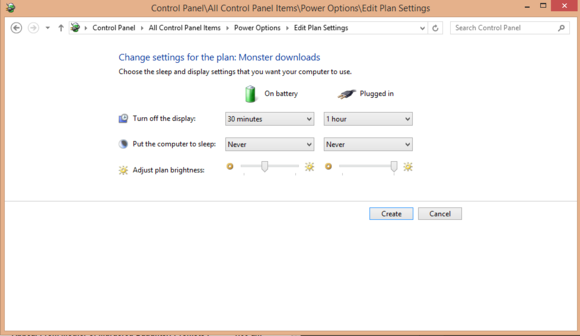 Now you can choose all the power options you want. For my example power plan here, I decided to let the PC turn off the display after 30 minutes to an hour depending on whether I was running on battery or not. But I didn't want the PC to go to sleep so I chose Never for both On battery and Plugged in.
Once you've got the settings you want click Create and that's it.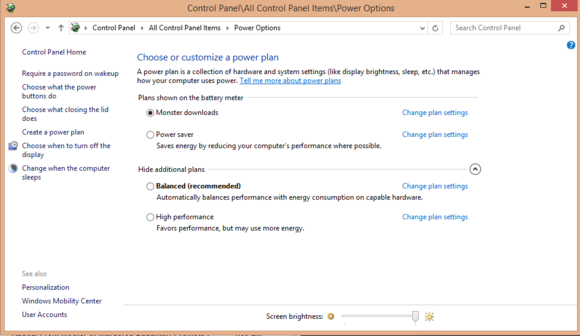 You'll be kicked back to the main power options screen in the Control Panel where your new plan is activated and ready to go.
When you want to switch power plans again, you can do so by either clicking on the power icon in the taskbar or opening the Control Panel once more.