Nothing says back-to-school like a new desktop PC with a 4K panel. At least, that's what HP thinks this season. The company has announced re-skinned desktops and a new all-in-one PC aimed at the student crowd.
The other big news, whether HP intended it or not, is the public acknowledgment of AMD's unannounced Radeon R9 380 GPU, which will be featured in HP's top-of-the-line, gamer-focused mid-tower, the Envy Phoenix. Exact details of the new card aren't known, and HP officials declined to say much about it other than its model name.
The new hardware also debuts a distinctive look for the front panel. In a departure from the conventional stacked look of most desktop PCs, the new towers squeeze laptop-size drives and other accessories into a single, vertical opening. It's mostly a cosmetic change, but one that stands out from the crowd.
Why this matters: There's more than usual riding on HP's raft of new laptops and desktops. Shortly after the kids tote all this tech to class, HP's computers and printers division will be leaving the corporate mother ship. HP has this crop and any holiday additions to show the world that it's ready to survive—and conceivably, thrive—as an independent company.
Envy Phoenix: good specs for gamers
As HP's top-of-the-line gaming desktop, the $899 Envy Phoenix will feature closed-looped liquid cooling. To make the most of that, HP will also offer unlocked Intel CPUs, and the company said the machines will come from the factory with overclocking options.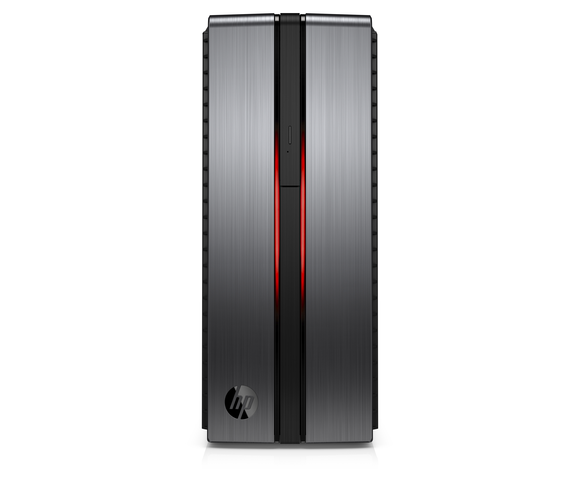 Although aimed at gamers and spec'd fairly aggressively, the machine isn't completely over-the-top. The PC is a mid-tower with a Micro ATX motherboard. At best—and I'm not even sure it's supported—the machine could potentially support two graphics cards for gaming.
HP old adversary Dell, however, offers gaming machines through its Alienware brand with up to three GPUs aboard. HP also has no answer to Alienware's popular Alienware X51 micro-tower, nor the company's mini gaming box.
The new Envy Phoenix will offer audio processing from Bang & Olufsen, which is HP's new partner for sound technology in its laptop and desktops. The company previously had an extensive partnership with Beats audio, but Apple's purchase of Beats put an end to that.
Moving down from the Envy Phoenix, HP is also introducing its normal Envy, starting at $699 without the liquid cooling, and with options for both Intel and AMD APUs. One step down from that gets you the Pavilion line, pictured at top in its array of brightly colored, vertically-oriented cases. The main differences between the Pavilion and Envy that we can see are in pricing (the Pavilions start at $450) and internal component performance.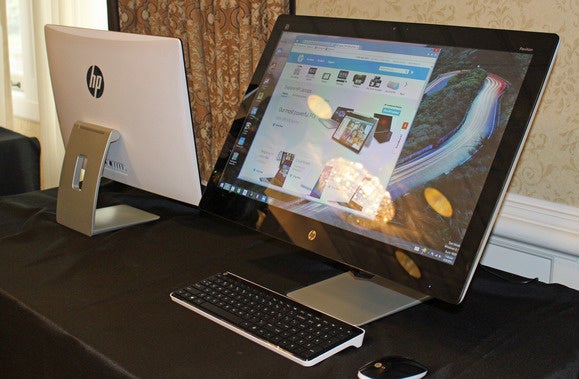 Pavilion All-in-One features edge-to-edge glass
HP's other desktop announcement was its Pavilion All-in-One featuring edge-to-edge glass. There's still a bezel, but the glass goes all the way to the edge. Although there were thoughts of ejecting optical, HP said its customers continue to want it, so a 9.5mm mobile drive is offered.
The Pavilion comes in three display sizes: a 21.5-inch model for $600, a 23-inch model for $699, and a 27-inch model (pricing yet to be announced). All sport touch and 1920×1080-resolution displays. For processing power, the new Pavilion will offer everything from Celeron to Core i7, as well as everything from A4 to A10 in AMD APUs. They will offer offer discrete GPU options too, using AMD's no-longer-so-secret Radeon R9 GPUs.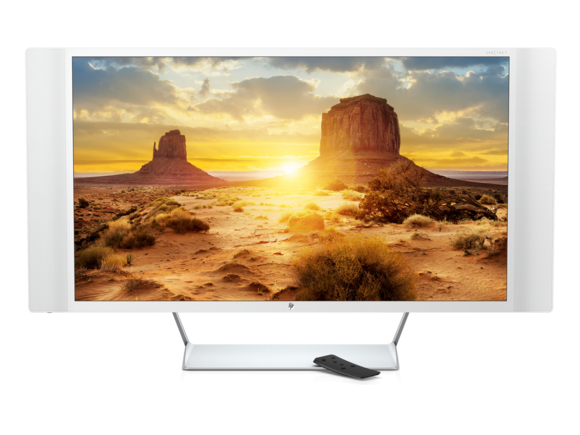 The last announcement is a new Spectre Studio Display. This 32-inch panel cost $999 and sports a 3840×2160 resolution. On inputs, the monitor uses the latest HDMI 2.0 input, which supports 4K resolution at 60Hz, as well as a standard HDMI 1.4 port and a DisplayPort 1.2 input.
Because few have access to native 4K content, HP says the monitor features an upscaler to make standard 1080p content "look great" at 4K resolution. The final trick the Spectre Studio Display offers is support for two simultaneous inputs to be viewed at once side-by-side.
HP didn't say what the panel technology was, but its 178-degree wide viewing angle implies IPS or IPS-like technology.