Streaming Xbox One games to a Windows tablet has been one of the most anticipated features of Microsoft's ecosystem. A demo Microsoft showed off yesterday at Build 2015 reveals that it looks fantastic.
Microsoft tipped its plans to offer game streaming earlier this year, as part of the Xbox app for Windows 10. The idea is simple: If you own an Xbox One and a Windows 10 tablet, you'll essentially be able to play the Xbox game on the smaller, portable screen.
Microsoft hasn't said exactly when the the new streaming capabilities will roll out, but based on other demonstrations Microsoft made, it's likely that it'll be enabled it in Insider build 10110 of Windows 10. (The latest public build is build 10074, which we've downloaded and evaluated.) What Microsoft showed off looked clean, polished, and ready for prime time, with little to no lag between the controller input and what appeared on the screen.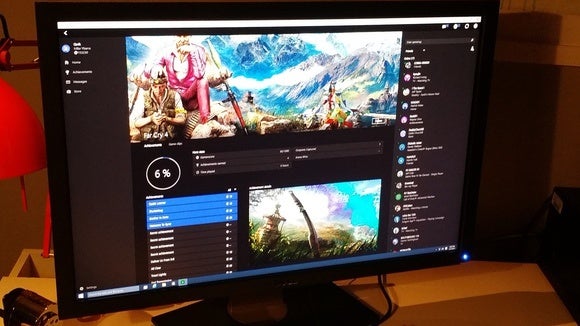 Why this matters: Honestly, I doubt I'll game on my tablet all that much, since I'd have to haul an Xbox controller and a tablet to some other part of my house. But I'm certainly not discounting the technology because of that. Microsoft is trying to exploit is how well its ecosystem ties together, and we'll certainly see more apps and services traversing Microsoft hardware in the Windows 10 generation. This is a interesting first step that's going to appeal to a lot of gamers.
Not a lot of lag, understandably
There was a catch, though: The Xbox One was connected to a docked laptop via Ethernet. Normally, you would expect a tablet to be connected via Wi-Fi and roaming roam freely around the house.
Kevin Unangst, senior director for PC Gaming in the Xbox group at Microsoft, said that was because both devices were in a "noisy environment," with Wi-Fi signals being passed back and forth among the many phones and PCs being toted around the event. All that interference would have slowed down the network, degrading the demo, he said.
(Here's our video of the Xbox streaming service in action.)
Nevertheless, the latency (or "lag") of the signals passing between the tablet and controller will determine how well the technology works. Nvidia's existing GameStream technology and the Valve Steam Link successfully operate under the same principles, simply requiring all devices to be connected to the same in-home network.
Microsoft is investigating several possible avenues going forward, Unangst said. First, Microsoft is trying streaming in the opposite direction, from the tablet to the Xbox One, as it said previously. (That's similar to what Plex, an in-home movie streaming app that's been ported to the Xbox One, already does.) Second, Unangst said the company's exploring how to use any processing power that the game leaves unconsumed, such as devoting the leftover resources to streaming Netflix on the main living-room television while games are streamed wirelessly to the den. And third, we might possibly see some sort of split-screen experience, letting you input your Madden NFL plays privately so your friends couldn't peek.
Finally, there's Xbox 360 compatibility, by far the most-requested feature by Xbox One fans. Unangst said it would be foolish not to investigate such a popular request, but so far the company has nothing to share. Sony already offers backward compatibility with the PlayStation 3 via a service it calls PlayStation Now, which streams PS3 games from the cloud onto the PlayStation 4 console. Microsoft's own Azure cloud also performs some gaming functions, helping power its 2014 Xbox One game, Titanfall.