Mere months after releasing the locked-down Office 2016 developer preview, Microsoft has thrown open the proverbial doors to welcome all comers to the Office 2016 consumer preview .
Aside from the fancy touch-enabled Office apps currently being tested with Windows 10, Office 2016 appears to be largely an iterative update to Office 2013. This is no radical upsetting of the apple cart. Nevertheless, Office 2016 will have all sorts of nifty new tweaks and tricks up its sleeve, like real-time document collaboration, the ability to both access data from and share data with third-party apps and other outside sources, and a TellMe search field that understands natural language queries to point you toward the exact features you're seeking.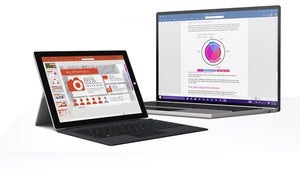 Want to get an early look at the future of Office? Here's how to install the Office 2016 Preview today. It's dead simple—though note that you'll need to be running Windows 7, 8, or 10 to use the new Office suite.
Forget the past
Before you actually install the Office 2016 Preview, you'll have to remove any existing Office installations from your PC. Just like the official Office releases, the Office 2016 Preview doesn't play nice with its siblings.
Uninstalling your existing Office software is as easy as diving into Control Panel > Programs > Uninstall a program and eradicating the Office programs, but wait! You'll want to jot down your current Office version's product key first so you can reinstall your current version of Office when the Office 2016 Preview ends. (Booting up the Word 2016 Preview on May 4, 2016 kicks up a message saying it'll be valid for 179 more days, for what it's worth.)
If you don't have your product key handy, run Belarc Advisor—one of three free, crucial tools that can reveal your PC's deepest secrets—before you uninstall Office. A report will pop up in your browser; look for the Office product key in the "Manage all your software licenses" portion of the page. Keep it somewhere safe!
The next steps vary depending on whether you're an Office 365 subscriber, but either way, it's an easy process.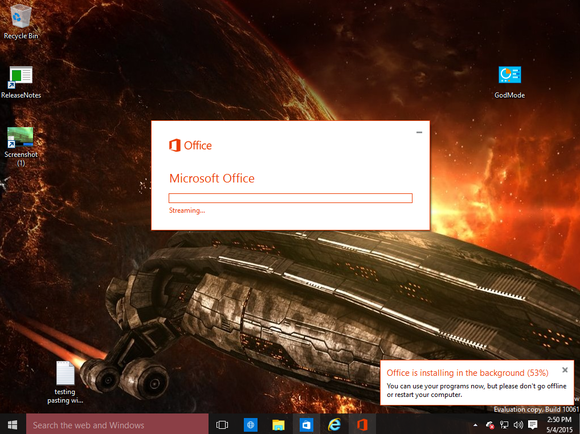 How to install the Office 2016 Preview
Installing the Office 2016 Preview should be a breeze if you're an Office 365 subscriber. (Note, however, that my colleague Mark Hachman was unable to install Office 2016 via Office 365 for some reason, though I had no problems installing the standalone version.) Just head to your Office 365 My Account page, then click Language and install options. From here, click Additional install options. In the drop-down menu, select to install either the 32-bit or 64-bit version of the Office 2016 Preview.
Once the software's installed, you'll need to enter the email address matched to your Office 365 subscription the first time you boot an Office app.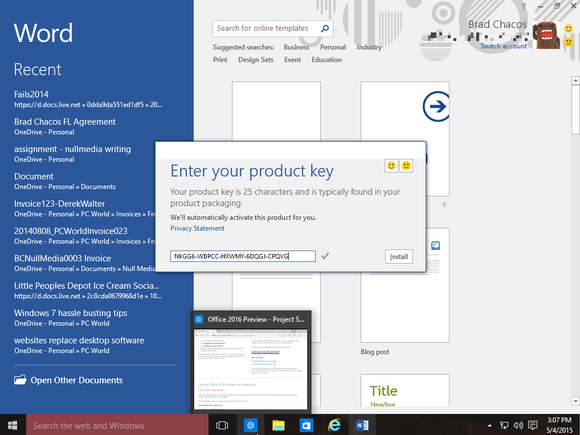 The process is just as easy if you're not an Office 365 subscriber. Simply head to the Office 2016 Preview page and download the executable for either the 32-bit or 64-bit version of Office. Once it's downloaded, click the program icon to begin the installation process.
When you're prompted to enter the email address associated with your Office subscription the first time you boot an Office app, press the small blue "Enter a product key" link underneath the field instead. Then use the following product key:
NKGG6-WBPCC-HXWMY-6DQGJ-CPQVG
That's it! Poke around, try all the new stuff, and be sure to send Microsoft feedback using the smiley-face icon in the upper-right corner. Microsoft wants to hear whenever you stumble across either pain points or frictionless experiences. That's what previews are for, after all.

Speaking of previews, Office 2016 isn't the only one Microsoft's offering right now. To get a sneak peek at the future of Windows as well, check out PCWorld's guide to installing the Windows 10 preview, as well as our suggestions for the coolest new Windows 10 features to check out first and more than 20 of the best Windows 10 tips, tricks and tweaks.
Heck, you can even install the Office 2016 Preview inside the Windows 10 Preview because yo dawg, I heard you like previews in your previews so you can test features and stability while you test features and stability.