AMD has been forced to pick its battles, wary of going toe-to-toe with Intel and its mighty manufacturing machine. But AMD chief executive Lisa Su said Wednesday that it's time for AMD to re-enter the ring and again commit to high-end, premium products.
Su said that AMD plans to launch a new high-performance "Zen" core next year that will be marketed as the AMD FX CPU—AMD's traditional brand for the high-end gaming market. AMD also plans to add cutting-edge high-bandwidth memory (HBM) to its forthcoming Radeon graphics products, and address new, emerging markets such as the virtual reality space. Su also said she aggressively plans to go after the data center—not a space consumers may care about, but a high-margin business that Intel has used as a profit center for decades.
The challenge AMD faces is a complex one; it must compete with a much larger competitor, Intel, whose manufacturing technology gives it an implicit advantage. AMD has been forced to either out-design Intel or sell its products on the cheap, which has drained AMD's already low cash reserves. AMD's also been forced to cut prices on its Radeon products in recent months to compete with Nvidia's new 900-series graphics cards.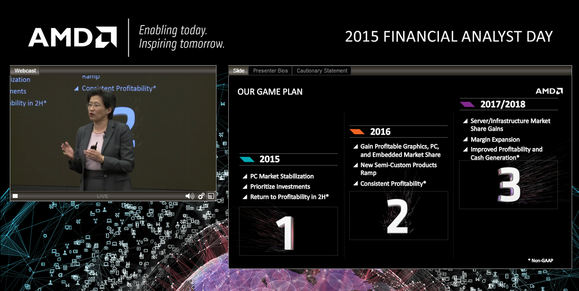 Su, then, has a simple goal. "What is the most important thing for us? Gaining profitable market share," she said at AMD's financial analyst day on Wednesday.
Why this matters: Any consumer with a passing interest in the PC space must understand that Intel dominates the PC CPU space—with over 80 percent of the market, historically. That means Intel is almost a monopoly. But with AMD holding on, Intel is forced to lower prices and compete more aggressively than it would otherwise be forced to. The same goes with Nvidia when it comes to graphics cards. If AMD can aggressively compete at the high end of the market, we as consumers win.
Funding the bottom line
Su said that while PCs will continue to make up roughly half of the company's revenue going forward, markets such as gaming, immersive platforms like VR, and the datacenter will grow and drive profits over time.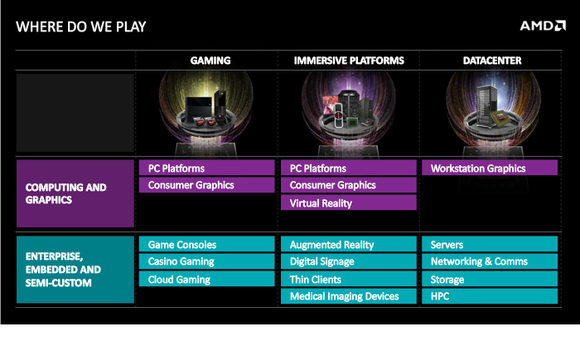 AMD's goal is to return to profitability in the second half of the year, Su said, and return the company's cash reserves from about $800 million to as high as $1 billion. That cash reserve is something that's been closely watched by Wall Street. But Devinder Kumar, AMD's chief financial officer, said that AMD has reevaluated several different possible scenarios, and "that's the way it's come out every time we've run it."
AMD plans to move to 14nm FinFET chip technology in 2016 via its foundry, GlobalFoundries, chief technical officer Mark Papermaster said. That will be used in the Zen core, high-end graphics products, and elsewhere. "We are fully confident with the technology," he said.
Meet the "Zen" core
As AMD tries to claw its way into parity with Intel, the company is busy prepping its next flagship CPU core: Zen. AMD promises that the Zen core will offer an amazing 40-percent performance improvement over today's processors, and will be the basis for its reborn FX processors next year.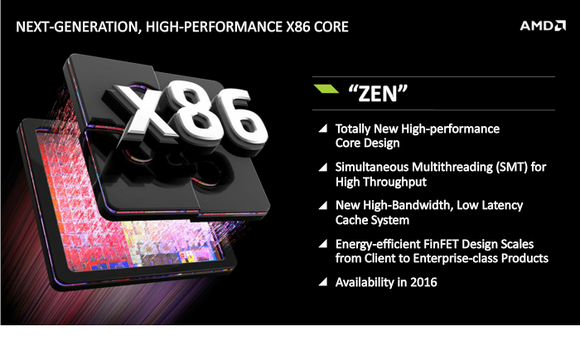 "We are reinvesting in the high end desktop with the Zen core, Su said. "High performance and compute in desktop makes a big difference."
Further reading: AMD pivots back to high-performance computing with next-gen Zen CPU cores
AMD also said that it had nixed its "Project Skybridge" initiative with ARM chips, and had pulled out of the low-end ARM server market, as well.
AMD to goose graphics with high-bandwidth memory
AMD teased some of its upcoming graphics technology at the Wednesday event, and the rumors are true: At least some of the upcoming graphics cards will be the first to feature high-bandwidth memory (HBM), the supercharged successor to the GDDR5 memory used in today's graphics cards.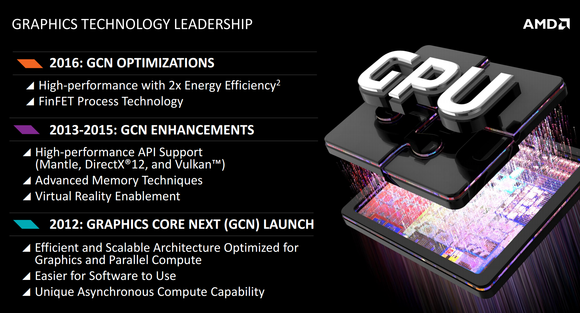 AMD's chief technical officer Mark Papermaster said that HBM offers a three-fold improvement in performance per watt compared to GDDR5, and a 50-percent increase in power savings.
Further reading: Confirmed! AMD's next-gen Radeon graphics will use cutting-edge high-bandwidth memory
Su also announced a new lineup of M300-series mobile graphics for OEM notebooks. Vendors will begin announcing laptops with the new GPUs very soon.
Semi-custom stability
In 2016, AMD hopes to gain profitable market share in PC CPUs, graphics, and the embedded space. But one of the more stable sources of revenue is a business AMD didn't talk too much about—the semi-custom space, like AMD's systems-on-a-chip that power the three main game consoles. AMD hopes to sign an additional customer this quarter in its semi-custom business, which will begin generating returns in 2017 and 2018. Could that be a refreshed version of one of today's game consoles?
One of the more interesting points Su raised was not what AMD would invest in, but where it wouldn't. In the Internet of Things, for example, Su said that AMD planned to invest only in areas where its technology could be monetized. "We're not going to be in the endpoint space, we're not going to be in the smartphone space."
Su tried to make clear that the industry values competition—"the datacenter wants AMD," she noted. Su added that by sticking it out in markets where AMD has struggled, the company essentially has nothing to lose and can make new, aggressive choices. Still, AMD has a challenge in mindshare as much as anything else—can the company be perceived as a high-end supplier when it's struggled for so long?
PCWorld's Brad Chacos and Gordon Mah Ung contributed to this report.