The rumors were true, gamers. AMD teased more details about its next-gen Radeon graphics processors at its financial analyst day on Wednesday. As long suspected, at least some of the upcoming graphics cards will be the first to feature high-bandwidth memory (HBM), the supercharged successor to the GDDR5 memory used in today's graphics cards.
"We've been working on HBM, frankly, for 7 years," said AMD CTO Mark Papermaster.
HBM stacks memory chips atop each other and plops the stack on top of or—as is the case with the new Radeon GPU—next to the graphics processor, relying on through-silicon via to pass wires through the middle of it all. The technology is expected to greatly improve memory speed and density alike. Papermaster says HBM offers a three-fold improvement in performance per watt compared to GDDR5, and a 50-percent increase in power savings.
Paired with the new color compression technology that originally debuted in the Radeon R9 285, which uses AMD's new(est) Tonga GPU, the increase in available memory bandwidth in these new GPUs could be impressive indeed.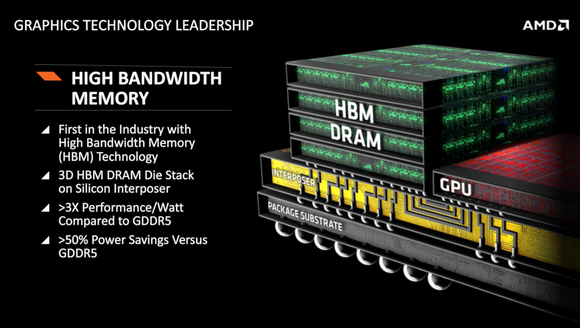 The power and bandwidth improvements aren't the only positives achieved by migrating to HBM, explained AMD CEO Lisa Su. "With memory now on-die rather than on-card, it enables a lot of really interesting form factors," she said, promising that some of those interesting form factors will be revealed in the near future.
Future AMD graphic processors will reduce power draw even further. The company's 2016 GPUs will utilize FinFET transistor technology to allegedly double their energy efficiency.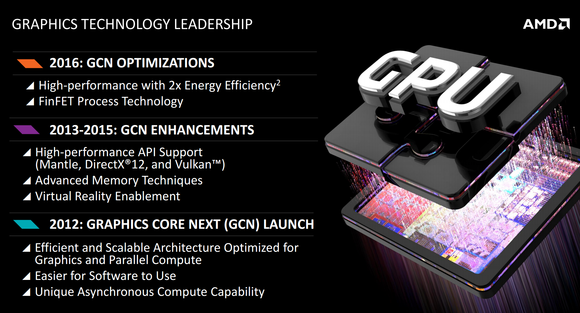 That's all nothing but a good thing. The high-end Radeon R9 200-series graphics cards currently available suck down far more power and spit out much more heat than GeForce cards based on Nvidia's Maxwell architecture. (Nvidia is also expected to adopt HBM in 2016 with its Pascal GPUs.)
Further reading: Tested: Nvidia GeForce and AMD Radeon graphics cards for every budget
Su declined to name the next-gen Radeon GPU that utilizes HBM, saying that "We are going to introduce a full-up [desktop graphics card] lineup later this quarter."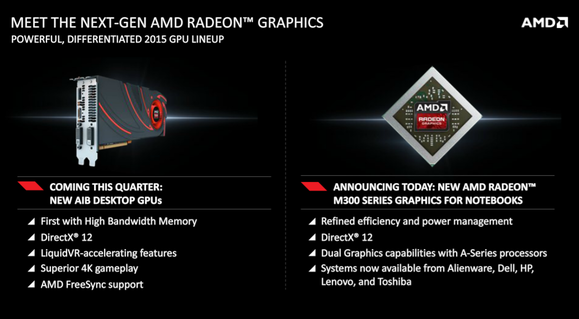 The story behind the story: Numerous (and very unconfirmed) leaks and rumors have named AMD's next flagship as the Radeon R9 390X, however, powered by a new GCN "Fiji" core. The rumors suggest it could up have up to 4,096 stream processors, a 1050MHz boosted core clock, up to 8GB of HBM memory, and maybe even a variant sporting integrated water-cooling like the beastly dual-GPU Radeon R9 295×2.
Su and Papermaster spent their presentations playing up the need for MORE POWER in the face of DirectX12 and the rise of 4K displays and VR technology—both of which require much more graphical firepower than existing display technology—so rumblings about the rumored R9 390X being a graphical behemoth feel correct in my gut.
Mobile graphics and an imminent desktop launch
Take that information with a hefty grain of salt, however, especially since it sounds like AMD plans to unveil its new graphics card lineup sooner rather than later. AMD's fiscal quarter ends in June, and earlier this week, HP outed a trio of unannounced Radeon GPUs—the R9 380, the R7 A330, and the R7 A360—as part of a barrage of announcements for new systems due in June.
Su also announced a new lineup of M300-series mobile graphics for OEM notebooks. Vendors will begin announcing laptops with the new GPUs imminently. Su didn't reveal any in-depth details about the M300 series, but their launch prior to the desktop R9 300-series indicates they could be rebrands or refinements of previously available chips rather than all-new GPUs built on fresh silicon.