Despite the recent announcement that Windows 10 phones will be able to be used as PCs when connected to an external monitor, Ubuntu—the first operating system to toy with the idea—hasn't conceded the smartphone-PC convergence race to Microsoft just yet.
"While I enjoy the race, I also like to win," Ubuntu Foundation founder Mark Shuttleworth said during a Ubuntu Online Summit keynote, before announcing that Canonical will partner with a hardware manufacturer to release a Ubuntu Phone with smartphone-PC convergence features this year.
Unlike Windows 10 for PCs, Windows 10 for phones won't be released this summer, so Ubuntu may still get there before Microsoft.
What we know
We don't know much about this Ubuntu phone yet. All we have is a short announcement Mark Shuttleworth made in the larger keynote. Here's what he said:
"I'd like to announce that we are going to ship a device, this year, with a manufacturer—which will fit in your pocket; which will be a phone; and which will give you a desktop experience. So, that pocket PC experience is real on Ubuntu. And, while I enjoy the race, I also like to win. And I bet you do too. And so it will be lovely for us to drive free software first into the convergence world."
Shuttleworth talked up convergence more in this presentation, noting that the Ubuntu Phone's application platform already allows for applications that can resize to fit various screen sizes, from smartphone-size to windows on your desktop. After focusing on Ubuntu Phone's unique interface and design to get it out the door, Canonical is beginning to talk about convergence again.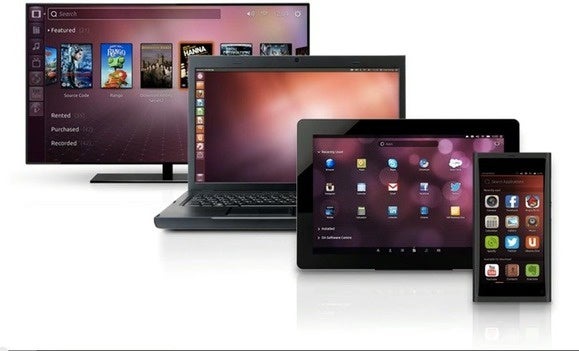 Windows 10 for phones is slipping
Windows 10 for PCs will ship this summer—in late July, according to AMD's CEO. But Microsoft recently announced that Windows 10 for phones will be released after Windows 10 for PCs. Microsoft called this a "staggered launch," which is just another way of saying the phone version isn't done yet and will be released later.
This is no surprise, as the phone version is in much rougher shape than the PC version. We don't know when the phone version will ship, but we can probably expect to see Windows 10 for phones arrive later in 2015.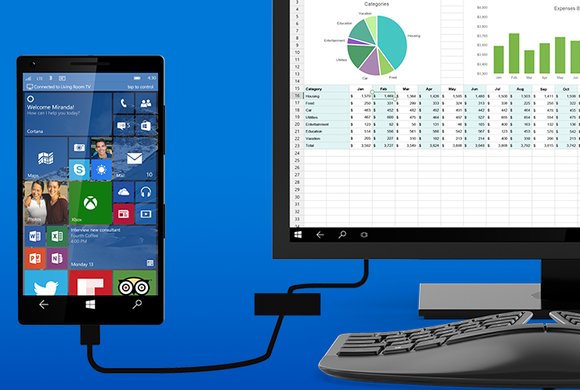 Microsoft isn't waiting for third-party manufacturers to take advantage of the convergence features. It will reportedly release a flagship phone codenamed "Cityman" with support for Continuum for Windows 10 phones —Microsoft's name for the process of using a phone as a PC when it's connected to an external monitor. This phone hardware will probably be ready to go around the time Windows 10 for phones is finished.
The release date slip gives Ubuntu a chance to beat Microsoft to launching this feature. Both projects are scrambling to get the software done with a release date of sometime in 2015.
Canonical's schedules have been slipping, too
There are reasons to be a bit skeptical. The Unity 8 desktop interface and Mir are still in fairly rough, unpolished shape—you can see it for yourself by trying the Ubuntu Desktop Next images.
Want to stay up to date on Linux, BSD, Chrome OS, and the rest of the World Beyond Windows? Bookmark the World Beyond Windows column page or follow our RSS feed.
Unity 8 and Mir were supposed to have been part of the default Ubuntu desktop image for several releases now, but this is clearly taking longer than expected. Unity 8 and Mir may be ready for Ubuntu 15.10, "Wily Werewolf," in October. We'll see.
On the Ubuntu Phone front, the BQ Aquaris is still the only Ubuntu phone that's ever been released, and it's only available in Europe. The first Ubuntu phone for the rest of the world, the Meizu MX4, still isn't out. Meizu and Canonical haven't even announced a release date for it yet.
Canonical will probably still get there, but Microsoft might beat Ubuntu to convergence even if it does launch the new phone this year. If the phone slips to 2016, Microsoft will almost certainly beat them to market. Canonical has fewer developers and didn't spend $7.2 billion to acquire a smartphone manufacturer , so it's definitely an uphill battle for the open-source community.
The race is on.