For graphics enthusiasts, two exciting tidbits sprang forth from AMD's Financial Analysts Day Wednesday, where the company laid out its product roadmap for the coming years.
First of all, AMD CEO Lisa Su explicitly confirmed that the company's imminent new graphics processor will be the first in the industry to use high-bandwidth memory (HBM), the supercharged successor to the GDDR5 RAM used in today's graphics cards. And secondly, since HBM is built directly atop the GPU's die—rather than being arrayed around the package, as is the case with traditional memory chips—Su said that "it enables a lot of really interesting form factors."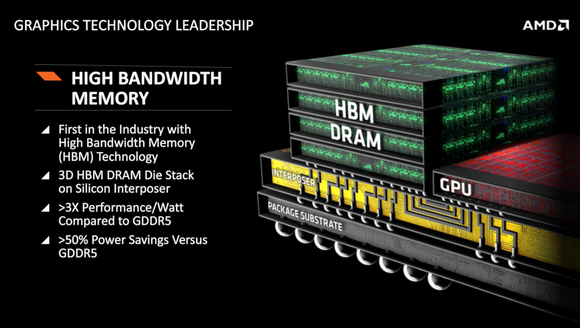 Two alleged renders of the rumored Radeon R9 390X flagship graphics card, said to be powered by a new AMD "Fiji" GPU, appeared on the web overnight, allegedly pulled from stock footage of the card presented to AMD's add-in board hardware partners (like Asus, XFX, et cetera). Take these "leaks" with a hefty grain of salt; I've reached out to AMD in hopes of confirming or denying their authenticity. (UPDATE: An AMD representative said he can't comment on the images.)
That said, these were too interesting not to cover.
Both show a rumored watercooled variant of the R9 390X. The first image, taken from Chip Hell—where many GPU leaks originate—and seen at the top of this page, reveals a graphics card that's almost unbelievably small for a flagship. (Did I mention these should be plopped firmly in the "rumor" category?)
Next to the card itself lies the radiator block for its water-cooling setup. AMD's monstrous dual-GPU Radeon R9 295×2, which the R9 390X appears to take its design cues from if these images are accurate, also offered an integrated water-cooling solution.
A second alleged render of the Radeon R9 390X, this time from Wccftech, also purports to show the card as well as its radiator block—but more importantly, it reveals the card's selection of ports. If accurate, the Radeon R9 390X will ditch the DVI connection found in current-gen Radeons in favor of three full-sized DisplayPorts and a single HDMI connection.
Again: These could be faked, but if they are, the faker(s) did a fine job of pulling all the various far-flung R9 390X rumors into the design. And if they're real, then hot damn did AMD's next-gen Radeon graphics card just get a lot more interesting.
We should know for sure soon. AMD's Su said the new GPUs will launch this financial quarter, which ends in June for AMD. Expect to hear more details either at Computex during the first week of June, or at the mammoth annual E3 games convention starting June 16. Perhaps not-so-coincidentally, AMD's co-hosting a massive E3 event dedicated to PC gaming on that day.