There are a lot of things you can get at the top of a Google search, including the weather, flight times, and currency conversions. Now Google is adding food delivery to the roster.
When you search Google for food on your phone, you'll see an option to place an order. The new option is packed in with the rest of Google's business directory listings and is not available on PCs.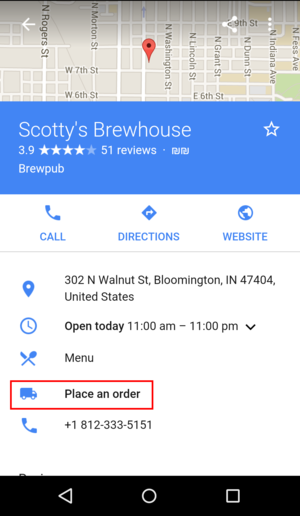 Say, for example, you live in Bloomington, IN and you want a burger. You can search for "burgers" on your phone and then tap one of the businesses listed in your results. Once the restaurant's information appears you'll see a "place an order" link as pictured here. If you have a specific restaurant in mind you can just search for your favorite burger joint by name.
Deliveries are handled by one of six food on-demand providers, including Seamless, Grubhub, Eat24, Delivery.com, BeyondMenu, and MyPizza.com. Your restaurant must be using at least one of these services before you'll see the option to place an order.
Once you're ready to get food, you select which delivery provider you'd like to use and continue on that service's website.
The new food delivery option is available now across the U.S.
Google did not mention whether individual restaurants with their own delivery service will be able to take advantage of this feature at a later date.
The story behind the story: There's nothing companies love more than to one-up each other. Google's new food service follows a similar idea that Amazon quietly launched in December called Takeout & Delivery. Amazon's service is a pilot project that is only available in Seattle and, unlike Google's service, requires you to visit a specific website to get started. The contest is on to see whether people prefer to browse Amazon's site or start their order from a Google search.