With Google search loaded in your browser window, you're only a few keystrokes away from checking off some of your daily Android to-dos. For starters (as I noted recently), you can set an alarm on your Android device directly from the Google search box in your browser.
Read on for six more ways Google search and your Android device can work together, starting with…
1. Send directions to your Android device
Picture this: You've got an important meeting in the big city and you don't want to get lost along the way. You pulled up the directions using Google Maps on your desktop, but there's no obvious way to send those directions to your phone.
Now, you could just fire up the Google Maps app on your handset and dig up the directions again, but there's an easier way.
Go to Google search on your desktop, type send directions to phone into the search box, then click Search.
A form will appear with a map of your phone's current location and a blank marked "Where do you want to go?" Fill in the blank with an address, a landmark, a restaurant, you name it. Once Google has pinpointed your destination, click Send directions to my phone.
Within a few moments, Google Maps will open on your phone, complete with the address marked on the map. Just tap the blue button at the bottom of the screen for your directions.
Bonus tip: If you own, say, both an Android phone and a tablet, you can choose which device to send directions to by clicking the pull-down menu in the top corner of the "Send directions" window—and yes, this applies to the following five tips, too.
2. Find your phone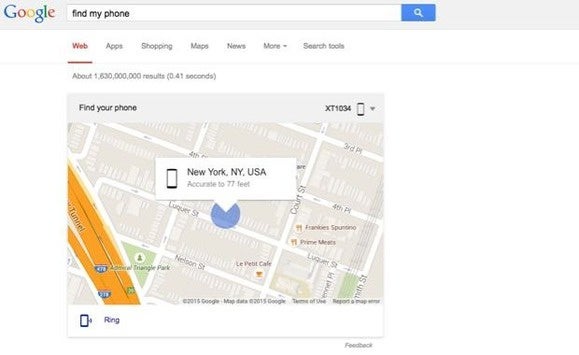 Hmmm, let's hope your missing-in-action Android phone is just hiding under a sofa cushion. Here's a quick way to find out.
Head for Google search in your desktop browser and type find my phone. When you do, Google will pinpoint the location of your missing handset (assuming it's powered up and has an active data connection) on a map just below the search box. Click the "Ring" link to make your phone's ringer sound off, then just follow the ringtone.
If your phone is really lost, click the bubble above the blue dot on the map to jump to the Android Device Manager. From there, you can remotely lock or even wipe your phone.
3. Add an event to your Android calendar
You've got a can't-miss meeting to add to today's agenda. Instead of digging up your Android phone and launching the Calendar app or opening Google Calendar in your browser, save both time and keystrokes with this Google search-powered shortcut.
From the Google search box in your desktop browser, type something like Add a meeting to my calendar at 1pm today.
When you do, a confirmation window will appear just below the search box. Review the information, then tap the Create event link. The event will be added to your Google calendar, both in your Google account and on your Android phone.
If you need to make any changes, just click the window to jump to the full-on Google Calendar screen.
4. Send a note to your phone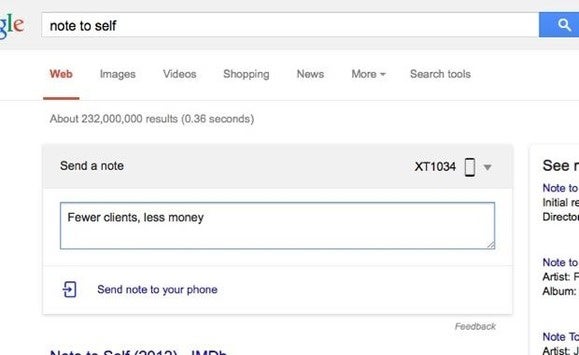 Hold that thought! Here's an quick way to take your brilliant idea with you.
Just type Send a note to my phone or (even easier) note to self into the Google desktop search box. When a Send a note form appears, go ahead and type your note, then click the Send note to your phone link.
Now, back on your Android phone, you should see your note waiting for you in the Notifications flick-down window. Tap Copy to copy the note to your handset's clipboard, or Save to save the note to the note-taking app of your choice (such as Google Keep).
5. Set an alarm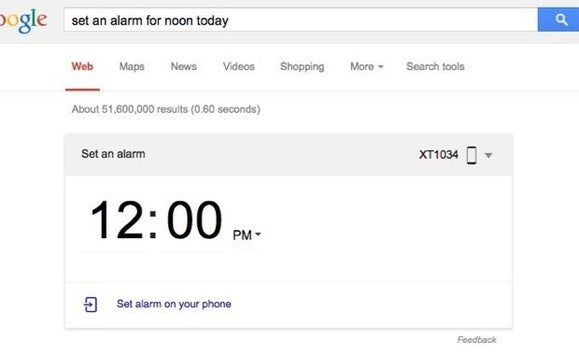 There's no need to dig up your Android phone and swipe your way to the Clock app; instead, you can do it all from Google desktop search.
Just type (for example) Set an alarm for 6am into the search box. A confirmation will pop up just below the form. Click the Set alarm on your phone link, and Google will set your Android alarm clock for you, no additional tapping required.
6. Create a reminder
Whatever you do, you can't, can't, can't leave the office tomorrow without submitting those TPS reports. You could set up a reminder on your Android phone, of course, but what if you've already forgotten by the time you've pulled your handset out of your briefcase?
Instead, strike while the iron's hot and create the reminder directly from Google desktop search.
In the Google search box, type something like Remind me to send TPS reports tomorrow at 4:30pm.
A Set a reminder form will appear. Click the form to make changes, or click Remind me on Google Now to send the reminder to your Android device.
Troubleshooting tip: If Google on your desktop complains it can't find your phone, make sure your handset is actually connected to Google search. Launch the Google app for Android, tap the three-line menu button in the top corner of the screen, tap Settings > Now cards, then make sure the "Show cards" and "Show notifications for card updates" settings are both switched on. Of course, don't forget to make sure both your Android device and Google desktop search are both signed in to the same Google account.