A new website from Wolfram Alpha will attempt to identify any image you show it, though it's more amusing than practical at the moment.
To check it out, head to ImageIdentify.com and drop in any photo from your computer or mobile device. The site will spend a few seconds mulling it over before taking a guess at what the picture is showing.
It's pretty amazing when it works. Using the site, I was able to figure the breed of dog that kept following my wife and I around on our honeymoon (miniature pinscher) and the exact type of flower from a hike in Los Angeles (larkspur). It also does pretty well identifying simpler things, like the pizza photo I used in a Wednesday blog post.
But in my experience, those flashes of brilliance were the exception, not the rule. Wolfram's tool is no good at identifying tech products (it thought an Apple TV remote was an alligator clip) and it came up with only vague or outright incorrect guesses for some of the other flora and fauna I showed it. Perhaps because of demand, more times than not the site threw up a "please try again" error.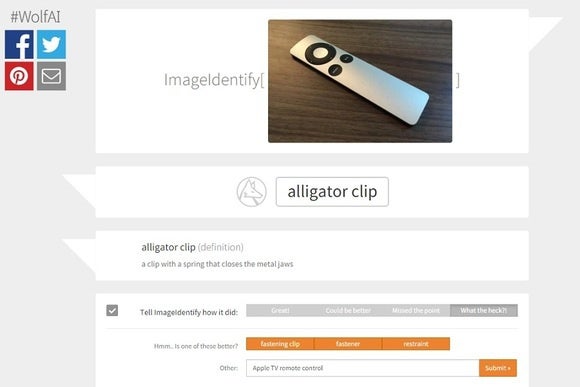 In a blog post, CEO Stephan Wolfram readily admits that the tool has plenty of blind spots—some of which can be fairly amusing—and notes that it will get better with experience. To that end, users can help out by indicating when the system is right or wrong, and either choosing from a few next-best guesses or typing in the correct identification. It's definitely worth trying out if you have a bunch of photos and a few minutes to kill.
Why this matters: Assuming the system improves over time, it has plenty of potential beyond your own amusement. Stephan Wolfram gives the example of a program that provides statistics on a large number of images. One could imagine some kind of tool to itemize all the things you discovered on a vacation, or translate an image of food into dietary information. Developers can build these sorts of things using Wolfram's programming and cloud computing tools, so the basic ImageIdentify site is just the beginning.