Microsoft's Lumia 640 is the tract home most Americans pretend to shun, but end up buying anyway: friendly, unpretentious, with an exterior that cheerfully advertises something different in just a few stock colors.
Inside, it's the same home as the rest of the block, with a few upgrades. Think of the new Windows Phone 8.1 Update 2 that powers it as the granite countertops and track lighting of Microsoft's suburbia. And it's cheap: just $130, according to Cricket, the first carrier to offer the phone. There's even a move-in special, a free year's subscription to Office 365 Personal worth $70 if you buy the phone before June 30.
Once you're settled, though, chances are you're going to feel a bit cramped. Neighbors in the Android and iOS clubs may titter and point to the Lumia 640's dowdy display. And always, always you'll glance up enviously at the more luxurious homes dotting the hills: the Lumia 830s, Icons, and 930s. But thread your way through the mountains of photos that clog your living space, ease past the massive apps that fill your bedrooms, and take pride in the fact that you saved some cash.
Just clearing the hardware bar
Lumia phones seem to ship in one of two varieties: chunky, solid flagship phones, or the candy-coated, plasticky cheaper variants. Measuring 5.56 x 2.84 x 0.34 inches and weighing 5.1 ounces, the Lumia 640 is one of the latter, with a slick plastic backing that probably should be textured to add a bit more grip.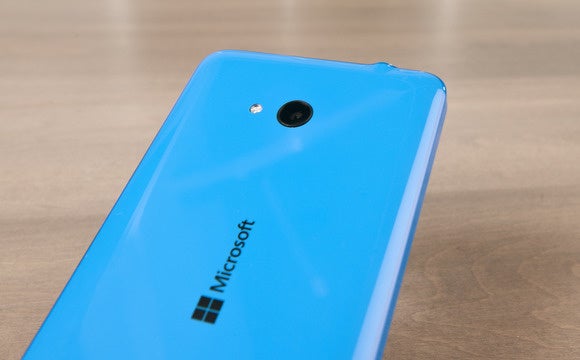 The phone's 1280×720, 5-inch IPS display fits well in the hand, but can't hold a candle to the exquisitely detailed displays that iOS and Android phones tout. Don't write it off just yet, though: Apps render just fine. The only real annoyance I have with low-res Windows Phones is that webpages displayed via Internet Explorer can require you to turn on Reading Mode before the font is large enough to read comfortably.
In fact, the Lumia 640's display, internal processor (a 1.2GHz quad-core Snapdragon 400), and memory (1GB RAM) are identical to last fall's Lumia 830. Benchmarks were nearly identical, too: SunSpider 1.0.2 (1.24 s), Antutu 0.8 beta (11,123) and WPbench (237.72) were all about half the performance of the Lumia Icon, with its 2.2GHz Qualcomm Snapdragon 800 chip. As with the Lumia 830, we used Asphalt 8: Airborne as an informal games metric, and the performance was a bit stuttery, but not unplayable.
The Lumia 640's rear camera (eight megapixels) is a step down from the 10MP model that the Lumia 830 offered, and the 0.25-inch sensor inside it is slightly smaller than the 0.29-inch sensor inside the 830, meaning that it captures a bit less light at twilight and in dimly lit rooms. A dynamic flash feature supplies enough light to reveal the detail on night shots, but just barely. You can either use the 0.9 MP front-facing camera for selfies, or the nifty Lumia Selfie app to automatically orient the rear camera for a higher-res shot.

The Lumia 640 also lacks a dedicated camera button, tossing aside one of the Lumia line's signature features. Microsoft seems to have forgotten that its phone explicitly asks you for a numerical PIN to unlock it, which takes time. It took 10 seconds to unlock the phone, launch the app, and take a picture. Compare that to an older Lumia 930, equipped with the quick-launching Lumia Camera feature and a dedicated button—that took just 2.5 seconds to shoot. That's the difference between capturing a baby's first smile and losing her attention entirely.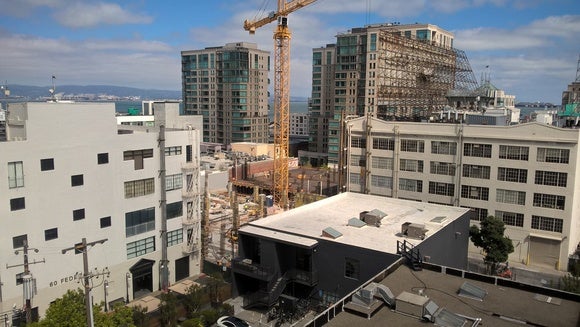 In addition to the camera button, the Lumia 640 jettisons all other hardware buttons as well. You'll need to swipe up from the bottom just to see the Windows or back buttons. It's a slight annoyance, but nothing too inconvenient.
About the only compromise that feels egregious is the relative lack of onboard storage. At just 8GB, that's already pushing it, compared with the 16GB or 32GB offered by most modern smartphones. And the actual storage amount that's available for use—about 3.54GB, with just Facebook installed—feels tiny, especially if you like to take lots of photos and high-definition video. Still, unlike many phones today, an SD card slot is included, and photos and videos can be backed up to the terabyte of OneDrive storage that comes with that Office 365 subscription. The real concern are apps: You can install an app from an SD card to the phone, but beware of downloading too many games like the 962MB Asphalt 8: Airborne—your available disk space will evaporate quickly.
Battery life, however, has improved, in part due to the larger 2,500mAh battery that Microsoft included. That's good enough for 36 days of standby time, 17.5 hours of 3G talk time, and 10.8 hours of browsing via Wi-Fi, according to Microsoft. It easily cruised through a day's use.
Windows Phone 8.1 Update 2 adds order
With Microsoft releasing test builds of Windows 10 Mobile every few weeks, playing with an update to Windows Phone 8 is a bit surreal. After all, there's nothing stopping you from freely downloading the next stage in Windows Phone's evolution. Unfortunately, you can't use this phone with the upcoming, PC-emulating Continuum for Windows 10 Mobile, as that it will require new hardware. (The Lumia 640 will support Windows 10, just not Continuum.)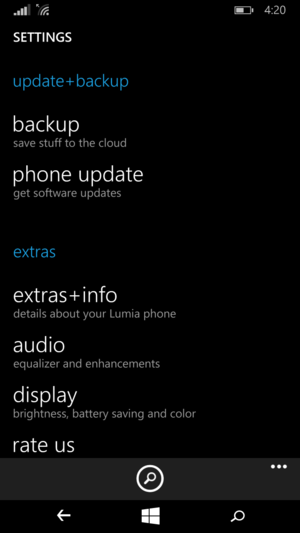 You'll appreciate the little touches that Windows Phone 8.1 Update 2 offers, though they're not monumental enough to sell the phone by themselves. If nothing else, you'll appreciate that the Settings menu finally has some rhyme and reason to it—and if you still can't find what you're looking for, a new dedicated search button should solve the problem.
The phone's motion tracker does a nice job of tracking your steps (it recorded about 8,400 steps when my Microsoft Band tracked 8,200 for the day) and automatically keeps track of how far you bike and drive, too. The glance screen now offers numerous options, and you now have control over app permissions—what apps get access to specific phone functions. Unfortunately, the Lumia 640 lacks the "Hey Cortana!" active listening feature available on the Lumia 930.
The Lumia 830 is arguably a better phone…but
Aside from the caveats I've listed above—especially the limited storage—I see nothing truly wrong with the Lumia 640. I just think that you'll be happier with the Lumia 830.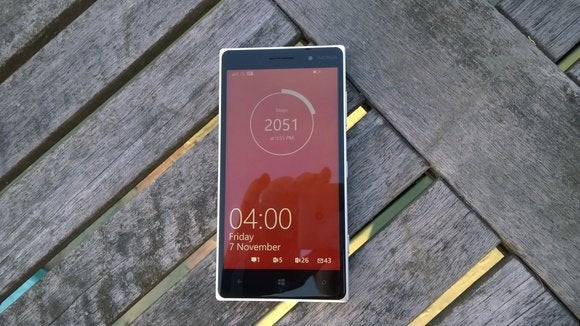 Right now, however, Cricket's offer for the Lumia 640 is also dramatically cheaper: By my math, it works out to $1,210 for two years of 5GB/month service, including the $129.99 up-front phone cost, plus taxes and fees. Two years of AT&T Next 24, plus the price of the Lumia 830, will cost you $3,080.16. (AT&T and T-Mobile have announced that they'll carry the Lumia 640, but as of this review have yet to announce pricing.)
By that metric, you may find yourself quite willing to put up with any quirks that the Lumia 640 offers. I will argue stridently that you'll enjoy the Lumia 830 more. But in the midrange phone space, price can be a major sticking point. In that regard, Microsoft's staunchly midrange Lumia 640 may be the right phone for you.