Virtual private networks are already easy to use thanks to the simple desktop apps many services offer. But if you live most of your computing life in the browser even a desktop app might be overkill.
Instead, you could use a Chrome extension instead of a desktop app. VPN provider Tunnel Bear, my personal VPN of choice, recently dropped the beta tag from its Chrome extension and made it available as an official stable release.
The extension works with Chrome on Windows, Mac, Linux, and Chrome OS. TunnelBear's one of the few popular VPN providers with an official Chrome extension—CyberGhost being the other.
Although they come from VPN providers, neither of these extensions create a VPN connection for your browser. Instead, they use an encrypted proxy, which is a slightly different technology that achieves the same goal as a VPN: encrypted, safe browsing.
We've talked about the importance of virtual private networks before. They're a great tool for protecting your browsing on an open Wi-Fi network or defeating regional restrictions when you need to.
If you live in Chrome, here's how to secure your web browser without affecting the rest of your system.
Tunneling with the bear
To get started, download the TunnelBear extension from the Chrome Web Store. It still says beta in the store, but this is the official release.
Once it's installed, you'll see a TunnelBear icon appear to the right of Chrome's address bar, along with all your other extensions.
TunnelBear should start up right away and a new tab will open letting you know you can start your "bear-owsing"—this company has yet to meet a bear pun it didn't like.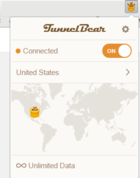 Once that's done, you're good to go. If you're a TunnelBear paying user (like me) you can click on the extension's icon, hit the settings cog in the upper right corner, and sign-in to your account.
By default, TunnelBear connects you to a VPN server in the U.S., but you can change that in the main dropdown interface.
If you ever want to turn off TunnelBear, just click the on/off slider at the top of the dropdown.
If you're a subscriber, TunnelBear's Chrome extension gives you the same usage rights as the desktop apps. The same goes for free users, which means you only get 500 megabytes of protected browsing in the Chrome extension. That's enough for some casual email or web browsing, but as soon as you start streaming video that limit will get eaten up pretty quickly.
Those are the basics of TunnelBear for Chrome. Just remember the extension covers only your regular browsing. It won't work with desktop apps like Sling TV or other browsers. TunnelBear also won't affect your browsing when in incognito mode since Google doesn't allow extensions to function in the stealth browser window.
If you do need a VPN to cover more than just your web browsing then a service with a desktop app is a better choice.