One of the most important questions surrounding Microsoft's HoloLens has been: What exactly are we supposed to do with it? At least we'll know whom to ask: former Mass Effect chief Casey Hudson.
Hudson, whose game credits include Mass Effect and Star Wars: The Old Republic, will be the new creative director at Microsoft Studios. His job, according to Microsoft, will be to work on "Microsoft HoloLens, Xbox, and other awesome projects." Hudson defines it slightly differently: "As creative director at Microsoft Studios, my primary focus will be the creative direction of HoloLens Experiences," he said in a Q&A with Microsoft's in-house Xbox Wire.
Hudson waxed enthusiastic about the future possibilities of HoloLens. "There's no end to the potential of this technology, and I look forward to being able to influence the full-spectrum experience on HoloLens, from hardware to OS, to applications and games," Hudson said.
So far, the HoloLens "experiences" have included several demonstrations: a virtual walk on Mars, an interactive "repair" of a light switch, a "Holo Studio," where users could build a virtual version of Mr. Potato Head, and a Holo Builder demo, which transformed a living room into a level from Minecraft. A second round of demonstrations earlier this month used more polished hardware, but the experience remained slightly underwhelming.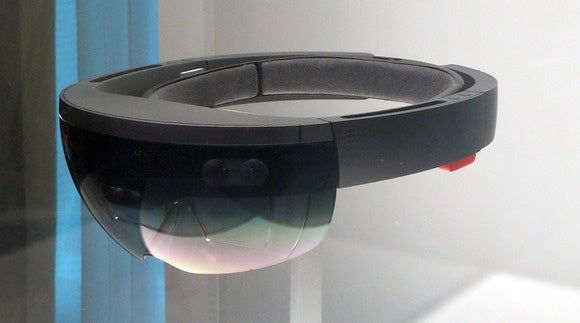 Microsoft has also said that virtually any universal application that can run on Windows 10 could be ported to the HoloLens, although it hasn't really said how well apps coded for two-dimensional space would translate to a three-dimensional environment. It seems likely, based on demos Microsoft showed at Build, that some 2D apps will be "pinned" to virtual walls and surfaces using the HoloLens hardware.
Why this matters: Microsoft has made it clear that while the Xbox is a critical aspect of its future, content is not. That's primarily why the company shut down Xbox Entertainment Studios as part of the 18,000 employees it laid off after the Nokia deal closed. Based upon that, it seems likely, that Hudson will be tasked to lure in third-party studios to create HoloLens games. And while that sounds fascinating, consider this: At one point, Kinect was seen as the future of human-computer interaction, with tons of games designed for the Kinect and the Xbox 360. That number shrank dramatically after gamers turned up their nose at the added cost the Kinect tacked on to the Xbox 360's successor, the Xbox One. Will HoloLens be a gimmick or a game-changer? That's up to Hudson.