Basis updated its Basis Peak activity-tracking wristband on Tuesday—not with wowing new features, but with a rather modest collection of incremental upgrades. There's a snazzy new Titanium Edition case, a variety of colored leather wrist bands, and three quiet software enhancements.
In sum total: Basis is still moving forward, and now you can pair its extremely sophisticated exercise and sleep tracking with better-looking hardware. The updates aren't revolutionary, but they're just enough to put Basis' name back in the conversation as Apple and Android Wear watch manufacturers release ever-more-stylish wearables.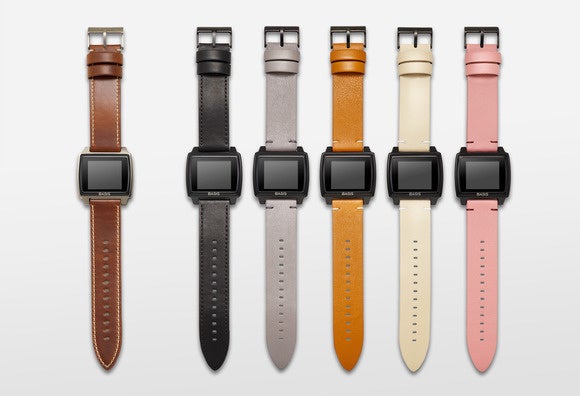 The story behind the story: Your wearables takeaway for 2015 is style matters. Apple is playing up fashion with stainless steel link bracelets and Milanese loops. The Android Wear manufacturers are answering back with LG Watch Urbane and the eponymous Huawei Watch. And now Basis is stepping up to the catwalk as well.
I've seen the new Titanium Edition and leather bands in person, and they do improve the essential Basis Peak package. Compared to the original Basis B1 activity tracker from 2013, which looked a bit like an original series Star Trek prop, the Titanium Edition is positively posh.
But Basis really hasn't done that much to improve its core data-tracking experience—which is fantastic, certainly, but could still use a boost now that everyone is talking about Apple Watch fitness features.
From Aluminum to Titanium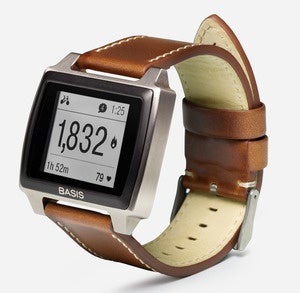 Last year's Basis Peak looked pretty good in its standard aluminum case. But now we have the $300 Titanium option—specifically a "satin finish Grade II titanium case." This new edition comes with a cognac (brown) leather band as well as a black silicone strap. That's right: You get two straps in the box.
If you simply want to improve the look of your existing Basis Peak, there's a new assortment of $50 leather straps (which work with the Titanium Edition as well). All have precious color names, because fashion demands this: Noir (black), Fog (grey), Saddle (caramel), Khaki (light tan) and Blush (light pink).
Of course, the Peak and Titanium Edition already work with standard 23 mm watch straps. But if you don't have the imagination to personalize your fitness tracker all by yourself, Basis has you covered. There are also five colors for Basis' basic $30 SportVent silicone strap.
Expanding the Basis API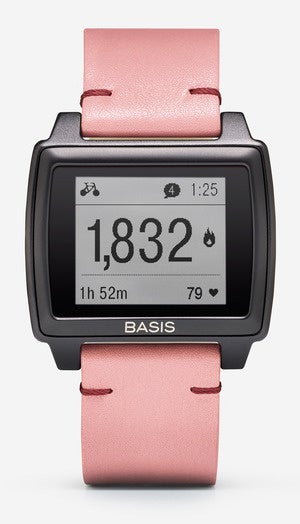 Basis already has some of the most advanced sleep-tracking in wrist wearables, using its heart rate monitor to provide data on REM sleep cycles. Basis also has extremely accurate heart-rate tracking during the heat of vigorous exercise, just like what you get with chest strap monitors.
But with a Tuesday app update and Wednesday firmware upgrade, Basis isn't doing that much to improve the core user experience of Peak and Titanium Edition. Instead, here's what you get:
Data syncing with Apple Health and Google Fit: In a nutshell, you'll be able to see some of your Basis data in Apple and Google's wellness apps. Expect basic metrics like steps walked and calories burned. You'll still want to hit the Basis app for advanced analytics.
Stopwatch functions: This one will arrive in the May 20 firmware upgrade. We're looking at basic functions: start, stop, lap and reset. Useful, sure. But not a thrilling addition.
Basis Peak Playground: If you decide to opt in, you'll get the opportunity to test beta features as they're being developed. For example: "Photo Finish," which prompts you to snap a selfie the moment you finish a workout. Smile if that run felt great. Frown if your knees hurt.
Basis also told me the firmware improves stability in Bluetooth connections, and includes refinements to its heart-rate monitoring algorithms. It's a very behind-the-scenes update, but for long-time Basis users who care more quantifying themselves than looking stylish, it may be the biggest update of all.